In a world in the throes of ecological imbalance, every animal's life saved is an achievement – that is our only goal at Wildlife SOS. From snakes, reptiles & birds to leopards, elephants and bears, we try to protect & safeguard as many wild animals as possible.
The Wildlife SOS Rapid Response Unit operating all the way up north in the state of Jammu & Kashmir, has had an incredibly busy time rescuing wild animals specifically reptiles that have been wandering into human habitats ever since the lockdown was imposed. As public spaces and roadways became deserted, animals started emerging into these landscapes, leading to some very interesting wildlife sightings. When the country started implementing the 'Unlock' phase however, the presence of wild animals around human habitats became a cause of concern, giving rise to many cases of man-animal conflict.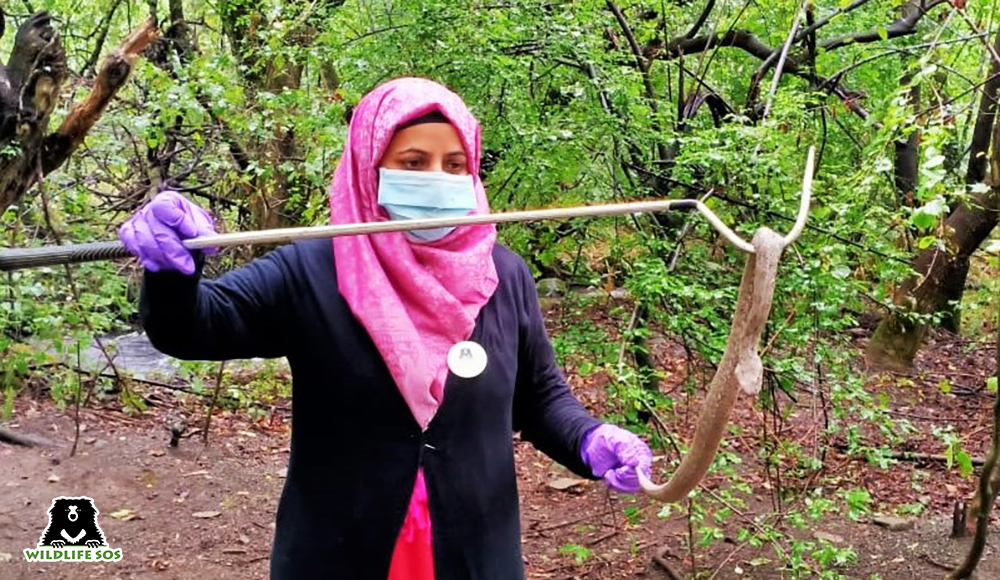 Imagine waking up to find three newly hatched baby snakes in your front lawn! This happened to a family residing in Chattergam, located on the outskirts of Srinagar, as they recently played host to this rather scaly surprise. Concerned for the well-being of the snakes, they immediately contacted veteran snake rescuer Aaliya Mir, who heads the Wildlife SOS base of operations in the state. In an operation spanning over six hours, the Wildlife SOS team managed to locate three Rat snake hatchlings huddled under a plinth in the front yard. The team safely transferred the hatchlings into a transport carrier, thus ensuring minimal stress to the anxious reptiles.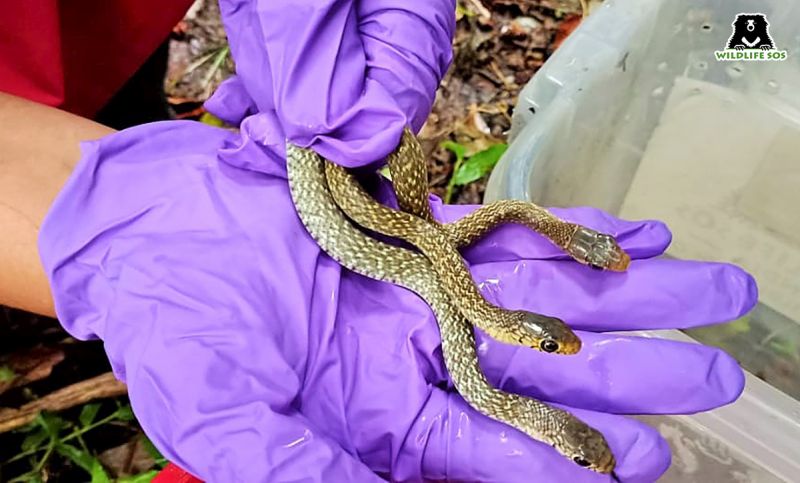 In another such incident in June, a highly venomous snake – the Levantine Viper was rescued from a home garden in Ishbar, Nishad at the foothills of Dachigam National Park. Though scarcely spotted, locals are familiar with this deadly viper snake and fear confrontation with it. However, employing quick thinking, the family immediately retired to the safety of their home in order to avoid an encounter and called our 24×7 emergency helpline to request for aid. Our team, led by Aaliya Mir, found the snake nestled in the cow shed and was able to safely relocate it to its natural habitat.
The Levantine viper (Macrovipera lebetina) also known as 'Gunas' in local circles, is a venomous viper that feeds on rodents, lizards, birds etc.and is found in the mountainous regions of Jammu and Kashmir. Their venom is hemotoxic causing extreme pain, inflammation and tissue damage at the bite site.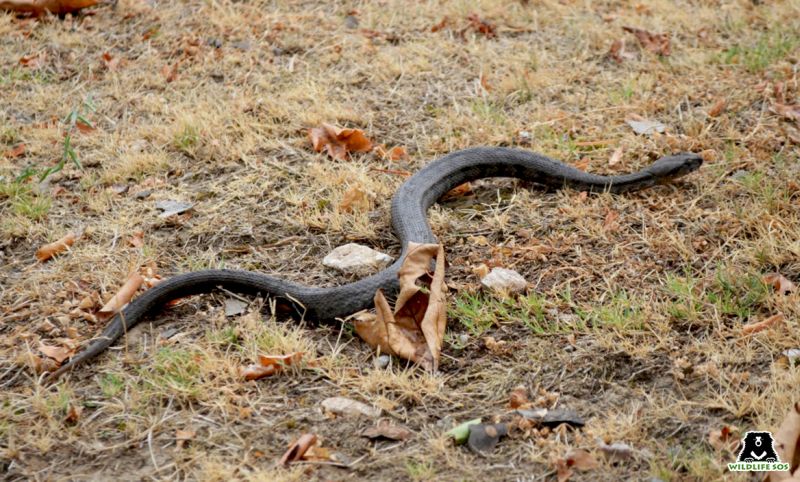 This wasn't the last encounter of the team with the Levantine Viper. Through the months of June, July & August, the team has received multiple calls of aid regarding this particular venomous reptile. Though slow moving, these vipers are capable of fast strikes when provoked and give out a warning hiss before striking. The number of such sightings in urban areas has increased in the recent past, due to multiple factors such as habitat destruction, loss of forest cover, rapid urbanisation and development, etc.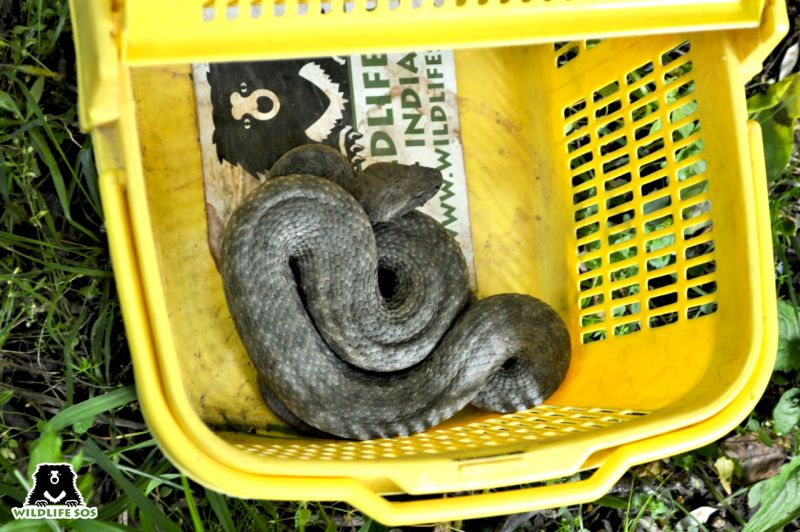 Recently, two Levantine Vipers were rescued from the former Chief Minister of Jammu & Kashmir, Omar Abdullah's home in Srinagar – Gupkar Residence – in separate incidents. In the first incident, the viper was spotted by maintenance staff behind a garbage bin in front of the main gate. In the second, a viper had been sighted inside dense shrubbery in the house's garden. In hours-long operations, the vipers were rescued and safely relocated to their natural habitat.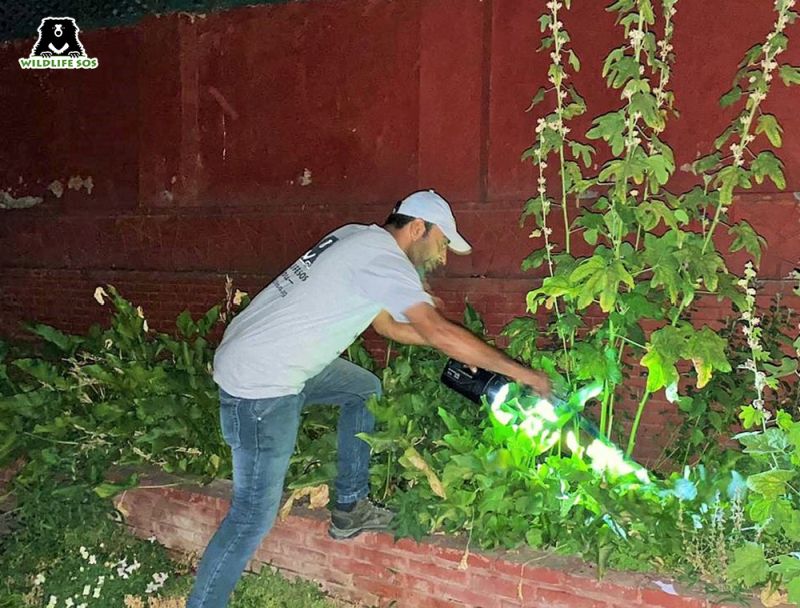 In the midst of political turmoil and a pandemic wreaking havoc across the globe, efforts of conservation do not stop. Operations involving snakes are highly sensitive. At Wildlife SOS, we have trained rescuers who are efficient and employ precautions so as to avoid causing further stress to the animal. Rescues range from that of extremely venomous snakes like the vipers and cobras to relatively harmless and non-venomous ones like the sand boa, wolf snake and rat snake.