Like all bears, sloth bears make use of dens. However, the denning practices of the sloth bear vary substantially from the denning practices of other bear species. Unlike brown bears, or American black bears, sloth bears do not hibernate and therefore do not use dens in that capacity. However, sloth bears do use two types of dens: resting and maternal. Resting dens are used daily by sloth bears during their inactive period of the day, which means during daylight hours. Maternal dens are used by female sloth bears to give birth and raise cubs.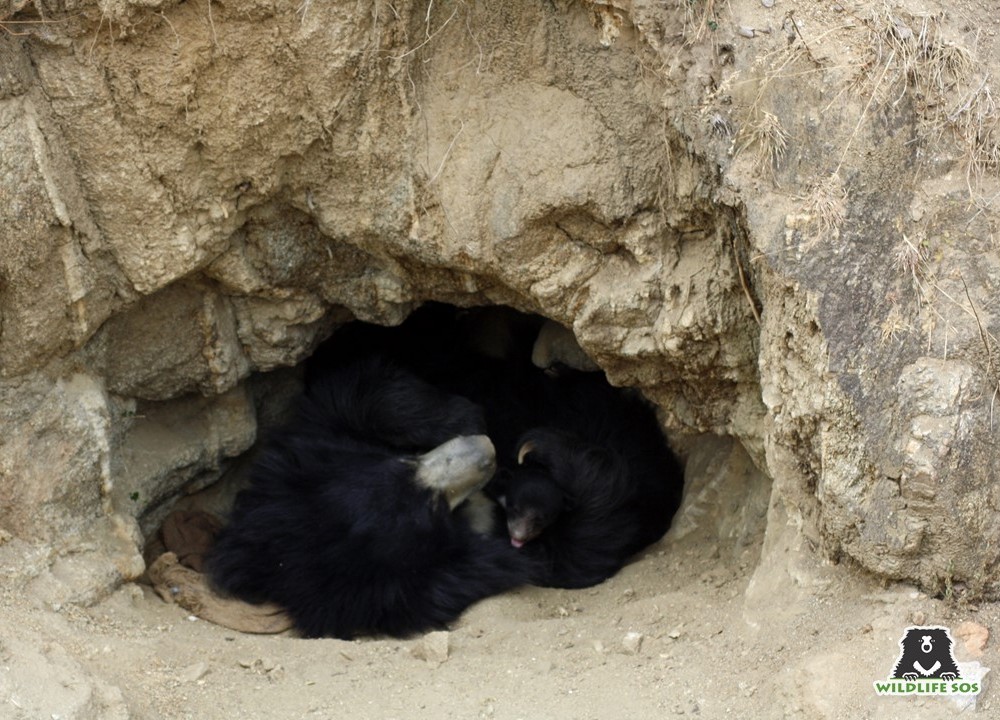 Wildlife SOS is at the forefront of studying sloth bear denning habits. By understanding the denning practices of sloth bears we hope to find better ways to help conserve them in the wild. Here are five interesting facts about sloth bear denning that you might not know:
Sloth bears will use many different types of places for resting dens depending on what is available in the habitat, this includes naturally occurring caves, crevices between big boulders, the spaces between terrestrial roots of trees, under fallen trees, under bushes or even in loose mud. Caves and cave-like structures appear to be preferred when they are available, most likely for the protection that they offer from the elements and potential predators.


A male sloth bear making his way into the den in late evening! [Photo (C) Wildlife SOS]

If a sloth bear is preparing to give birth and she does not have access to a naturally occurring cave, she will dig out a den in which to give birth and raise her cubs. These dens are often dug into the banks of a river and obscured by vegetation. Throughout much of the sloth bear's range, naturally occurring caves are simply not present. Therefore, a mother bear needs to be resourceful.


A female sloth bear spotted foraging! [Photo (c) Wildlife SOS]

Sloth bear mothers have used abandoned houses as maternal dens in which to give birth and raise their cubs. Abandoned houses, just like naturally occurring caves, offer protection from the elements and potential predators. Surprisingly, it is not as uncommon as you might guess for sloth bear mothers to den near to humans or human activity. We are not completely sure why this is.


A sloth bear family returning from foraging through the forest. [Photo (c) Wildlife SOS]

Sloth bears will sometimes share their resting dens with porcupines. The Indian crested porcupine is not arboreal like the North American porcupine but actually a cave dweller. And while many animals that overlap with sloth bears use caves for protection, including leopards, jungle cats, rusty-spotted cats, and even pangolins, the animal we tend to see most often sharing caves with sloth bears is the cuddly porcupine!


Our night vision camera trap captures a sloth bear active at night! [Photo (c) Wildlife SOS]

When a pregnant sloth bear mother enters her den to give birth she will not exit the den for food or water for 3-7 weeks. The mother then quickly gets a drink and some food before rushing back to her cubs she left inside the den. This is when the cubs are the most vulnerable. The cubs generally don't come out of the den with their mother until roughly 2 weeks after the mother leaves the den for the first time.


Sloth bears cubs spotted climbing trees during the day! [Photo (c) Wildlife SOS]
Denning plays a huge role in the life cycle and ecology of the sloth bear. Although there is still much to learn, thanks to our denning studies both in the wildlife SOS sanctuaries and in the wild, we are beginning to understand the denning practices of this unique species a little better. 
Wildlife SOS supports responsible and cruelty-free tourism for our great nation and aims to educate tourists about India's vast and diverse wildlife in partnership with the Responsible Tourism Society of India.