What to do when you encounter a wild elephant?
Human-elephant conflict is on a steady rise, posing a serious threat to the lives of both humans and wild elephants in India. Wildlife SOS condemns the unfortunate incident in the Masinagudi area in Nilgiris, Tamil Nadu where a wild bull elephant became a victim of human-elephant conflict and was brutally attacked with a petrol bomb.
In light of the recent developments and the growing hostility towards elephants, Wildlife SOS has curated a series on what to do when you encounter a wild animal. In this write-up, we cover avoidance behaviour and conflict mitigation techniques when you come face-to-face with a wild elephant or an elephant herd.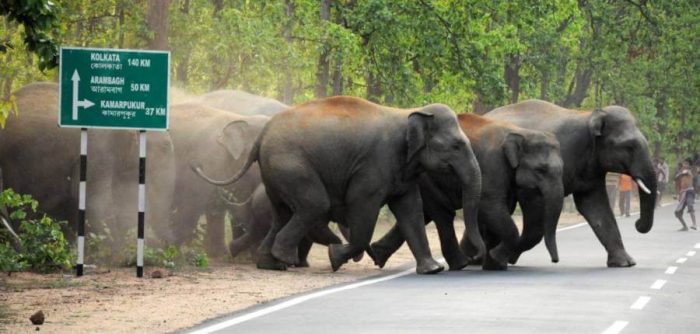 If you live close to the forest or any protected area, it is of utmost importance that you understand the importance of co-existence and sharing borders with these animals. The forest and the planet are just as much theirs as they are yours, and together you can share the same living space without hurting the animal or putting yourself in harm's way.
In case you encounter a wild elephant herd, please do not disturb or agitate the herd by shouting, pelting stones, throwing crackers, attempting to click selfies, photos, or shoot videos or throwing gasoline bombs their way. Such actions not only leave the herd at the risk of injury but also, gravely put the individual committing such acts, at risk.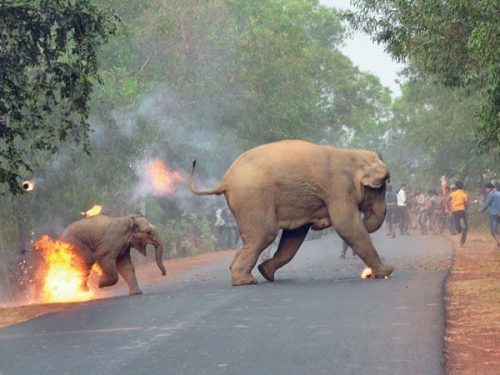 When working on the field, make sure that there is a small fire lit close by at a safe distance to allow the elephants to understand the human presence and not tread closer.
If there is an elephant that is agitated and dangerously close to the vicinity of your residence or your crop field, immediately contact the local range forest officer and move away from the location of the incident.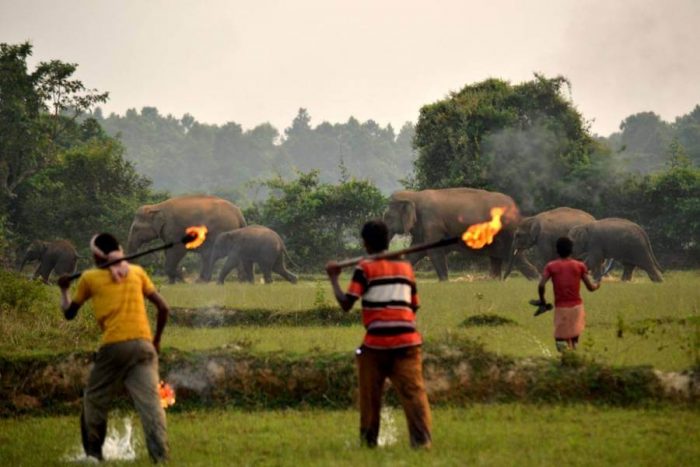 If you spot a lone elephant, limping, bleeding, looking visibly distressed, please do not use methods of violent retaliation to chase them away. Contact the Forest Department immediately and inform them about the condition of the elephant as they require medical assistance.
If an elephant or an elephant herd is on a rampage, move away from the location and make loud noises or beat drums to drive the elephants away. Contact the Forest Department for further assistance and do not go near the herd.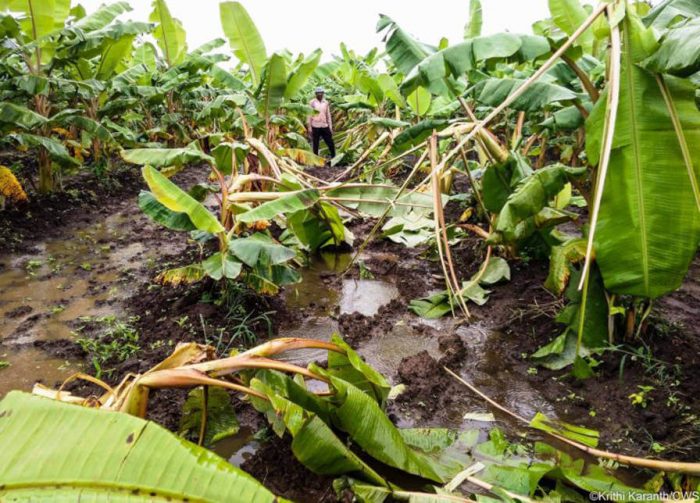 When you spot an elephant calf roaming around in close proximity to human habitation, please inform the Forest Department and do not directly interact with the calf. Direct interaction may increase the dependency of the elephant calf on humans, thus affecting their natural behaviour.
Never use petrol bombs, burning tyres, burning cloth, gasoline bombs, and stones to chase an elephant or an elephant herd away. You may unintentionally harm the elephant or agitate the elephant to invite rampage.
Being aware is the key to understanding the grass-root reality for the communities that are affected by situations of conflict. These local communities face direct interaction with wild elephants on a daily basis that causes property damage and human deaths along with huge loss of crops, on which their livelihood depends.
Due to intermediate methods of conflict mitigation, local communities resort to warding off wild animals by using high electric power fences, locally-made country bombs, stone pelting, which cause serious injuries to elephants and even lead to the separation of calves from their herd. It is imperative to understand both sides of the story before forming a judgement by either villainising local communities or the elephants.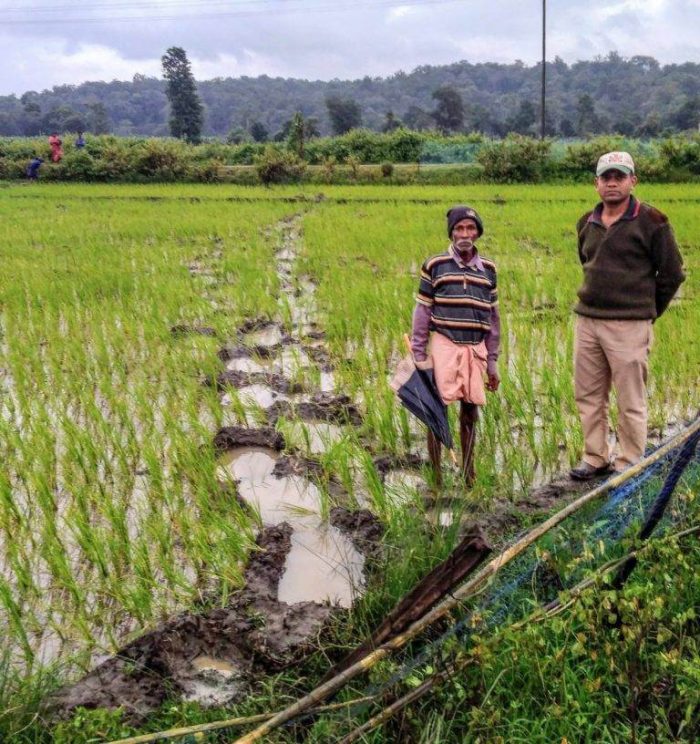 Playing your role in raising awareness on elephant conservation as well as involving communities in conservation efforts is also very important when it comes to mitigation of man-animal conflict. Wildlife SOS has been actively working in Central India towards reducing human-elephant conflict by radio-collaring the matriarch elephant of the conflict herd with the support of Chhattisgarh Forest Department and Tennessee Elephant Sanctuary.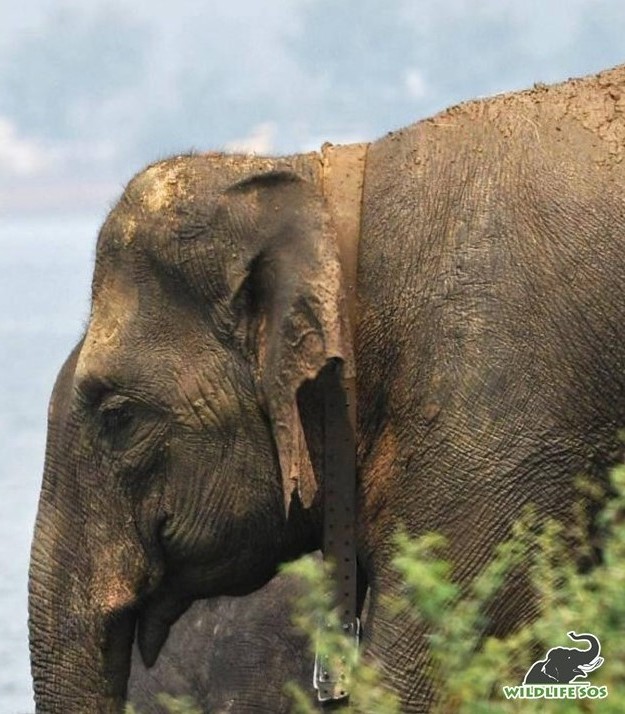 An early warning alert system has been established, which raises an alert every four hours with the exact location of the herd and the villages through which they are passing through. Additionally, we also conduct regular capacity-building workshops with the local communities and raise awareness on elephant behaviour, compensation schemes as well as avoidance behaviour. Our team has observed a considerable change in the attitudes and perceptions of local communities in these areas towards elephants, and they no longer resort to aggressive means of interacting with them.
If you witness any incident of elephant cruelty or an elephant in distress, please reach out to our Wildlife SOS Elephant Rescue Hotline at +91-9971699727 or drop us an email at elephant@wildlifesos.org