The need for conservation arises because of the unsustainable lifestyles we, as human beings, have been following. The planet reels under unrestrained pressure from businesses and industrial activities that have damaged nature, its habitats and their wild inhabitants. There is a dire need for people to be made conscious of their impact on the environment. While conservation relies a lot on science, human beings also hold an empowering tool that can transform our present – Communication.
Sharing knowledge and gaining awareness about the intense impact we have on nature is how we become conscious and sensitive of our surroundings. Wildlife SOS has worked for over 25 years to contribute to conservation, becoming one of India's largest wildlife rescue organisations. And communication, be it with local stakeholders, ordinary citizens or government officials, was always a prerequisite to make any conservation story a success. With effective communication, we have been able to dispel fear and apprehensions that accompany mistaken notions about wildlife and transform people's attitudes.
Awareness Generation
Wildlife SOS acknowledges the importance of local and indigenous communities and their invaluable contribution to wildlife conservation. The Wildlife SOS Tribal Rehabilitation Program is one of our most successful projects. In 2002, the organisation started working hand-in-glove with the Kalandars, the very community which tamed Asiatic Sloth bears for street performances, to resolve the brutal 'Dancing Bear' practice.
This led to the initiation of rehabilitating the rescued dancing bears at our facilities and in 2009, we rescued the last of such bears. This was only possible due to the innumerable talks held with the Kalandars. This trade was their sole source of livelihood. Changing the mindset of the Kalandars was the biggest hindrance we faced while carrying out this project. Spending time with the people of the community by staying in their villages, we earned their trust and were able to persuade them into giving up their bears.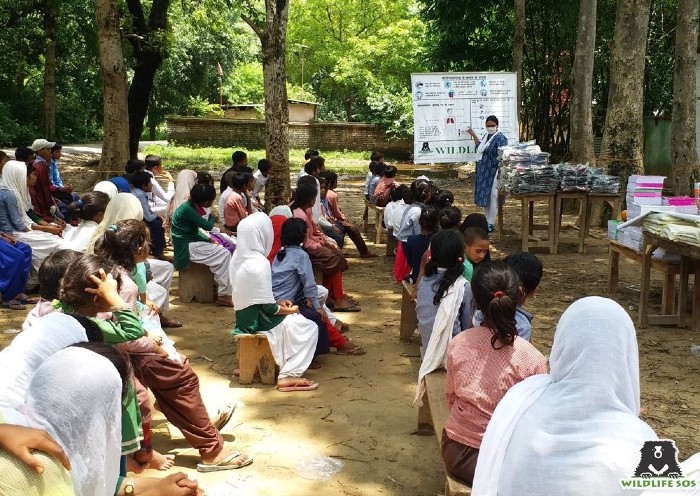 One of the primary tasks of Wildlife SOS is to conduct wildlife rescues in urban, semi-urban and rural areas. Over the years, our rescue teams have not only conducted rescues but have also sensitised local people about the reasons behind frequent wildlife sightings. As a result, we receive a lot of calls from citizens who inform us about the presence of distressed wildlife, which was not the case 5-10 years ago. People have become sensitive towards wildlife due to these awareness drives, which is a direct result of tireless communication. Very recently, concerned citizens came to the rescue of an Indian rat snake which was caught stranded in the aftermath of a fire near a waste collection unit in Delhi-NCR.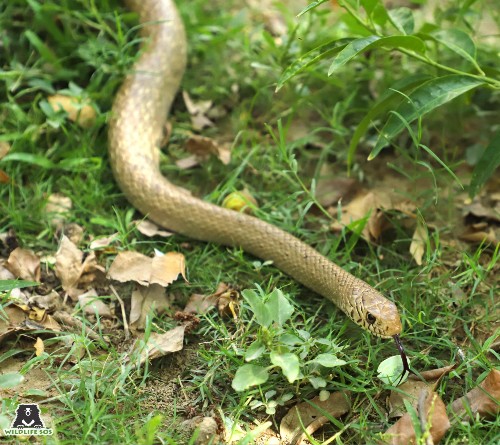 A large part of this rescue operation was possible because concerned citizens took the onus upon themselves. From fearing them as being venomous creatures, to going out of their way to assist the rescue of a snake from a fire incident is a commendable effort and shows how sensitisation and awareness is crucial and beneficial.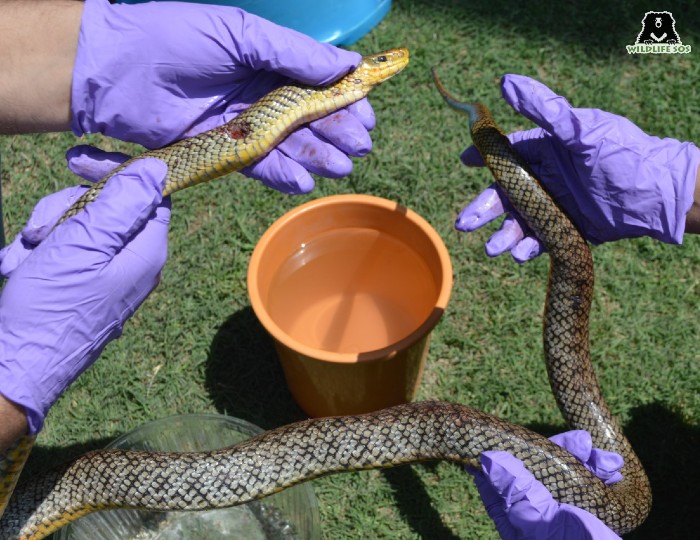 Not just in cities, but even in Jammu and Kashmir's natural landscapes, there has been a remarkable shift in people's attitude. Sighting a snake would make everyone's hair curl but now, they promptly react by informing our team about the presence of venomous snakes such as the Levantine vipers. The locals of Jammu and Kashmir have indeed come a long way. The reason behind this change is due to effective communication by the Wildlife SOS Rapid Response Unit, who spread awareness about snakes on scientific and ethical grounds.
Use of Media
Wildlife SOS believes media to be the most powerful tool for mass outreach and awareness generation. We therefore utilise the digital space to its full potential. Wildlife SOS produces evocative images, videos, and podcasts as well as long-form feature articles focusing on, but not limited to, our work.
Using audio, visual and textual formats, we make sure to reach as many people as possible: our videos can be used to disseminate information and knowledge for various purposes. The fact-based videos on Levantine vipers, chameleons and Sloth bears can be used as educational material, whereas videos on our rehabilitated animals inform people about their health and regular activities. Additionally, rescue videos of large mammals such as leopards and hyenas give the audience a sneak-peek into the workings of our rescue teams.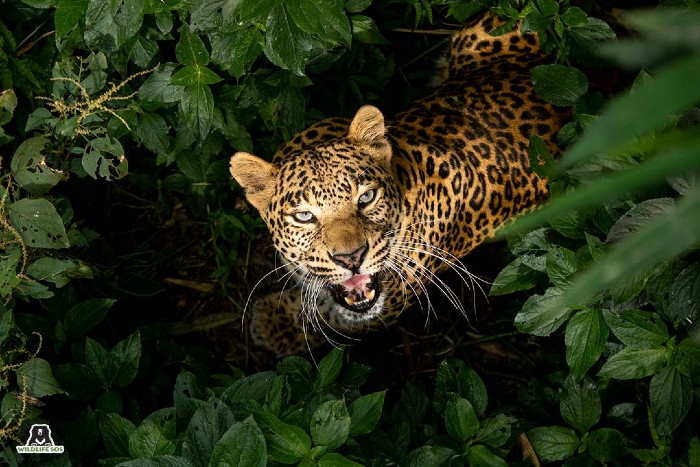 One of the major problems of conservation is the huge chasm between human beings living in cities and their detachment from nature. One way to bring people closer to nature is through images, i.e wildlife photography. We try to educate people through some of the most poignant and vivid images of wild species and habitats, and use social media to disseminate the same. From majestic elephants to gorgeous leopards, from elusive snakes to magnificent birds, and even fearsome crocodiles – we use powerful images of these animals to leave a long-lasting impression. A combination of textual, visual and audio-visual communication thus makes effective conservation possible.
Webinars and Workshops
Leopard biologist Sanjay Gubbi has said that conservation is 90% communication and 10% conservation. With effective communication, we can kick start any change. Seminars, webinars and workshops are useful communication methods which can contribute immensely to conservation. These webinars and workshops usually have two aspects – to familiarise common people with current conservation issues and to build capacity for practitioners such as forest guards, veterinarians and officials who are directly involved in the field of conservation.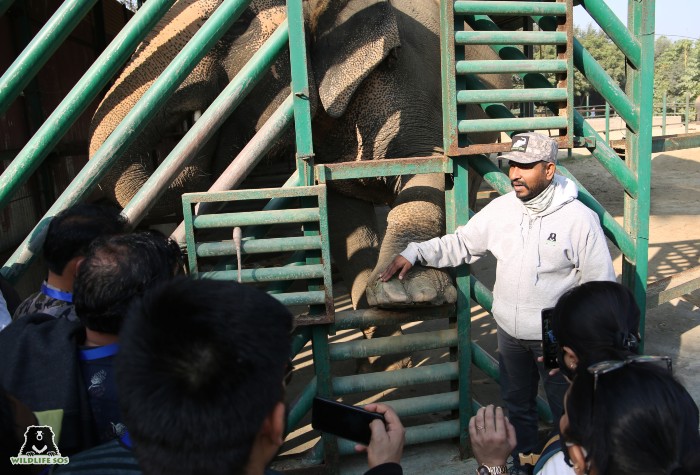 On the occasion of World Wildlife Day, Wildlife SOS, along with the Uttar Pradesh Forest Department, hosted a workshop on 'Welfare and Management of Captive Animals' for zookeepers and veterinary officers from Gorakhpur Zoo, at the NGO's Agra Bear Rescue Facility (ABRF) and Elephant Conservation and Care Centre (ECCC) in Mathura. The workshop was conducted with the aim of improving skills for humane management techniques and capacity building in ex-situ conservation, and covered topics such as rescue and rehabilitation of wild animals and their subsequent health management.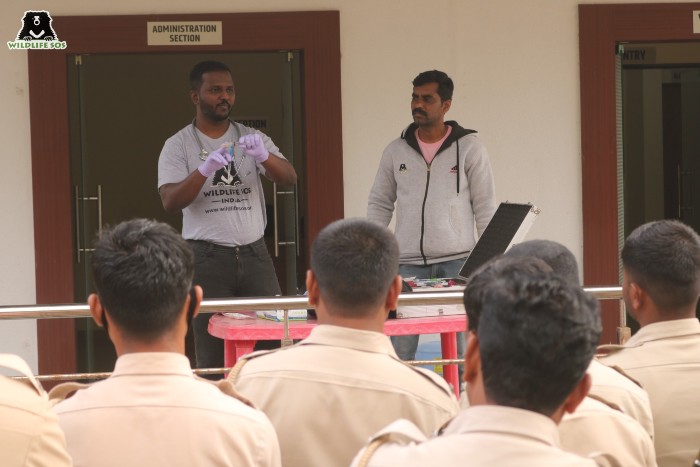 Earlier this year, the Wildlife SOS Manikdoh Leopard Rescue Centre in Maharashtra conducted a rescue equipment training workshop for 35 forest officials. In collaboration with the Ahmednagar Forest Division, the workshop was conducted to understand the nuances of leopard rescues as part of the rising human-leopard conflicts in Ahmednagar division. The officials were familiarised with leopard rescue situations and the required rescue equipment and gear through practical demonstrations. Such workshops can contribute largely in improving specific wildlife management skills, technical expertise and humane management of animals in captive care.
In addition to hands-on workshops, Wildlife SOS also organises webinars to educate people about a lot of topics related to our work, and wildlife in general. This awareness allows them to dive deeper into conservation related issues and their associated panaceas. Online communication is an effective means to bring the general public from far and wide, who are not directly related to the field of conservation, under one umbrella. Wildlife SOS recently organised a webinar on 'High Altitude Wildlife', where Wildlife SOS Jammu and Kashmir Programme Head Aaliya Mir spoke about the flora and fauna of Kashmir, its protected areas and the behaviour and physiology of large mammals, including Asiatic black bears and Himalayan brown bears: two animals Wildlife SOS works very closely with. Wildlife SOS has hosted similar such webinars on elephants, Sloth bears and snakes in the past.
Visits to the Centres
Wildlife SOS also uses its rescue and rehabilitation centres to its maximum potential for knowledge dissemination. Wildlife SOS' ABRF and ECCC facilities, in addition to the Bannerghatta Bear Rescue Centre (BBRC) in Bangalore, are open for conservation education tours. This method of communication engages with the visitors and apprises them about ex-situ conservation.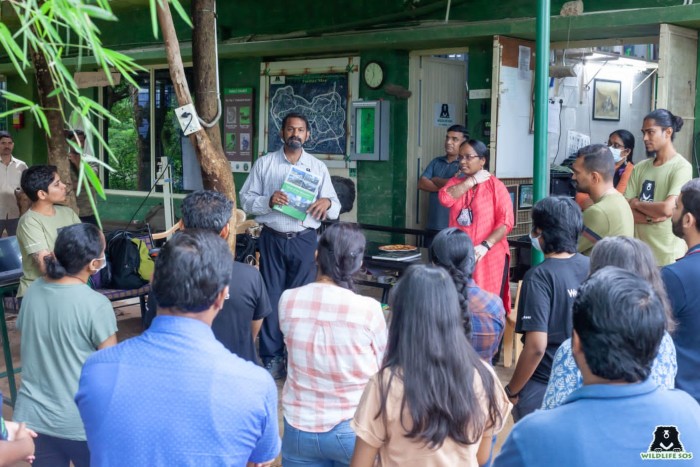 Recently BBRC played host to over 20 volunteers to celebrate Veterinary Appreciation Day at the centre. The volunteers interacted with the vets, asked them questions about various aspects of their work and even prepared enrichments for the resident bears. Communicating the nuances of conservation through these offline and online platforms is vital to bring a palpable change and sensitise more people.
If you wish to embark on a journey to learn about these magnificent animals, contact us at visit@wildlifesos.org and our program coordinator will assist you in making all the necessary arrangements.