With the monsoons hitting the city, we find a large number of reptiles struggling to find shelter in the urban jungle, spreading panic amongst the city-dwellers. Therefore, as a part of our public awareness initiative, we conduct several programs and live demonstrations on snakes to make people aware about the species of snakes commonly found in Delhi NCR and the actions that need to be taken when the general public encounters any of them.
Last week, the Wildlife SOS team represented by Bindia Sahgal and the Wildlife SOS Rescue Coordinator Harshad Solanki, made their way to Step by Step School in Noida. With over 700 enthusiastic students in attendance, Bindia started the talk with a short presentation on Wildlife SOS and the work we do. The students were also made to understand that their actions could help overcome practices of cruelty towards wild animals and were exposed to the darker side of elephant rides and circus shows that may otherwise seem to be rather exciting, especially at a young age.  The children were very responsive and empathetic towards the animals, and seemed supportive of our efforts to protect these animals and their natural habitats.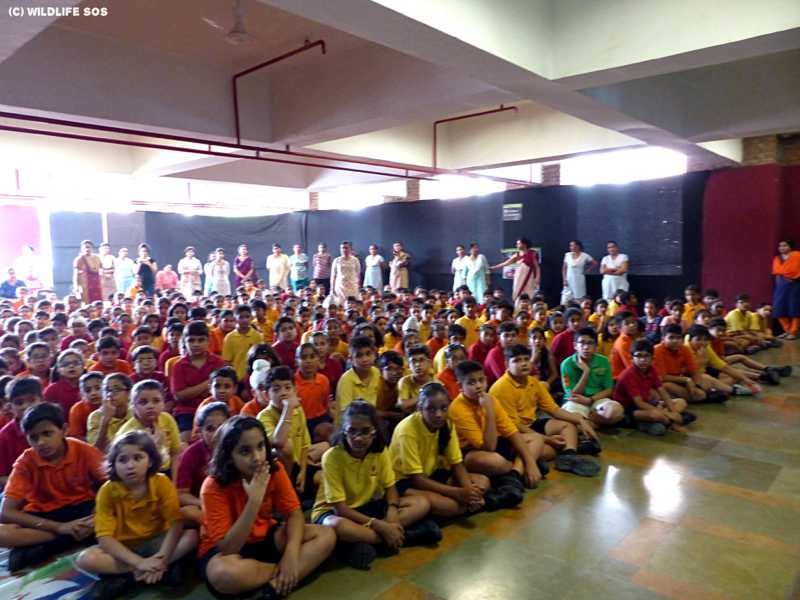 The team then went on to talk about urban wildlife, focusing primarily on snakes. Since snakes are generally misunderstood reptiles, associated with fear and danger, Wildlife SOS works to alleviate these misconceptions and sensitize people towards our serpentine neighbours.
The children were very excited, and rather elated, to see and learn about a variety of non-venomous snakes that had been rescued by Wildlife SOS including a Royal Snake, Rat Snake, Red Sand Boa and a Common Monitor Lizard.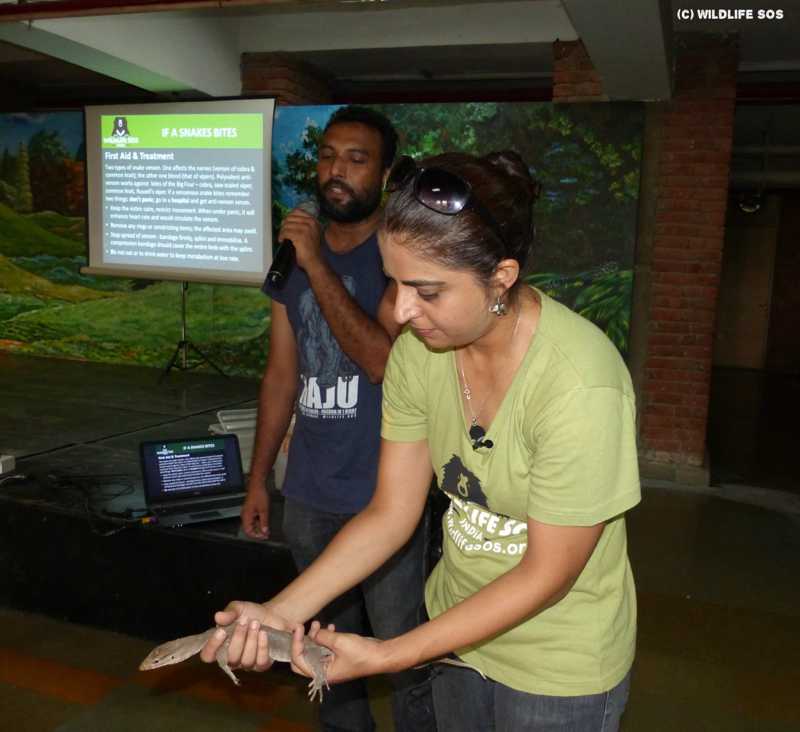 Information was also shared on first aid measures that should be taken if someone is bitten by a venomous snake and the need for immediately transporting the victim to a hospital where anti-venom is available for proper treatment by a qualified medical team. The youngsters as well as their teachers developed a better appreciation and understanding of these much maligned reptiles and expressed a willingness to coexist with them.
If you come across any wild animals injured, trapped or abandoned in the Delhi NCT region, please don't hesitate to contact us on our 24-hour helpline number (9871963535). If you would like our education awareness team to come and talk in your school in Delhi NCR, please drop-in a mail at info@wildlifesos.org