Earlier this month, the Wildlife SOS team at the Manikdoh Leopard Rescue Centre joined hands with Rufford Foundation and the Junnar Forest Department, to address the problems relating to human-animal conflicts in Narayangaon, Maharashtra. Narayangaon is located in Junnar division, approx.20 kilometres from our leopard facility and is a region prone to several man-leopard conflicts. Therefore, we make it our responsibility to educate not just the local communities but also the younger generation about avoidance behavior with leopards in their vicinity and the measures that can be taken to mitigate such encounters in the area.
Over 400 students from R. P. Sabnis Vidyalaya and Anantrao Kulkarni English Medium School were a part of an interactive session that was hosted by Dr, Ajay and Vaibhav Neharkar from Wildlife SOS along with Forester (Narayangaon) Manisha Kale, Rufford Foundation co-ordinator, Mrunal Ghosalkar and Pune-based artist Aditi Deo.
The children were thrilled to learn more about the elusive leopard that inhabited their surroundings and understand why it is necessary to live consciously with them. Expressing his love and passion for wildlife, Dr. Ajay talked about his efforts to help protect and conserve this magnificent wild cat in its natural environment. He talked to them about leopard biology, their behaviour and ways to develop a more sensitized approach towards dealing with conflict situations. He also emphasized on the fact that the close proximity of leopards was a direct consequence of having destroyed their forests, which was their home and replacing it with sugarcane fields and crops.
Aditi Deo works closely with Mrunal Ghosalkar of Rufford Foundation to help students develop a better understanding of these issues by using art to sensitize them to the plight of leopards living in close proximity to human habitation. Visual representation of leopard habitats, their behavior and basic do's and don'ts not only makes it fun and engaging for the children but also imparts a valuable lesson on conservation.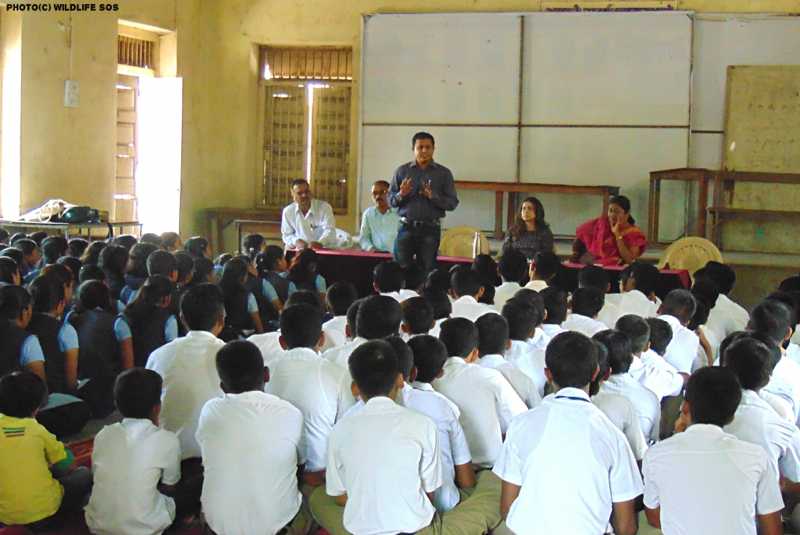 This program is a part of a much larger initiative by Rufford Foundation, which aims at identifying high conflict zones and conducting extensive field research to develop methods of mitigating such issues. Moreover, students from various schools and colleges around the district will be appointed as 'Leopard ambassadors' who will reach out to people in their villages and promote a more sustainable approach to overcome man-leopard conflict. The children were explained some simple forms of avoidance behavior which would prevent them from becoming vulnerable to a possible encounter with leopards in their vicinity. For instance, they could avoid going out during the early dawn and twilight hours without being part of a large group of adults or to wander out into the crop fields alone at night and coming up with alternative methods to prevent loss of livestock.
The Manikdoh Leopard Rescue Centre managed by Wildlife SOS in collaboration with the Maharashtra Forest Department currently houses 31 leopards and provides temporary or life-time care, for leopards injured by villagers. Our team conducts regular training programs detailing "capacity building" for Forest Department staff and for vets in outlining the use of tranquilizing gear. They also provide education to local farming communities thereby increasing their awareness and tolerance for coexistence with these beautiful cats.