As a part of Wildlife SOS's conservation and awareness initiative program, we work with students of both rural and urban communities to help them recognize the need to protect wildlife species and preserve their natural habitats.
On 20th January, 2016, Dr. Ajay Deshmukh, the senior veterinarian at Wildlife SOS's Manikdoh Leopard Rescue Centre, in Junnar, Maharashtra, was invited to conduct an interactive session with over 200 students and teachers from Shri Dutta Vidyalaya in Pimparkhed village.
The talk was organized by Shirur Range Forest Officer, Mr. D.K. Chendge, a close associate of Dr. Ajay and he was accompanied by Forester Mr. D.D. Phapale and Mrs. Manda Bombe, the village Sarpanch.
Pimparkhed is located in Shirur district, approx.70 kms from our leopard facility and is a region prone to several man-leopard conflicts, with the most recent one being of a 32 old woman being killed by a leopard in a neighbouring village. Hence, the main objective of the discussion was to educate the students about avoidance behavior with leopards in their vicinity and the measures that can be taken to mitigate such encounters in the area.
Dr. Ajay went on to express his love and passion for wildlife and his efforts to help protect and conserve this magnificent cat in its natural environment. He talked to them about leopard biology, their behaviour and ways to develop a more sensitized approach towards dealing with man-animal conflicts. Mrs. Manda Bombe also talked about how leopards were prestigious animals and why it is necessary to live consciously with them. He brought home to the students that the close proximity of leopards was a direct consequence of having destroyed their forests, which was their home and replacing it with sugarcane fields and crops.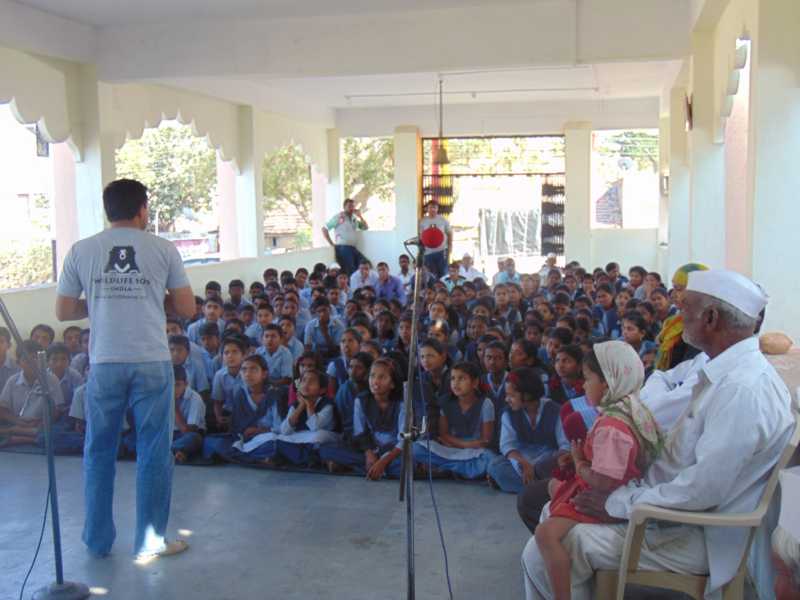 The students were very excited and sat attentively throughout the course of the discussion. They also took active participation in the interactive session and were eager to get all their questions answered. In addition, with help of the local community, the Wildlife SOS team distributed pamphlets and pasted awareness flyers in various parts of the village.
All in all, the program was successful in evoking a sense of responsibility within the children and we hope to see the younger generation taking the initiative to protect the rich natural heritage that surrounds them and learn to live with acceptance of the wildlife, along with recognizing the role that they and their forefathers have played in depriving the leopards of their natural habitat.
Following the success of the leopard awareness and conflict mitigation program in Pimparkhed, Wildlife SOS headed to Jambut, a neighbouring village, to conduct similar sessions with the students of Jai Malhar High School on 23rd January, 2016 and with the students of Indira Gandhi High School, in Ranmala village on 25th January, 2016.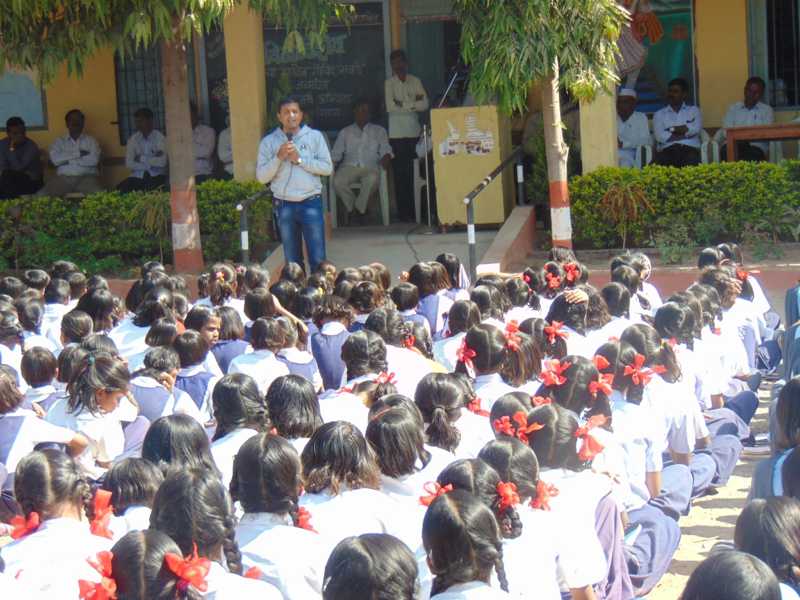 The Manikdoh Leopard Rescue Centre in Junnar, near Pune is managed by Wildlife SOS in collaboration with the Maharashtra Forest Department and it provides temporary or life-time care, for leopards injured by villagers or trapped in conflict situations. Our primary goal is to contribute to the conservation of the imperiled Indian leopard population on one of the most heavily human populated and dominated landscapes in the world.