Chhattisgarh, a jewel nestled in the heart of Central India, is nature's treasure trove, where a plethora of wildlife thrives. Among the diverse inhabitants of this landscape stand the mighty Asian elephants. However, the presence of these gentle giants brings with it an unexpected challenge: human-elephant conflict.
These volunteers have become the cornerstone of a movement aimed at averting conflict and spreading awareness among the masses.
The need to find a harmonious coexistence led to the collaboration between Wildlife SOS and the local forest department. Subsequently, a remarkable effort was made to recruit members from local communities to assist the teams on the ground. These volunteers have become the cornerstone of a movement aimed at averting conflict and spreading awareness among the masses.
Recruiting Grassroot Volunteers
Wildlife SOS and the forest department united forces to create a solution that would ensure the safety of both people and elephants. The foundation of this solution was the active involvement of the local communities through the recruitment of volunteers. Living in conflict-prone areas, these volunteers have now become the driving force behind the success of elephant conservation efforts.
To address the pressing challenge, 35 high-risk villages were identified as focal points. These villages became the nuclei for forming Volunteer Rapid Response Teams (VRRTs), each consisting of 6 to 8 dedicated members. The recruitment process was accompanied by a series of meetings where potential volunteers were brought together. Once the teams were assembled, a comprehensive two-day training workshop was conducted jointly by Wildlife SOS and forest department personnel. The workshop covered diverse aspects, ranging from elephant biology, ecology, and behaviour to conflict resolution strategies and emergency management techniques.
Volunteer Rapid Response Teams (VRRTs)
VRRTs are strategically equipped with four fundamental objectives that prove instrumental in curbing conflict:
1. Tracking: By monitoring elephant movement and identifying frequently traversed areas, VRRTs create a valuable database that assists in predicting potential conflict zones.
2. Communication: VRRTs promptly communicate relevant details to villagers, adjacent communities, the forest department, and the police in case of conflict situations.
3. Safety Measures: In case of heightened risk, VRRT members ensure the safe evacuation of vulnerable individuals, particularly the elderly and children, from areas prone to conflict.
4. Elephant Security: Assigned team members take on the crucial responsibility of maintaining a safe distance. This prevents human encroachment within a 100-metre radius of the elephants, thereby minimising the potential for conflict.
The significance of these volunteers extends beyond their strategic roles. Serving as VRRT members bestows upon them a sense of pride and heightened status within their respective villages. This recognition not only reinforces their commitment but also catalyses a shared responsibility among the entire community towards safeguarding the welfare of both humans and wildlife.
Empowering Communities
Another integral component of the efforts to ensure coexistence between humans and elephants is the Hathi Mitra Dal (friends of elephants). The volunteers from this group play a crucial role by becoming the eyes, ears, and voices of the communities and wildlife. Hathi Mitra Dal members are at the forefront of conflict mitigation. They track the daily movements of elephants and document the extent of crop damage and other incidents. The group is extended to four key divisions of Chhattisgarh — Mahasamund, Balodabazar, Gariyaband, and Dhamtari.
Hathi Mitra Dal employs a specialised vehicle known as the gajraj vaahan, which enables them to navigate the terrain effectively. With a mic and speaker in hand, the members disseminate valuable information and precautionary measures to the residents. They promptly advise the villagers to stay indoors when an elephant is nearby.
Hathi Mitra Dal extends its role beyond the community level, acting as a crucial link between villagers and authorities. They maintain communication with both Wildlife SOS and the forest department, providing information about the whereabouts of elephants. To facilitate real-time updates, each village has a WhatsApp group where members share locations and caution others in case of conflict.
Hathi Mitra Dal Team Makes A Difference – Spotlight On Two Dedicated Volunteers
Community engagement volunteer Deepak has been an integral part of the Hathi Mitra Dal for over nine months, dedicating his time to promoting the peaceful coexistence of humans and elephants in Chhattisgarh. Deepak's familiarity with the region, coupled with his ambition, has made him a vital asset to the team. His responsibility includes debunking myths about the gentle giants, and reassuring villagers that elephants are not inherently aggressive. With his fellow team members, Deepak educates communities on safe practices, advising them to stay indoors when elephants are nearby.
Puranjan is another dedicated member of the Hathi Mitra Dal. With an enduring fascination for elephants, Puranjan's journey began long before he officially joined the team. His hobby of observing and learning about these pachyderms laid the foundation for his invaluable role. Collaborating with a team of eight other members, Puranjan diligently tracks elephant presence in his area. When alerted of their presence, the group meticulously studies footprints to confirm the location, ensuring accurate information dissemination. Puranjan's commitment goes beyond this: he engages with villagers, cautioning them against venturing out at night and advising them to remain quiet if they encounter elephants. He also places informative posters throughout villages, cultivating an environment of awareness and preparedness.
The persistent efforts of individuals like Deepak and Puranjan are yielding transformative outcomes within their communities. Over time, villagers' perspectives have evolved in a positive way, owing to the tireless advocacy of the Hathi Mitra Dal members. Recently in an incident, a tusker elephant entered a village, creating a challenging situation among the locals. However, the elephant volunteers managed to effectively communicate with the locals, defusing panic and mitigating the potential conflict immediately. Notably, crop damage caused by elephants, once a significant concern, has also been reduced drastically due to the efforts of volunteers.
Involvement of Locals in Conservation
As Deepak and Puranjan continue to spread awareness and change perceptions about elephants, their roles exemplify the significance of local engagement in conservation. Their personal stories represent how individuals can channel their passion into meaningful action, bringing about change. The story of Chattisgarh communities' involvement in co-existing with wild elephants is an inspiration. By steering the dedication of local volunteers, Wildlife SOS and the forest department have successfully forged a path toward sustainable harmony.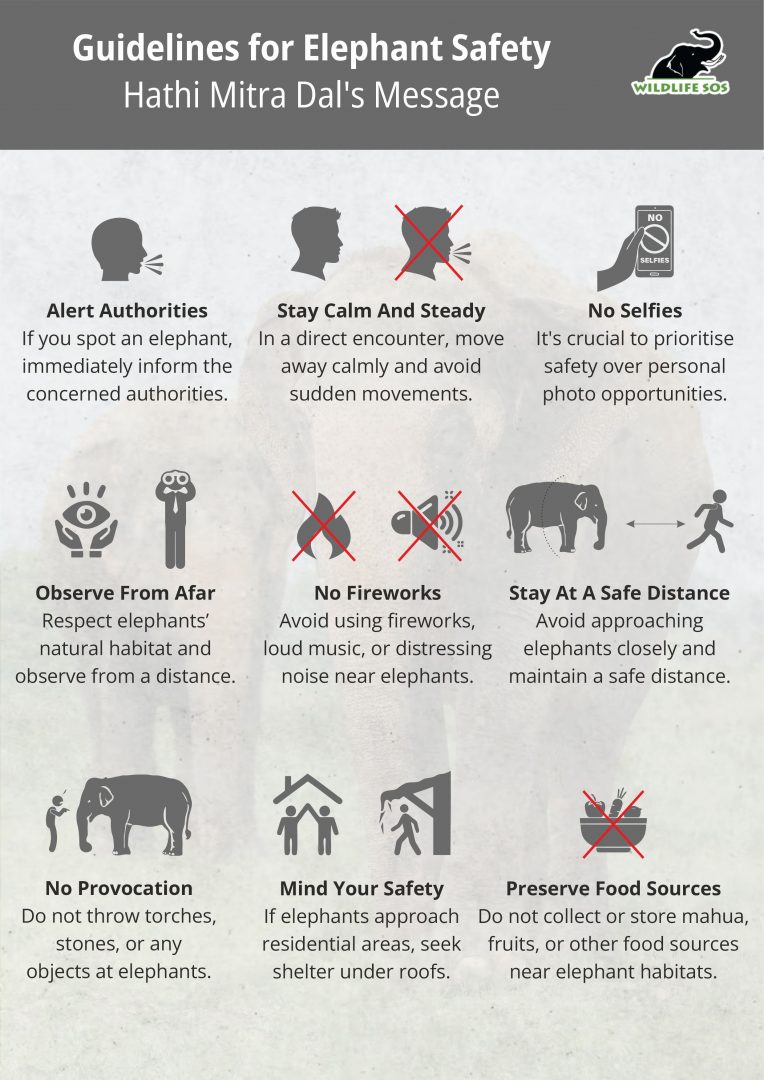 We would like to give special thanks to The Elephant Sanctuary in Tennessee for their longterm support of this project to protect the wild elephants of Chattisgarh.
You too can be a part of this change, by donating to us and supporting our ongoing projects to mitigate human-elephant conflict (HEC). You can also join our team as a volunteer by sending us an email at volunteer@wildlifesos.org