The Bannerghatta Bear Rescue Centre (BBRC), houses over 70 rescued sloth bears, and is located in Bengaluru, India. BBRC was established in the year 2005 with the purpose of providing high quality care and treatment to the rescued sloth bears, in collaboration with Karnataka Forest Department and Zoo Authority of Karnataka. The resident sloth bears have been rescued from situations of human-animal conflict, anti-poaching efforts and the age-old tradition of "dancing bears". The Centre is also home to orphaned sloth bear cubs who have lost their mothers and are unable to survive on their own in the wild. Providing care and treatment for these bears and watching them embark on their remarkable healing journey strengthens our pledge to save the animals in distress all across the country.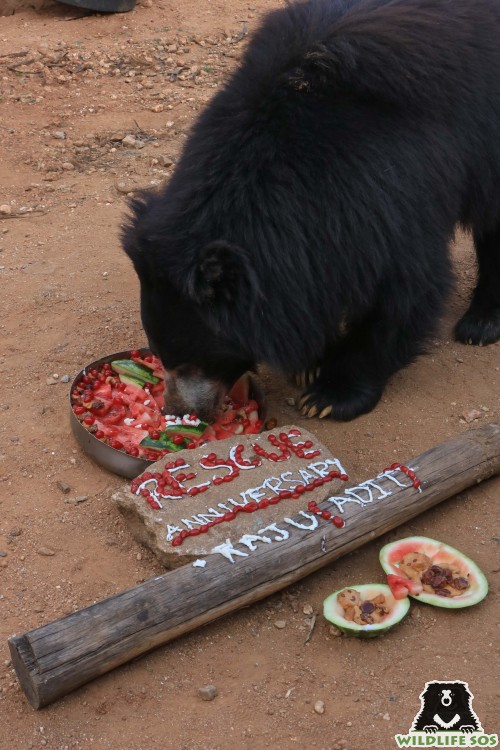 Atlassian, is one of the leading software developing multi-national corporations in the world and have actively been supporting Wildlife SOS in the efforts to save the wildlife in distress. They are instrumental in developing products for software developers and software development teams. In the year 2019 and 2020, the Indian team of Atlassian visited the Bannerghatta Bear Rescue Centre several times to volunteer and we were elated to welcome them. The volunteers enthusiastically participated in the activities that were slated for them which included cutting fruits for the bears, cleaning the kitchen area, cleaning the field and enclosures, filling the water troughs for bears and making structural enrichments. The structural enrichments are specifically designed to keep the bears active – both mentally and physically.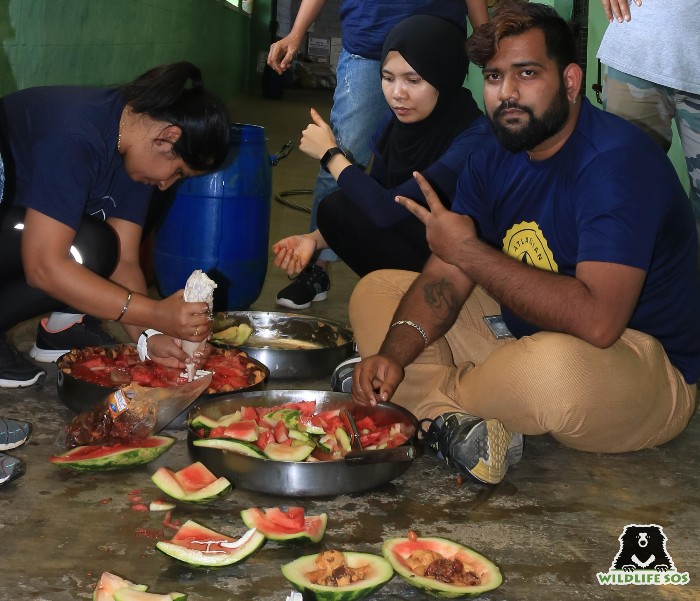 An enriched environment allows bears to exhibit natural behaviours, encouraging them to be more active. Enrichments play an important role in minimising stress in animals and therefore help to reduce stereotypical behaviours. Stereotypy is a phenotypic behaviour which includes repetitive actions like head bobbing and enrichments are instrumental in reducing such stress of the bear. Structural enrichments include wooden platforms, climbing structures swings, see-saws and hammocks which replicate the natural habitat for the sloth bears, encouraging them to use these enrichments. The olfactory enrichments comprised of certain structures that are pasted with honey and peanut butter to stimulate cognitive abilities.
For geriatric and blind bears, the enrichments have to be specially modified in comparison to the ones made for younger bears as they have a different set of requirement. Olfactory enrichments are specifically helpful for sloth bears who are visually impaired or have partial vision as it helps them identify the enrichments in their enclosure.
The team from Atlassian created structural enrichments for the blind and geriatric bears as well, understanding their needs. They also assisted the staff at the Bannerghatta Bear Rescue Centre with various data entry and corresponding activities like speaking to the vets to know more about the health issues of the resident bears and visited the lab as well as operation theater.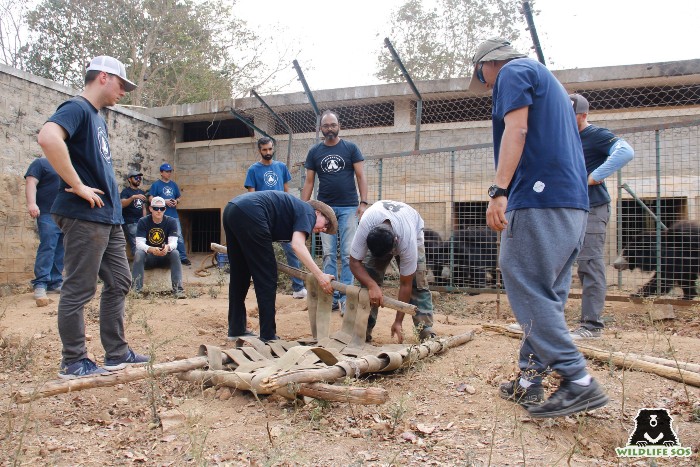 Wildlife SOS invites several corporates from all backgrounds to support Wildlife SOS and the efforts that the organization is making in the field of conservation. You can be a part of our Corporate Employee Engagement Program by reaching out to our Manager – Corporate Partnership at sandhi@wildlifesos.org. Through our visiting and volunteering program one would gain knowledge about the work that the organization does in rescuing and rehabilitating wild animals and welcoming them to a kinder life. You will also have the opportunity to interact with our bear care staff, veterinary team, field staff and education officers who will tell you about the brave rescue stories and unique personality traits for the resident sloth bears.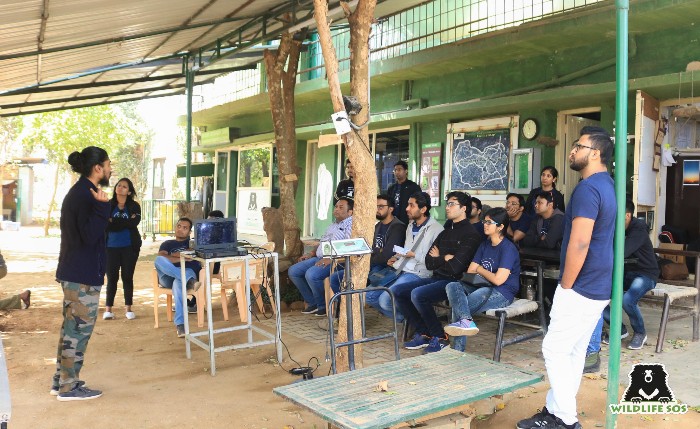 How can you help?
By sponsoring a sloth bear/elephant/leopard, you will make a major contribution to the welfare of these animals and play a significant role in their lives. Your kind contribution will be directly utilized for their long term care and treatments.
By volunteering or visiting the rescue centers, you will be helping Wildlife SOS to protect India's precious wildlife and supporting cause of rescuing the animals in need.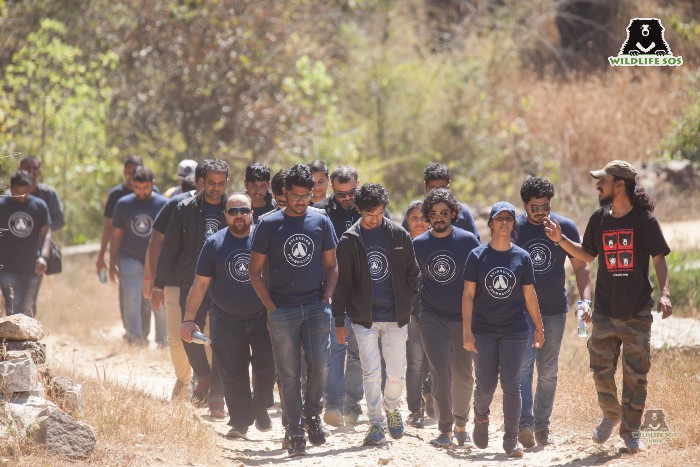 We have been very excited to have Atlassian team with us as a CSR as well as a volunteering partner and we would love to welcome more corporate bodies to join us in saving India's Wildlife. Corporates can become our wildlife warriors in spreading the word of wildlife conservation among the MNC community and would be contributory for creating awareness regarding the same. We are thankful to leading corporates for including corporate social responsibility in their work ethics, thus supporting organizations like Wildlife SOS. Additionally if you would like to know more about the sloth bears under our care, you can visit Bannerghatta Bear Rescue Centre, Bangalore.