Marking the adoption date of the Ramsar Convention on February 2, 1971, the world annually celebrates the "World Wetlands Day", as a mean to apprise the masses about the value of wetlands for humanity and the sustainable future of our planet. Each year, the community at different levels grabs this opportunity of international significance, to advance public awareness of wetland values and benefits, in order to save them from the brink of disappearing.
Wetlands are a crucial part of our natural environment. Elucidating the multi-faceted benefits it serves, Wildlife SOS commenced with the celebrations highlighting this year's theme: 'Wetlands and Climate Change.' Biologically diverse ecosystems, the wetlands are home to many species and serve as a buffer between coasts against flooding and storms. They are natural water filters that transform pollutants and are one of the most biologically wide-ranging of all ecosystems. In recent years, wetland habitats have come under threat due to continuous human encroachment, siltation, flooding, and illegal dumping of wastes etc.
Underlining the critical role played by the wetlands in storing carbon and reducing the impact of extreme weather events associated with climate change, the theme of the year aims at proving significance of these carbon sinks. This mitigation effect performed by the wetlands is one way to combat climate change and its impact.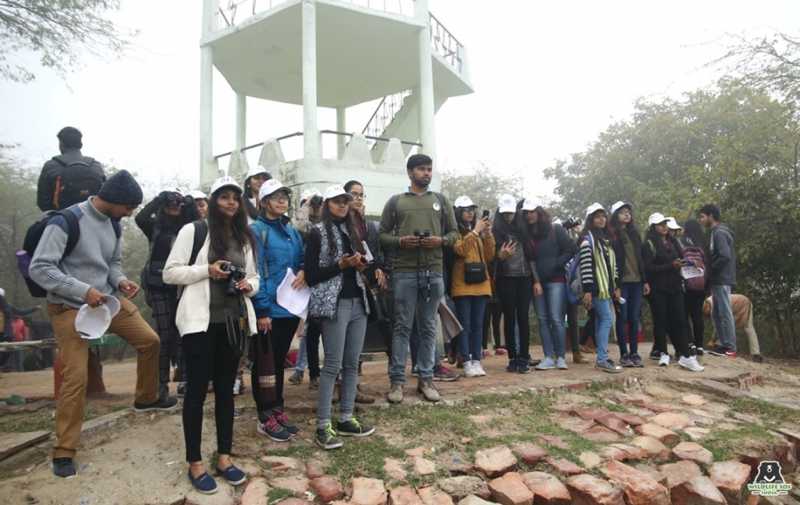 The Wildlife SOS team based out of the Agra Bear Rescue Facility partnered with the Uttar Pradesh Forest Department, to carry out a series of bird-watching field trips to various wetland habitats in the vicinity. Brimming with excitement, a group of 100 students from local schools gathered at the Sur Sarovar Bird Sanctuary, for a two-hour long bird watching tour on 2nd February morning. Turtle Surveillance Alliance (TSA), and AFMEC (Agra Footwear Manufacturers & Exporters Chamber) were also active partners in this event.
Listed as an Important Bird Area, the Soor Sarovar Bird Sanctuary is a proposed Ramsar site and is stated to be a haven for the birds that fly here in multitudes from far and wide. Being home to more than 165 species of migratory and resident birds, the students were rendered enough opportunities to sight and identify them.  The students were filled with joy, as they sighted over 40 species of birds including Pelicans, Lesser Flamingos, Spoonbills, Painted Storks, Asian Pied Starlings, Cormorants, Kingfishers, Indian Rollers, White Ibis and Pond Herons among many others.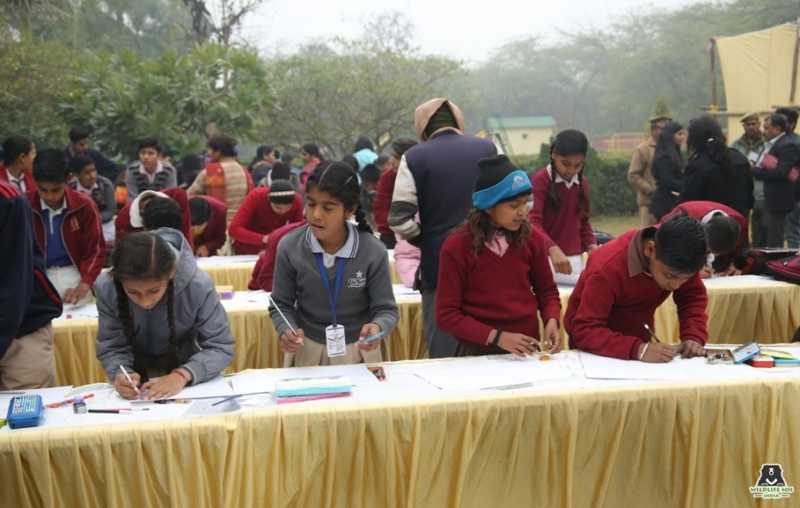 The students also actively participated in a painting competition which clearly reflected the keenness and thrill they had experienced during their bird watching session. This was followed by a wildlife photography exhibition and an interactive session by the Forest Department in the presence of chief guest MP Ram Shankar Katheria.
Around the same time, two other student groups lead by team Wildlife SOS also headed for a bird watching trip to Kokilavan Lake in Kosi, Mathura Range and Shankarpur Ghat, Firozabad. The event was a success and gave us great pleasure to see children taking the initiative to understand and spread the word about the environment and the wetlands. Wildlife SOS has in the past made conscious efforts and continues to spread awareness amongst younger generations who can play a pivotal role in making a difference in preserving and protecting our rich natural heritage.