Wildlife SOS just opened India's very first Elephant Hospital! To us this is truly historic, a milestone not only for Wildlife SOS an organization, but more importantly for injured and ailing elephants throughout India, who can now get the care and love they need in a state-of-the-art facility. On Friday, November 16, a bevy of supportive government officials, curious journalists, and compassionate celebrities joined Wildlife SOS staff to inaugurate the building, tour the facilities, and celebrate for elephants.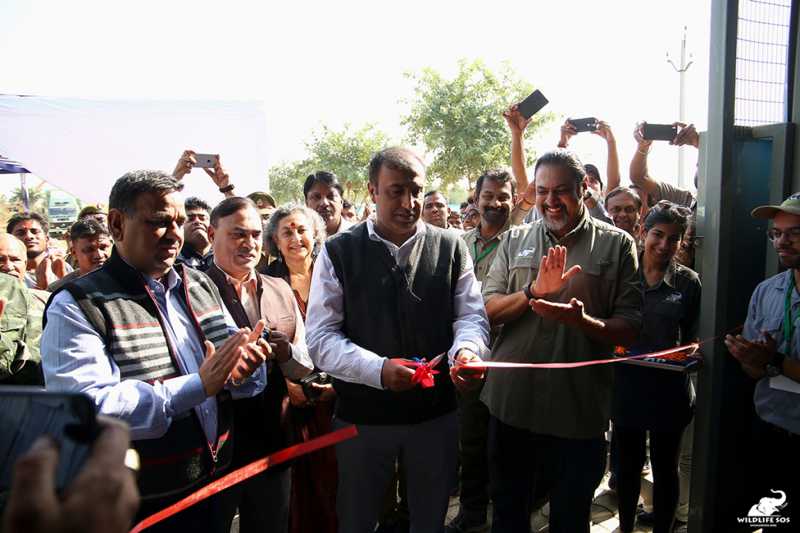 Since its inception in 1995, Wildlife SOS has been working tirelessly to save wild animals throughout India, rescuing everything from bears to crocodiles and cobras if they needed help. So when we received a call back in 2008 to assist an elephant that had met with an accident in the state of Uttar Pradesh, we immediately jumped into action! This was new ground; we had no idea back then how this elephant would map a new course for Wildlife SOS.
Since that day, Wildlife SOS has rescued 26 elephants from heart-breaking conditions from circuses and temples, and from street begging and highway accidents, with the help of State Forest Departments, and brought them to our centers for short-term medical treatment and long-term rehabilitation — and a lifetime of love and care. You might know these facilities: the Elephant Conservation and Care Centre in Mathura, and the Elephant Rescue Centre in Yamunanagar.
With every captive elephant rescue, we've seen some of the same distressing and depressing things: their bodies are weakened from improper nutrition, their delicate feet are riddled with wounds, they are socially isolated and psychologically traumatized, many have ongoing medical problems that have been left untreated for years. Sometimes they need emergency care after accidents with trucks or cars while working along busy highways and roads, like Bhola, pictured below. Even after rehabilitation, these elephants remain dependent on humans for their day-to-day activities, which is why a dedicated team of veterinarians and trained staff works around the clock to cater to the needs of our rescued elephants and to reassure them that they are at a safe place. Over the years, we have evolved in our understanding of the issues these elephants face, and have gained experience in lifelong care of elephants.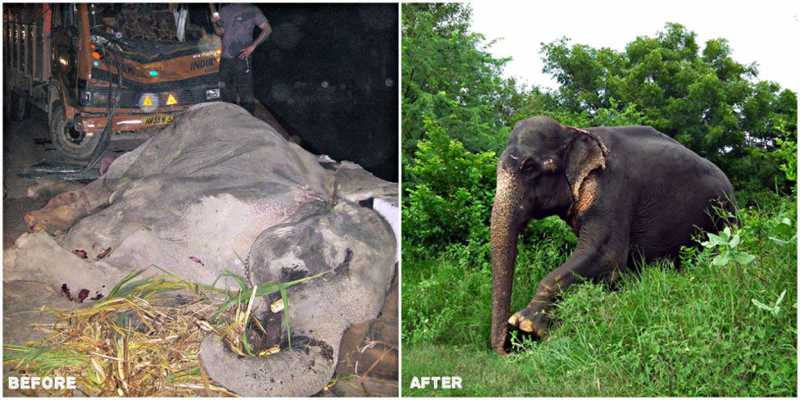 So too as an organization have we evolved in our understanding of the medical issues faced by elephants in captivity and have devoted ourselves to learning the latest veterinary techniques and keeping up with new developments in the medical field. Keeping with our objective to protect Asian elephants from abuse, exploitation and provide them with the best medical care available, we are immensely proud to share with you that we have established India's first elephant hospital — the Wildlife SOS Elephant Hospital — specially designed to treat injured, sick, or geriatric elephants.
In a special ceremony on Friday, November 16, Wildlife SOS inaugurated the new hospital to a crowd of supporters, journalists, government officials, and even a few compassionate celebrities like Lesley Nicol from Downton Abbey, pictured below.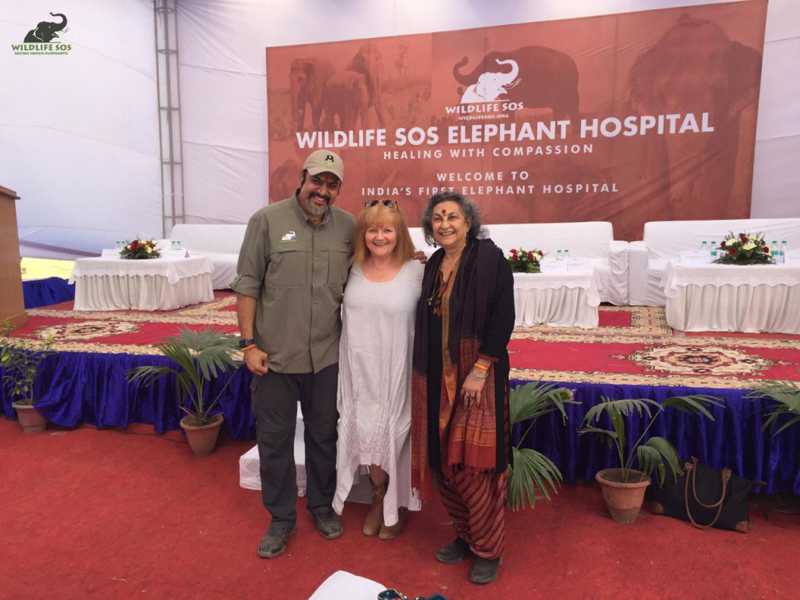 The Elephant Hospital was inaugurated by Commissioner of Agra Shri Anil Kumar, who unveiled the inaugural stone. Also present were Mathura District Magistrate Shri Sarvagya Ram Mishra, IAS, Founder, Help Age- Sri Mukesh Jain, Member, Supreme Court, MC- Shri Raman. Also in attendance were senior forest officers from the Uttar Pradesh Forest Department CF Agra Shri Javed Akhtar, IFS, DFO Mathura Shri Arvind Kumar, IFS and DCF Chambal Shri Anand Kumar, IFS.
Wildlife SOS Founders Kartick Satyanarayan and Geeta Seshamani welcomed the Commissioner Kumar at the opening ceremony, where he inaugurated the Hospital by unveiling the stone. The Wildlife SOS team then gave a tour of the Elephant Hospital to the Commissioner and visiting dignitaries.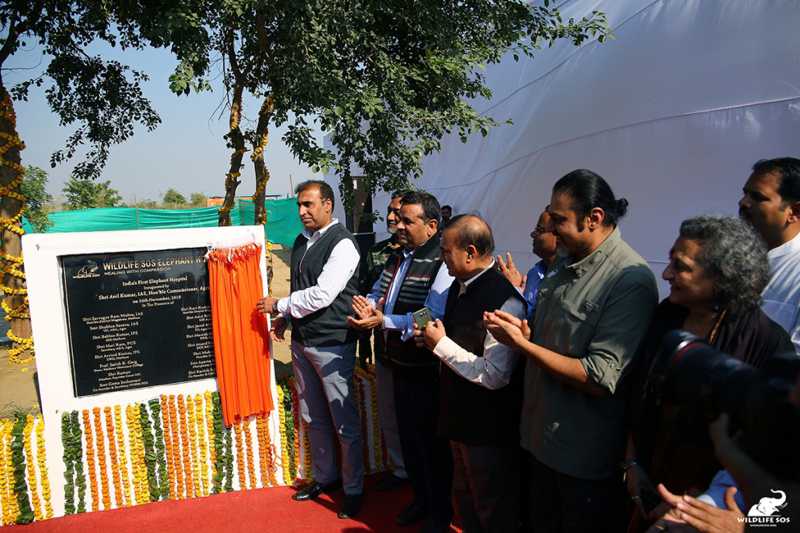 The new jumbo hospital is capable of conducting a variety of important laboratory tests for the elephants. It has wireless digital radiological capabilities, laser therapy, an in-house pathology lab, and a medical hoist for comfortably lifting disabled elephants and moving them around the treatment area. There is also a digital weighing scale, a protected-contact elephant restraining device, a hydrotherapy pool, and quarantine enclosures. All of this will enable regular check-ups as well as out-of-routine treatments.
The Wildlife SOS Elephant Hospital has ample storage space for elephantine quantities of life-saving drugs and veterinary medicines, critical equipment such as portable X-rays, laser therapy machines, foot-care tools, and so on. Certain procedures and treatments require overnight observation, so the hospital is equipped with special quarters for this purpose as well as additional staff and closed-circuit, infrared cameras for veterinarians to observe their wards.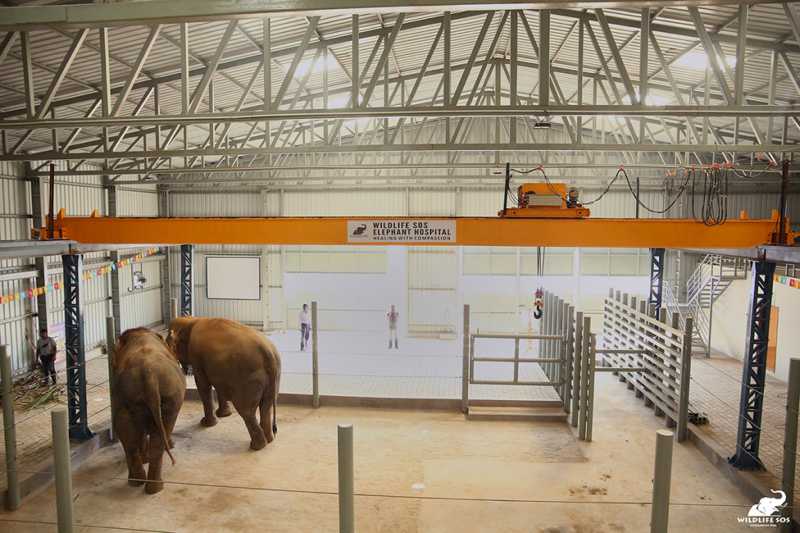 An observation deck was built into the hospital so that elephant-care practitioners and students can observe and learn about elephant treatments from a perfect vantage point. Our goal first and foremost is to provide the best treatment for elephants in Asia, but we also aim to make the Wildlife SOS Elephant Hospital instrumental in this field, spreading knowledge on topics like elephant-care best practices, humane elephant management, and cutting-edge veterinary procedures. We want this to be a place of healing as well as a place of learning.
It goes without saying that the establishment of the Wildlife SOS Elephant Hospital is a big leap not only for us and our rescued elephants, but for the cause of Asian elephant conservation. We are immensely grateful to all the Wildlife SOS supporters who have stood up for us and by us in this journey. Thank you so much!