Laxmi was rescued in 2003 from a peculiar situation. Her journey of healing is closely intertwined with our own growth as an organisation that strongly believes in the care of rescued elephants. From her rescue operation, to her veterinary treatments and her current care, Laxmi has challenged us at each step to find smarter, refined and innovative solutions to tend to each elephant that has faced their own version of troubles in their lives. When we first found Laxmi, her physical health was miserable, so much so that her survival was at stake. Today, after a decade of her rescue, Laxmi is widely known for her boisterous personality. Let's recall how Laxmi's presence has boosted our endeavours to create a positive impact for elephants in distress.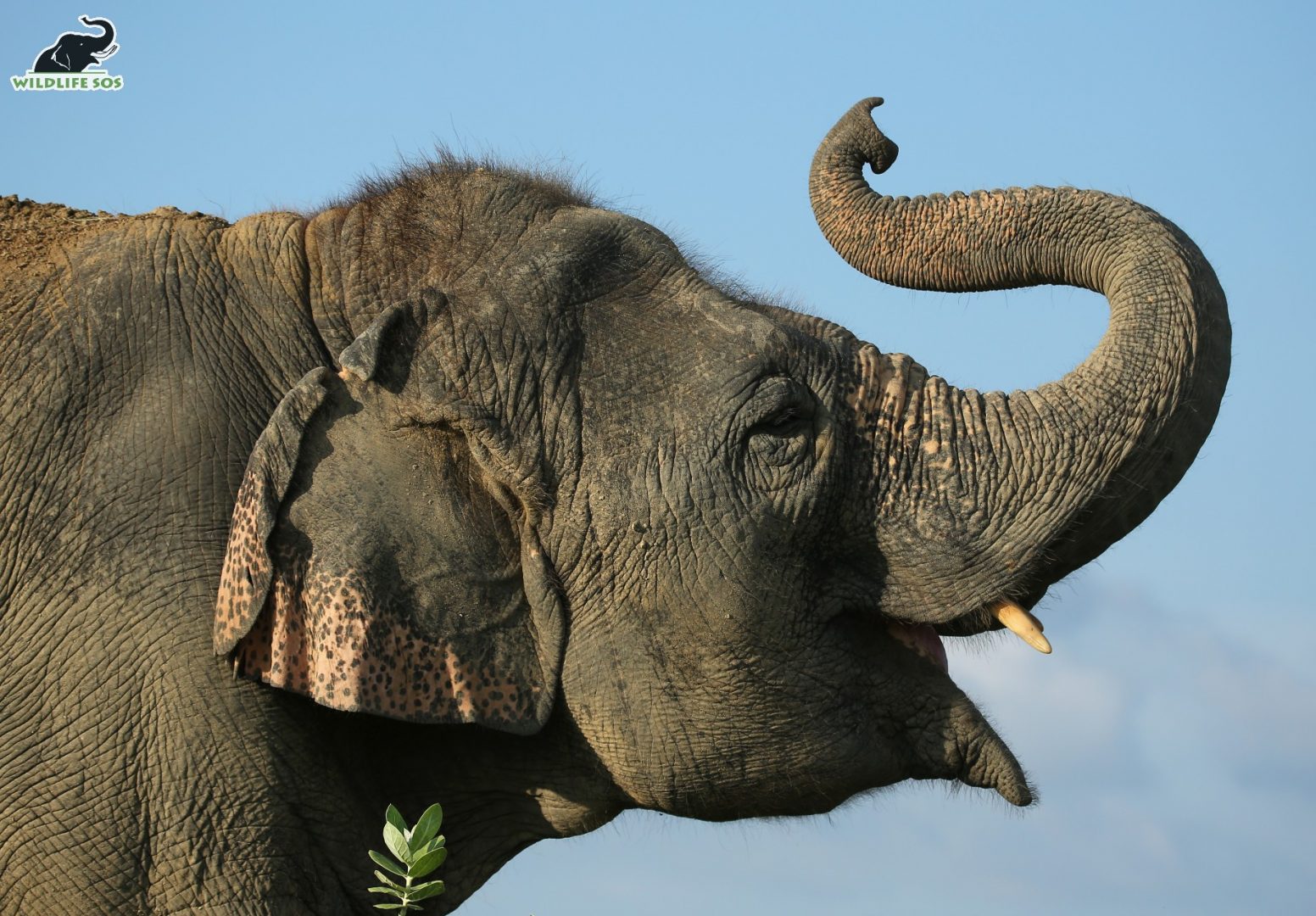 Who Is Laxmi?
Imagine the hustle and bustle of a big city like Mumbai, with its various cultures, delicious foods and rich heritage. In the city, one tends to explore the street food there, and enjoy all the oily, masaledar (flavourful) delicacies that are prepared by local shops and vendors. Many also visit the temples, taking blessings from the gods and offering prayers as well as sweets. But what happens in the evenings when all the shops are about to close and the crowd slowly begins to thin out?
This is when Laxmi comes in. Laxmi was a begging elephant that went from temple to temple, begging for alms. She was adorned as an incarnation of the Hindu god Ganesha, and people walked up to her so that she could raise her trunk and bless them. But the reality of the situation was that she was forced to carry a heavy howdah (saddle) on her back, and give rides to people who could pay for it. The heavy burden constantly pushed her down, but what made it worse was the extremely unhealthy diet that she survived on.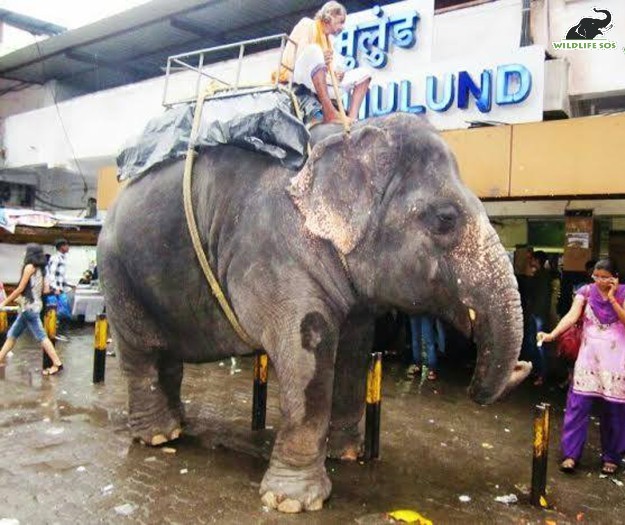 Remember the street food that we mentioned? When the eateries would pack up for the day, all of the leftover food, be it laddus, jalebis, or vada pavs, would be fed to Laxmi and her elephant companion. From what we know, Laxmi would eat as many as 200 vada pavs every day! Due to this, Laxmi was experiencing obesity, and had reached a weight that was causing great stress on her joints. She had also developed osteoarthritis at just 18 years of age.
It was when Laxmi's elephant companion finally collapsed that the news about their condition spread like wildfire. While the chances of survival for her companion looked bleak, Laxmi could still be saved. Wildlife SOS stepped in to prevent Laxmi from facing the same unfortunate fate as her companion. In 2013, we launched an earnest mission to rescue Laxmi and provide her with the urgent medical attention she needed at the Elephant Conservation and Care Centre (ECCC) in Mathura.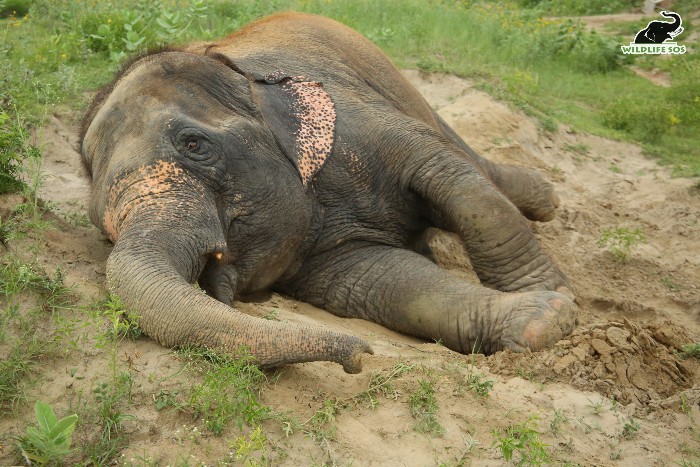 From A Truck To An Elephant Ambulance
Of course, the rescue operation brought with it a set of challenges. Our first step was to gently encourage Laxmi to enter the transporting truck. As we lowered the ramp for Laxmi to climb into the truck, it became glaringly obvious that her body would not manage this feat. She was barely able to stand up, let alone walk, because of the unhealthy diet that she had been forced to live on. She weighed almost 5,000 kg, which was much more than what an elephant of her stature and age should have been. Laxmi was suffering from extreme lethargy, and she could barely open her eyes because of the fat pockets building around them. Given the state of her physical health, a crane was subsequently brought to lift her into the truck.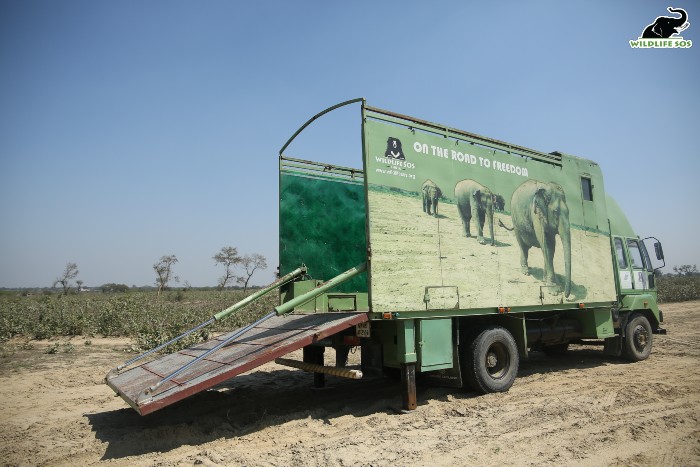 While the challenge of loading her onto the vehicle was tackled this way, there was another one waiting for us during the journey. In a scenario that was never expected, the man driving the truck was taken by surprise when the elephant extended its trunk through the window and attempted to steer the vehicle!
Quick thinking and the skills of the driver and the staff prevented the possibility of problems. While we can now recall this with amusement, back then, it got us thinking about an alternative solution to carry rescued elephants. We had to come up with a specialised vehicle for elephants that could ensure the comfort of the animal as well as the safety of the people within it. It was this stunt by Laxmi that led our team to conceptualise and launch the first-ever Elephant Ambulance in India. This Elephant Ambulance has since then helped many elephants reach ECCC safe and sound.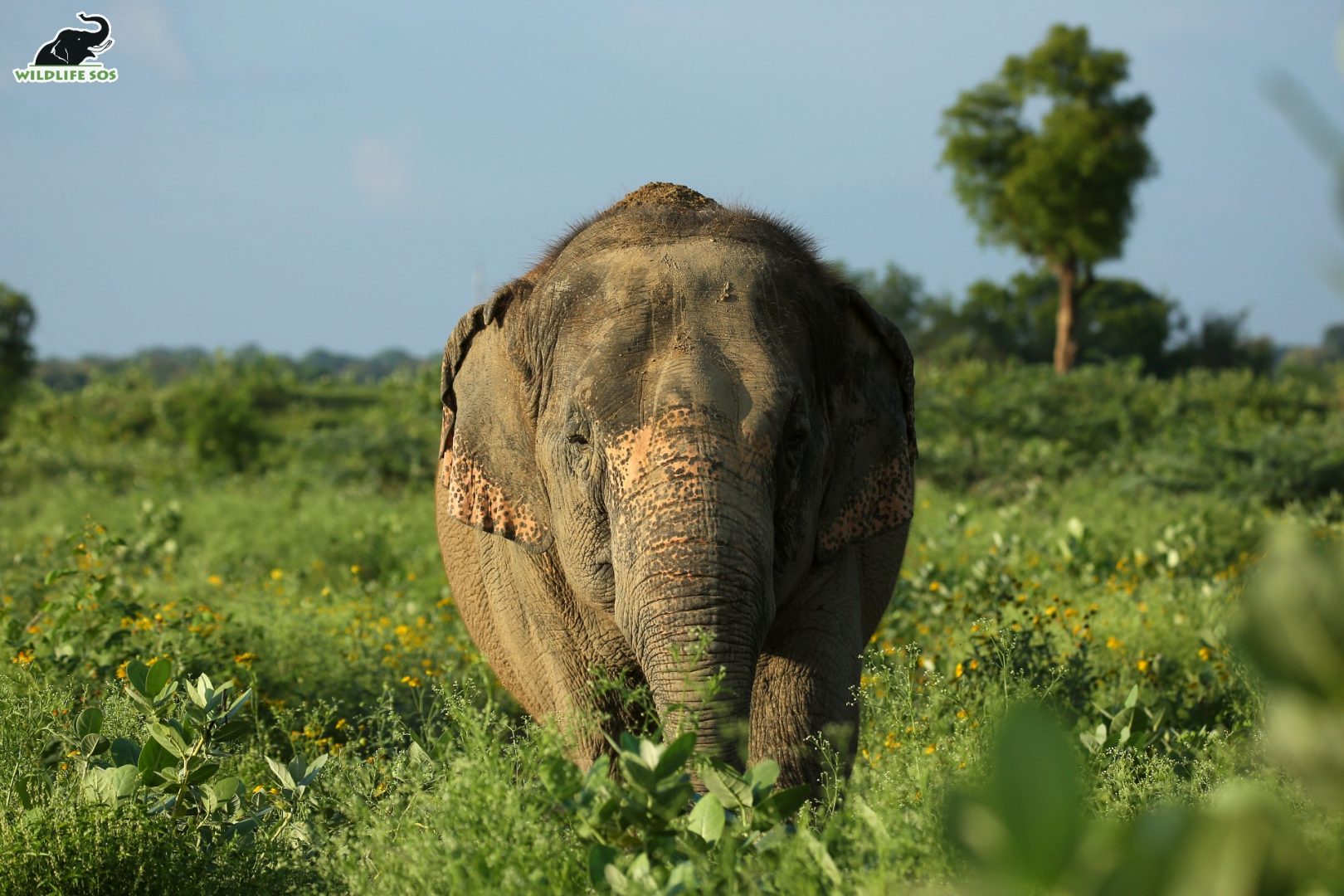 But there was yet another issue after Laxmi's rescue that we had to deal with! At Wildlife SOS, our veterinarians were accustomed to seeing elephants that were cruelly starved, beaten and kept in a sickly condition, and so, their expertise lay in making an elephant gain weight and strength. Laxmi required a completely different approach! The staff had to work towards her weight loss so that disease and arthritis that she was at a major risk for could be prevented.
From Junk Food To The Popeye Diet?
Remember that cartoon Popeye The Sailor Man? Popeye would be seen eating spinach to become healthy and strong. This cartoon inspired many young viewers (and me!) to begin eating the collectively disliked green vegetable. Our veterinarians wished for such a miracle to switch Laxmi to a healthy diet as well.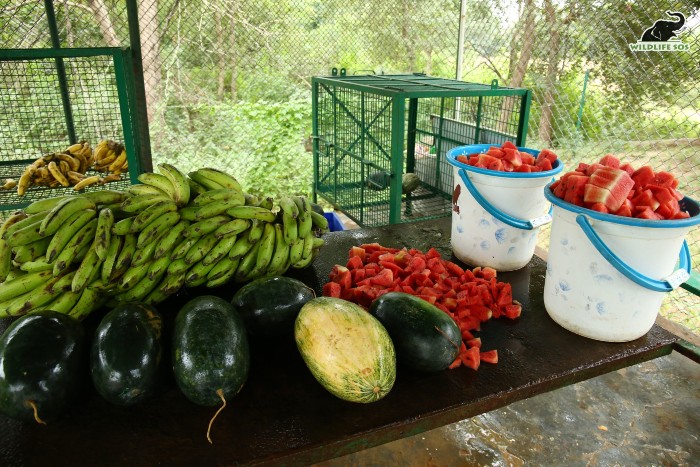 But Laxmi proved to be a difficult egg to crack. Despite our veterinarians' efforts to chart out a healthy diet plan for Laxmi, this young elephant was in the habit of consuming fatty foods and sweet laddus. Habits are hard to break, and for one who has been spoiled with junk food and sugary snacks, going keto was almost non-negotiable.
Laxmi's reaction to a healthy diet was to go into denial. It can be seen as a genius tactic for the stubborn: If you can't see it, it doesn't exist. So when Laxmi's caregiver would painstakingly procure, cut up and stack multiple vegetables, fruits and sugarcane stalks onto a food cart, and push it all the way to Laxmi's enclosure, he would be greeted with her back to him. When he would walk to her trunk with a beetroot for her, Laxmi would take another 180 degree turn! This comical scene would continue for a while every day as the caregiver struggled to win Laxmi's heart.
They say that the way to a person's heart is through their stomach. This is surely true for laxmi as well, and what won her heart were bananas and watermelons. In the sea of beetroots, cabbage, pumpkins, gourds and greens, it was the watermelon that was able to catch Laxmi's eye. It had to, for watermelons are a sure shot favourite among all the residents of ECCC. There is not a single jumbo under our care who hasn't fallen in love with watermelons, and our team was able to breathe a sigh of relief to see that the sweet taste of watermelons was more suited to Laxmi's delicate palate.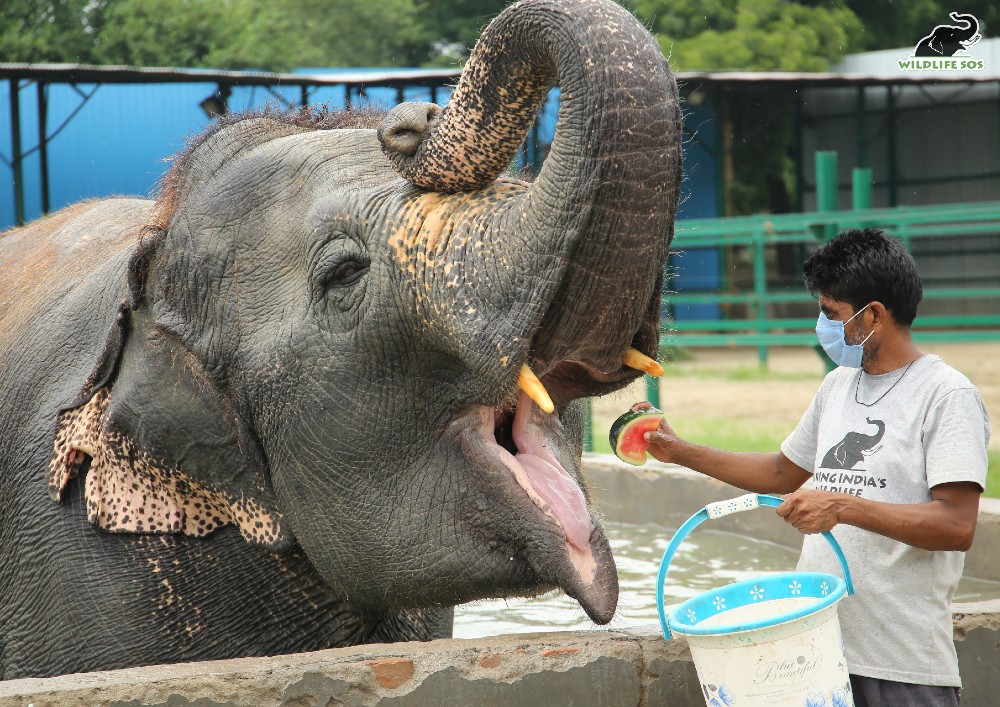 While she took to these fruits, we couldn't possibly let her go on just a watermelon diet. It took a lot of coaxing from the caregivers to help Laxmi adjust to her new and customised menu. One positive thing that came out of her natural love for food was that she took to learning target training much faster than any of the other elephants. While most of us have been amused by Laxmi's antics, it is also important to note that she is a highly intelligent elephant.
It is no secret that elephants have the brightest minds among most mammals on our planet. But did you know that elephants grieve, solve problems and adapt to threats? This is why they are known to be wise animals. Scientists have been studying elephant cognition for decades, and Laxmi is a phenomenal example of the cognitive prowess that an elephant has.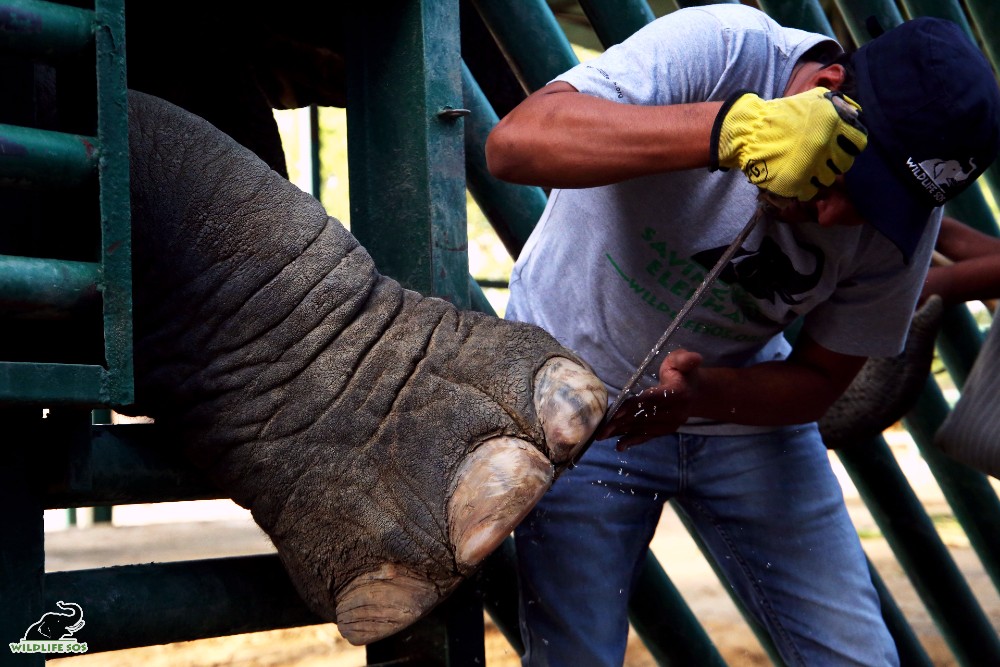 As soon as Laxmi figured out that raising her foot for medical treatments or presenting her ear for a blood draw would result in a reward in the form of some tasty chickpeas or dates, she immediately began cooperating. One can even say that she looked forward to these pedicures and medical sessions, as she would perch her feet on the Protected Contact Wall (PCW) and turn her attention towards her caregiver, extending her trunk for a treat. If he happened to make even a moment's delay, Laxmi would not refrain from digging her trunk into the caregiver's pouch, or rattling the PCW to grab his attention. All the staff members make sure to keep Laxmi happy and comfortable, otherwise they may find themselves covered in mud that she flings from her mud bed when she is in a "hangry" mood.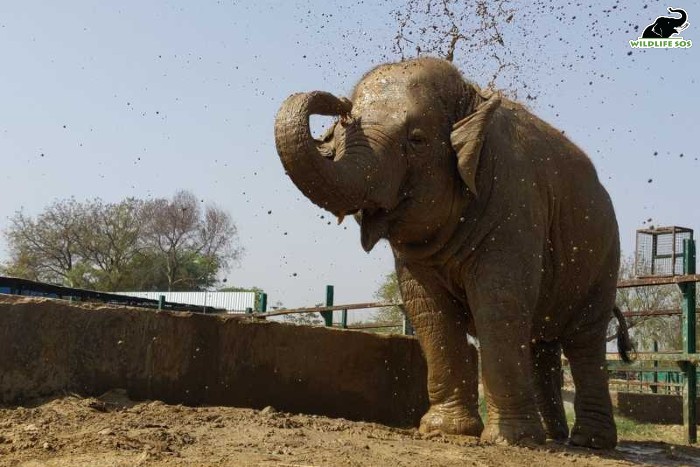 Laxmi has a higher success rate of presenting her feet and ear for medical treatments as compared to her elephant companions. Hence, she is often the elephant who displays target training and positive reinforcement for veterinary students who visit our centres to learn about elephant care.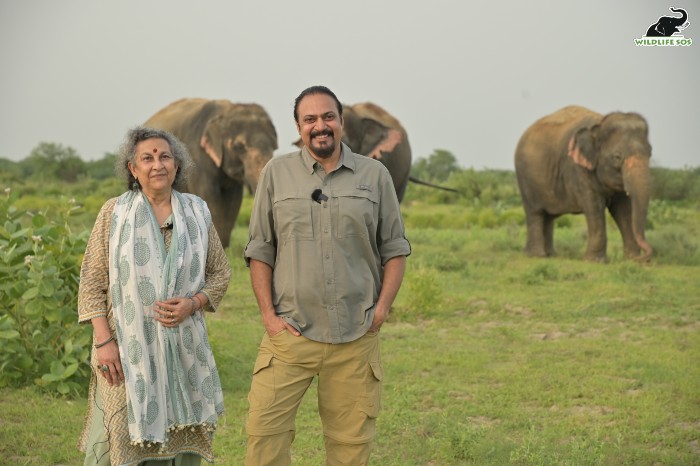 Laxmi has also demonstrated her cooperation during major veterinary conferences, including the one in February 2022, where Dr. A. B. Shrivastava performed a blood draw on her ear during a veterinary discussion on 'Welfare and Health Management of Captive Elephants' held by the Wildlife Institute of India in collaboration with Wildlife SOS.
Setting A Great Example For Gen Z
It is no secret that Gen Z believes in working smarter, not working harder. While Laxmi may technically be a millennial, Gen Z youngsters can look up to Laxmi for her knack of finding quick solutions rather than dwelling on a tricky problem. When our team began to introduce Laxmi to structural enrichments, we expected her to spend hours plucking the treats from the complicated nets that they are hidden in. Instead, Laxmi decided to pull apart the entire net and this made all the treats fall out in one go!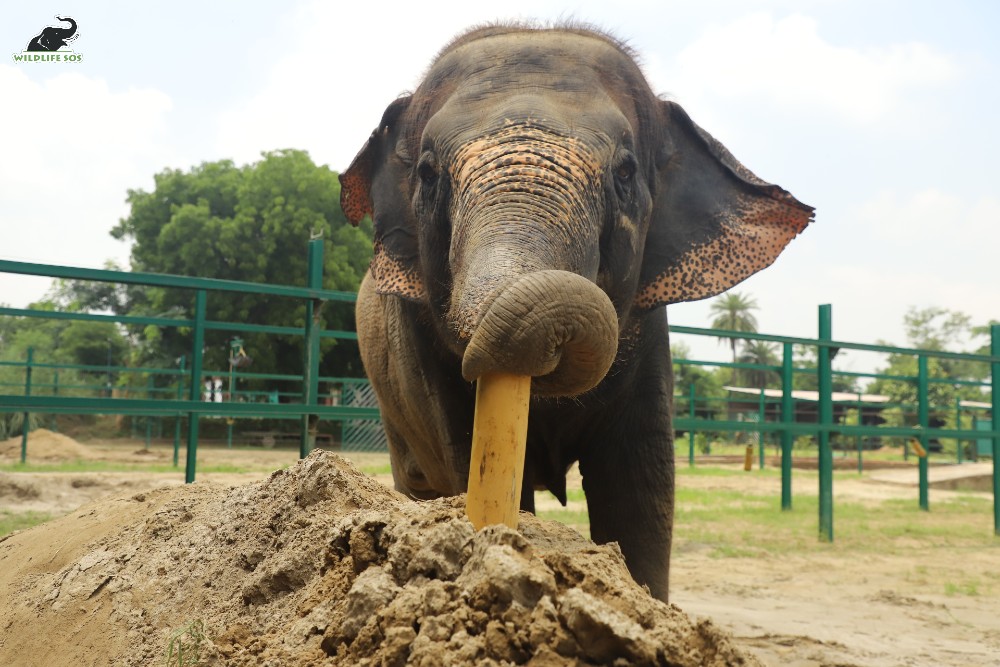 Our team had to then come up with another approach. Instead of an easy way, the team created complicated knots on her enrichment that would challenge Laxmi and make her extract the treats at a more moderate pace, just like the other elephants did. The idea worked, because Laxmi would spend hours trying to untie the knots so that she could win this game with edible rewards. The knots became a new type of enrichment for her, keeping her physically involved and mentally active.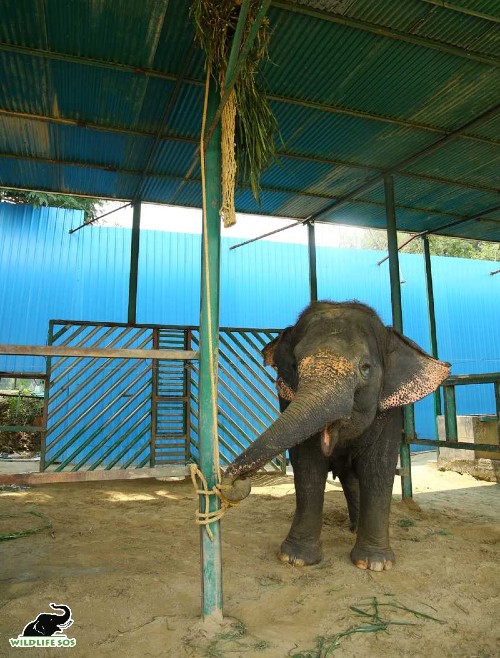 Walkathon
Laxmi has been enjoying her tryst with Wildlife SOS, especially because here, she met her companions Bijli and Chanchal. Just last year, Laxmi was our mascot for a walkathon, where our team recorded the distance she covered every day, and our supporters joined in to walk as much, or more, than the lengths Laxmi walked each day. The walk was a huge success, as it helped to raise awareness about elephants like Laxmi, while also serving as a major platform to raise funds for the care of many of our resident elephants.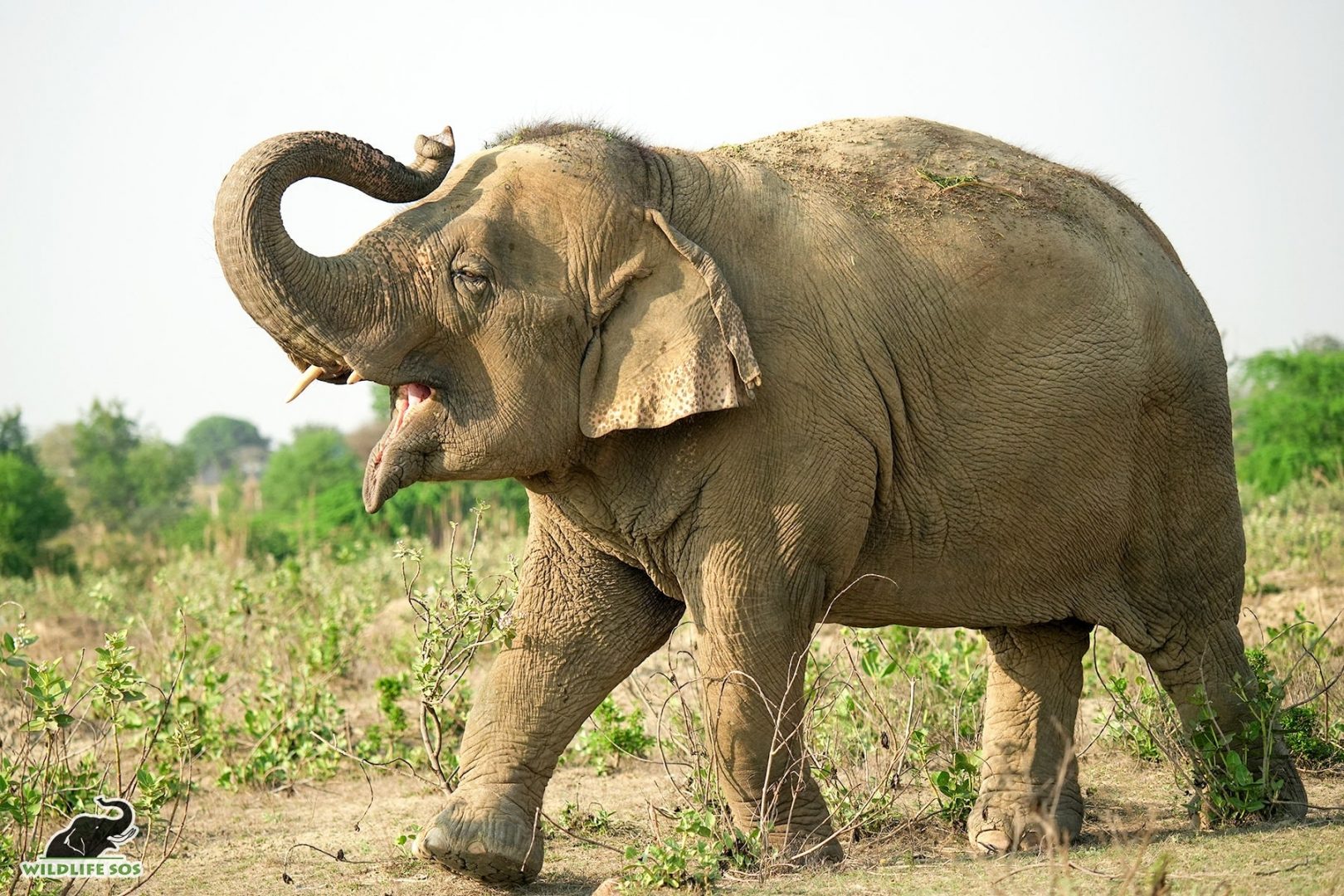 Whether you have been by her side since the very beginning of her journey with Wildlife SOS, or if you came forward to join in after seeing her hilarious antics in our featured videos, we'd like to extend our gratitude to everyone who has supported Laxmi!
If you would like to sustain the care for Laxmi, you can help us by becoming a monthly sponsor!