Using social media for wildlife conservation might seem tricky, and with good reason. Over the years, social media has evolved with extremely contrasting aspects. While it manages to connect people across the globe, the "social" aspect of this media has shaped public opinion in both productive and harmful ways.
Animal welfare is no different. Facebook, YouTube, Twitter and Instagram have become sites where wrong behaviour unto animals, mistaken to be amusing or kind, is widely shared. A video of an elephant snacking on Pani Puri went viral due to people's fascination with this seemingly 'adorable' encounter. As evidenced, most "likers" of the post missed how malnourished the elephant was or were simply ignorant about the fact that such food has an adverse impact on an animal's health.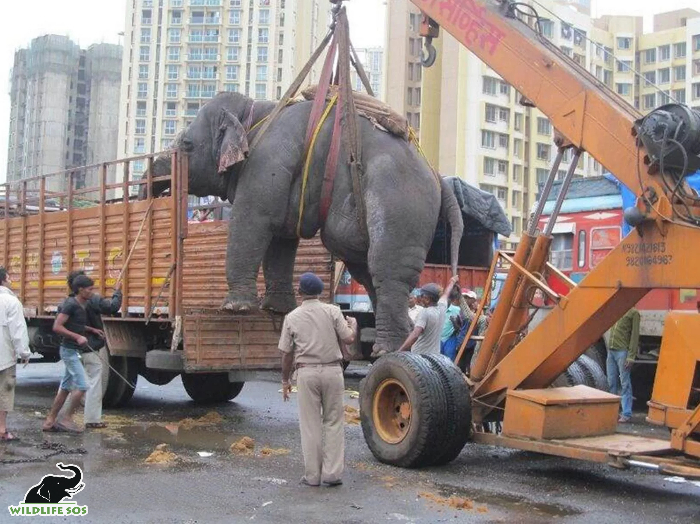 However, it is important to note that the Internet also houses valuable accounts of the valiant wildlife warriors who continue to fight for our planet and its voiceless inhabitants. These virtual spaces showcase new scientific breakthroughs in the field of conservation, and allow us to engage with a community of like-minded individuals who seek justice for animals.
Contrary to popular belief, technology and nature do not exist in opposition, and there are several well-researched benefits of using social media to promote wildlife conservation. Wildlife SOS' social media platforms exemplify how we can effectively channel digital platforms to serve ecological purposes. Let's look at how connecting with internet users far and wide has helped and strengthened organisations like ours.
1. Raising Funds for Wildlife Conservation
Fundraising serves as a major building block for successful conservation. Many of our rehabilitated bears, elephants, and leopards have received a new lease of life, thanks to Wildlife SOS' growing community of animal lovers.
Carefully evaluating social media websites like Instagram, Facebook, Twitter, LinkedIn, and YouTube has helped us pick the best tools to use to reach out to vast audiences with whom we can share the stories of our rescued animals. By getting to know about the animals' poignant pasts and understanding the challenging efforts that Wildlife SOS takes to secure their future, many of our followers have been inspired to take the lead and protect wildlife.
Consistent contributions by them helps us support the soaring expenses incurred while rehabilitating wildlife, empowering the Kalandar community, covering the threatening open wells, restoring wildlife habitats, carrying out regular rescue operations, and so much more!
2. Generating Awareness
The stories we post as an organisation covers both the flagship species that can act as mascots for their ecosystems as well as the lesser, undervalued animals that are often overshadowed under various labels. It is important to highlight how every animal should be cared for without any bias based on appearance or mistaken beliefs. Through YouTube videos and our easy-to-understand captions on Facebook and Instagram, we elucidate the lesser-known facts about various animals that cohabit our world.
Wildlife SOS' Reptiles Group on Facebook highlights our team's valiant efforts in saving snakes from conflict situations and busting the myths about them. On Instagram, our posts on World Snake Day aimed to make our audiences a little warmer towards these cold-blooded reptiles.
Generating awareness also helps us respond to the plight of animals. In 2021, the video of a begging elephant named Lakshmi went viral, with the moniker "India's skinniest elephant" attached to her, following which Wildlife SOS rescued Lakshmi and rehabilitated her at the Elephant Conservation and Care Centre. 
3. Creating a Community
As we inform our virtual audience about rescues and efforts, our followers and subscribers bring us news about animal abuse and mistreatment, animals that are caught in illegal trade or those facing conflict situations from every corner of the nation. Many of these wildlife warriors connect with us on our social media pages for assistance. As we disperse details on our elephant rescues, several aware individuals have alerted us to the plight of many captive elephants that are forced to walk the narrow lanes of congested urban spaces. In these ways, we have nurtured the growth of a powerful community of people who are united against injustice to animals.
4. Cheerful Content
Beyond the sombre tales of animals mistreated in captivity and the moving narratives of saving them are the ongoing stories about the life and wellbeing of rescued animals. Our fun-loving bears and elephants often indulge in a variety of capers and jinks as they have fun amidst their new home.
Through interactive quizzes on Instagram stories, visitors of our page actively and enjoyably participate. Watching a sloth bear grapple with his enrichment or elephants rolling around in the mud are sure to boost the serotonin levels one needs to lift spirits!
Our feed on social media – is filled with snaps and videos capturing all sorts of playful shenanigans the animals in our care indulge in. Often, to satiate the diminished attention spans in the age of the Internet, it is useful to catch the eye of a scrolling user with a baby monkey or a reel featuring a leopard cub! 
5. Encouraging Policy Action and Legislation
Given social media's role in galvanising popular opinion, it can be used responsibly to create a productive impact on policy, law, and their enforcement. In scenarios that attract mass attention, social media may enable prompt legislative action, and it also has the potential to increase support for endangered species protection. Social media has played a vital role in sharing various significant petitions with a wide audience.
Our #RefuseToRide petition seeks to effect such a change in order to provide elephants with a better life by eliminating abuse, capture and use for rides. We also have a petition to encourage the biannual inspection of captive elephants to safeguard their health. Another notable attempt to bring about change comes in the form of the petition to cover up open wells in Maharashtra, so that unwitting animals are prevented from falling into them and dying due to drowning or starvation.
How can you Help?
Social media has acquired a negative reputation for obsessively engaging people on their digital devices, due to which human beings now pay lesser attention to nature and its inhabitants. In other words, the internet has taken many of us further away from the real world.
While we cannot change this scenario, we can steer this very human fixation to create a positive impact. Here are the ways in which social media can help us help animals!
1. Use hashtags: Hashtags are the secret weapons of social media. Knowing and using the correct hashtags can go a long way, ensuring that your post reaches a larger number of eyes in the era of endless scrolling. Consider following our most used hashtags on Instagram (#wildlifesos, #wildlifeconservation) to remain updated on Wildlife SOS' dedicated efforts to work for animal welfare.
2. Comment on injustice: Even though laws protect many animals across the country, several species often become victims of injustice and suffer in silence. You can be their voice! Social media gives us the superpower of making our own voices reach out to the world in order to make an overlooked case of animal abuse a national or global concern.
3. Facts are your friends: The internet is replete with hearsay and unverified information, therefore it is our responsibility to share credible facts. Verified details can ensure positive responses online.
4. Be aware and make aware: Social media can be a place where you can not only pass on information but also educate yourself. Learning about the truth and unlearning falsehood are essential steps in understanding the wonderful world of animals.
5. Show your creativity: Saving the world, one animal at a time, should be an enthusiastic pursuit! And with social media, the possibilities are limitless! Employ memes, reels, webcomics, digital art, blogs, short-form content, interactive media, independent video games, Instagram stories and more to creatively spread your message far and wide.
If you want to join hands with us and make a difference for India's voiceless animals, consider connecting with Wildlife SOS on our social media platforms:
Facebook: https://www.facebook.com/wildlifesosindia/
Instagram: https://www.instagram.com/wildlifesos/?hl=en
Twitter: https://twitter.com/WildlifeSOS
LinkedIn: https://in.linkedin.com/company/wildlife-sos
YouTube: https://www.youtube.com/@WildlifeSOS/videos
Threads: https://www.threads.net/@wildlifesos