Five years ago, four battered, bruised and dispirited elephants were rescued from a circus in Maharashtra. These young elephants were illegally poached and trafficked across borders to be subjected to a lifetime of misery and were forced to perform unnatural tricks for an audience who knew nothing of the pain they were in. The rescue ended their tryst with torture and concluded their servitude for the entertainment industry as they made the Wildlife SOS Elephant Conservation and Care Centre their home!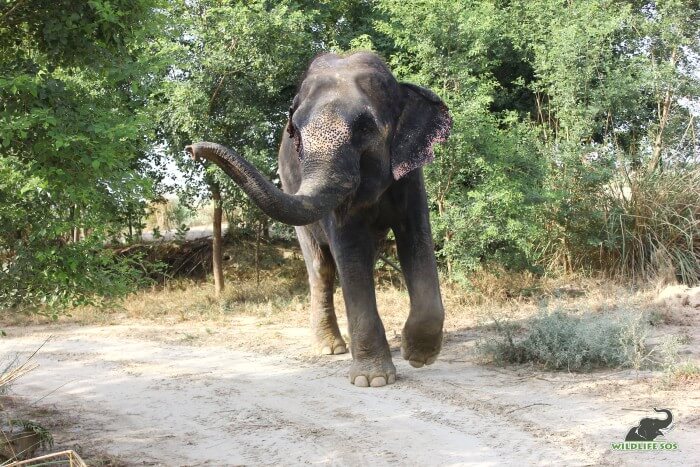 With the youngest, Peanut and Coconut keeping their elephant caregivers on their toes constantly and our strapping young Walnut taking sure strides in his spacious enclosure, there was our dear Macadamia – lovingly called Mac – who took ample time to feel at home. Mac was only 22 years of age at the time of his rescue, and he was more reserved and reclusive than the others. During his initial days, he would show signs of intense stereotypy characterised by severe head bobbing and swaying, which are tell-tale signs of prolonged abuse. It broke our heart to watch this young elephant in such distress and we understood that he would need more time to grow comfortable with his new life.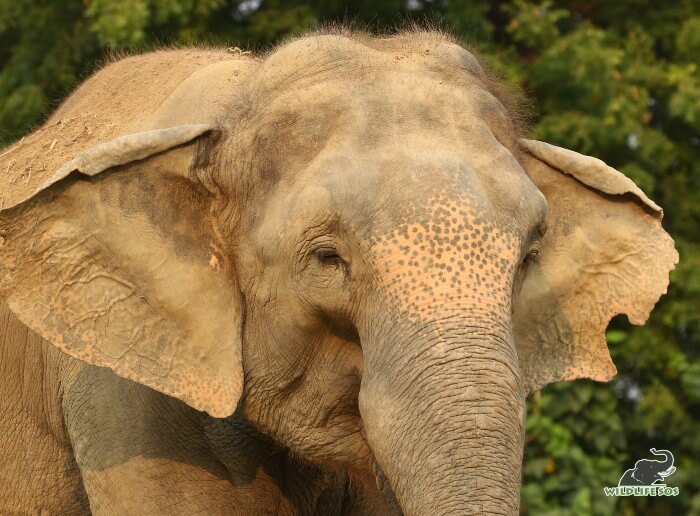 As time passed, we witnessed this young bull feel a little more at ease with the natural calls of the wild and the familiar smells of other elephants, gradually. His first monsoons at the Centre were delightful as he stood under the torrential downpour excitedly trumpeting!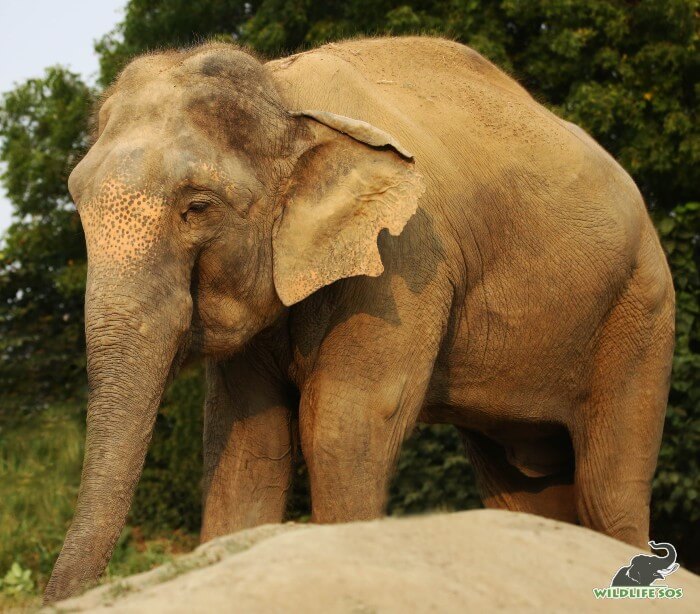 His love for water is unmatched and this intelligent pachyderm knows when it is time for his bath, as he will stop whatever he is doing and quickly run to his bathing area to play with the water in his trough. Relaxing baths are Mac's favourite part of the day after which he proceeds for elaborate mud baths – the generous amount of mud flying around tells us all that we need to know about this enthusiastic elephant!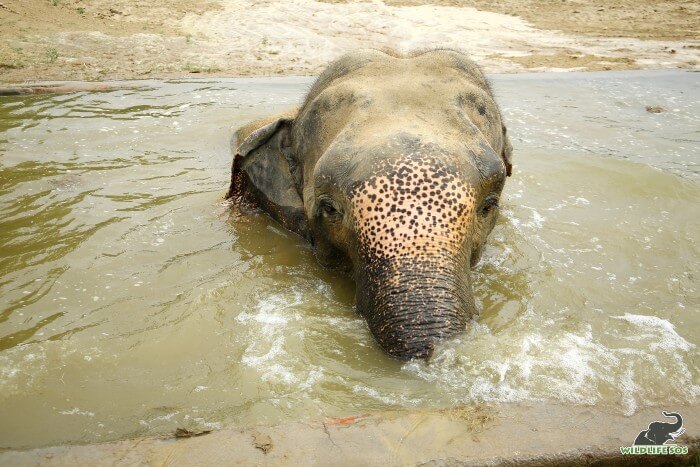 Mac receives regular toenail trimming sessions and medicated foot baths for his delicate foot pads. He is not too fond of veterinary checkups and has to be coaxed by his caregiver into getting examined with enticing treats like cucumbers and peanuts! His caregiver is always concerned for Mac's dietary patterns and is sure to keep the veterinary team posted on any change he may notice. He presently weighs 3200 kgs and is happy to gorge on sorghum green fodder, watermelons, maize, cucumbers and pumpkins!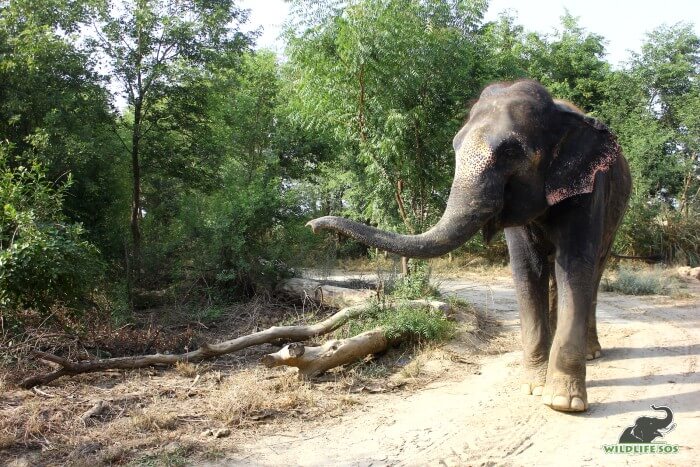 He is presently in musth which is a healthy phenomenon that all adult bull elephants undergo when they experience heightened levels of testosterone. It is characterised by secretion of a hormone-rich substance called temporin from the temporal glands of an elephant. Just like any other elephant, Macadamia is restless and unpredictable, during this time and to channelise his energy, his pool is always ready with fresh water for him to enjoy a splash that greatly helps him to relax!
We have also ensured that his enclosure is equipped with enrichments that keep him occupied, give him his fair share of exercise and helping reduce stereotypical behaviour. He enjoys munching on fresh fodder from his log enrichment and uses his dexterous trunk to pick out the chickpeas placed on top of it.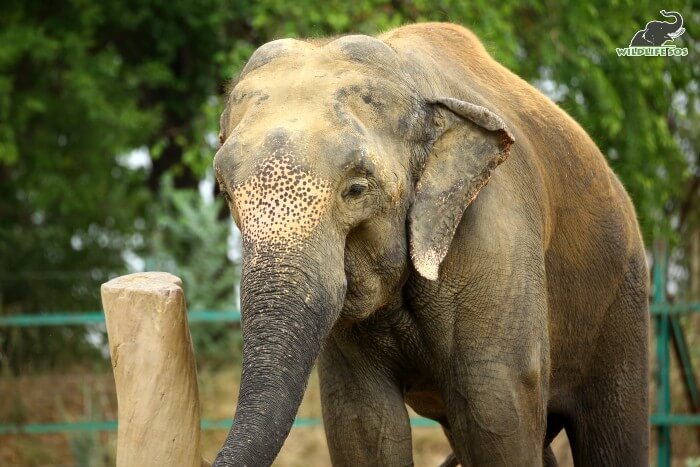 He can spend hours at a stretch pulling pieces of fodder from his hanging feeder and hay net enrichment and will walk around his enclosure after proudly dismantling the hay net.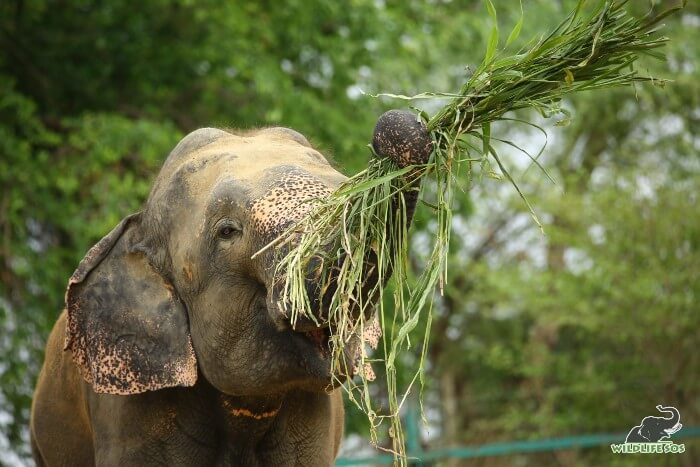 Macadamia has shown strength and valour way beyond his years as he continues to heal under our care. After spending 22 years in heart-breaking conditions, he has metamorphosised from a timid, weak elephant to a confident, young bull who is constantly cared for by the elephant care staff and our team of veterinarians. You can play an inseparable role in his journey by considering to become a sponsor for the oldest elephant of the Nut Herd!