With just a mere glance at Laxmi, one is overwhelmed by her sheer gigantic size that exceeds even elephantine proportions. While it might incite people to use adjectives like cute, cuddly, cushiony to describe her, our team understands the gravity of her extra weight. Prior to her rescue in 2013, Laxmi was a begging elephant in the bustling city of Mumbai. Going from temple to temple, she was seen as an incarnation of Ganesha and devotees would stop to feed her sugary offerings and fried food, eating as many as 200 vada pavs in a day! Thanks to her unhealthy and unnatural diet, at just an age of 18 years, she was severely obese. While we realised that her hearty appetite was going to be an obstacle as we work to reduce her weight, our team was not prepared nearly enough for Laxmi's immense intelligence that also exceeded elephantine proportions!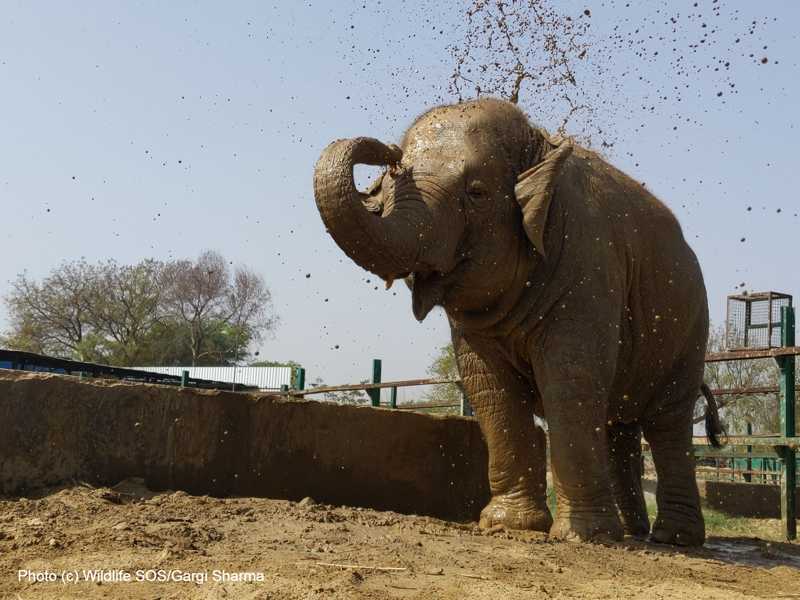 It comes as no surprise that Laxmi is extremely food motivated and can pretty much do anything to grab a treat. As such teaching her target training was a relatively simple process, once she figured out that if she followed the behaviour cues she would be rewarded with her favourite chickpea or dates. These sessions are immensely enriching for her mind and a good exercise for her joints too. The foot window on her protected contact wall, where she gives her feet for pedicures, is at a relatively higher elevation than for our other pachyderms. To our smart Laxmi that is simply no challenge because the reward is too good to be missed at the end! In fact, the reward is simply much too precious to Laxmi as every day she awaits her target training session and any moment's delay gets her temper flaring up. The brunt of her wrath is borne by the sturdy PC wall which she tries her best to rattle, to get her keeper's attention so that her skilful targeting can start as soon as possible. If one walks up to her during one of her hangry moods, she does not hesitate from throwing some dust at them!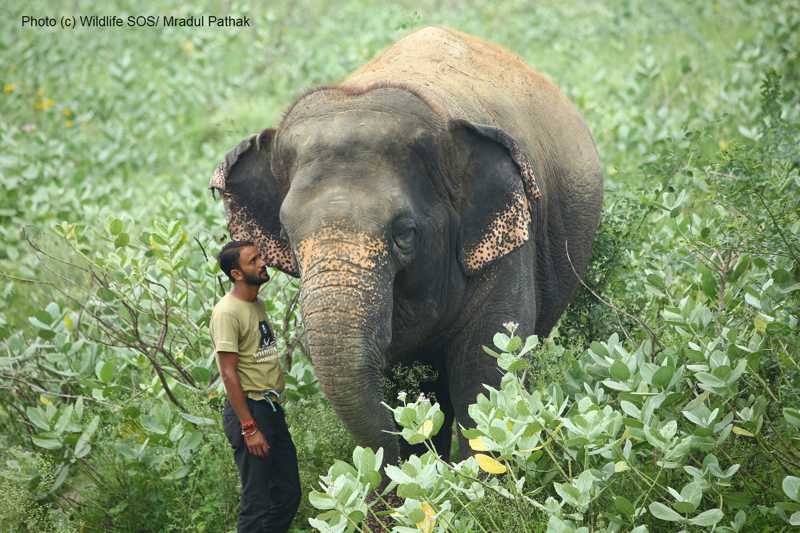 Laxmi's moodiness is always a source of great amusement and trouble to her keeper. She is best friends with the other rescued elephants Chanchal and Bijli, forming the famous turbulent trio at the Elephant Conservation and Care Centre (ECCC). The three friends have quite distinct personalities and yet their friendship fits like a perfect jigsaw puzzle! While Chanchal is extrovertedly naughty, Bijli likes to keep it to herself. Laxmi, on the other hand, is unabashedly herself and everything simply depends on her mood. When out on walks together, they always try to stay in the vicinity of each other. However, on some days Laxmi feels a bit more adventurous than her friends and does not hesitate in leaving their side to explore more, or well… perhaps experience some solitude! Notwithstanding the many twists and turns, she casually walks downhill to go to her favourite spot at the shallow canal at the end of the field. Even as her keeper calls out to her to come back and be with her friends, Laxmi simply keeps walking for she has set her mind to swimming in the shallow waters and she shall! The battle of wills is always invariably won by Laxmi.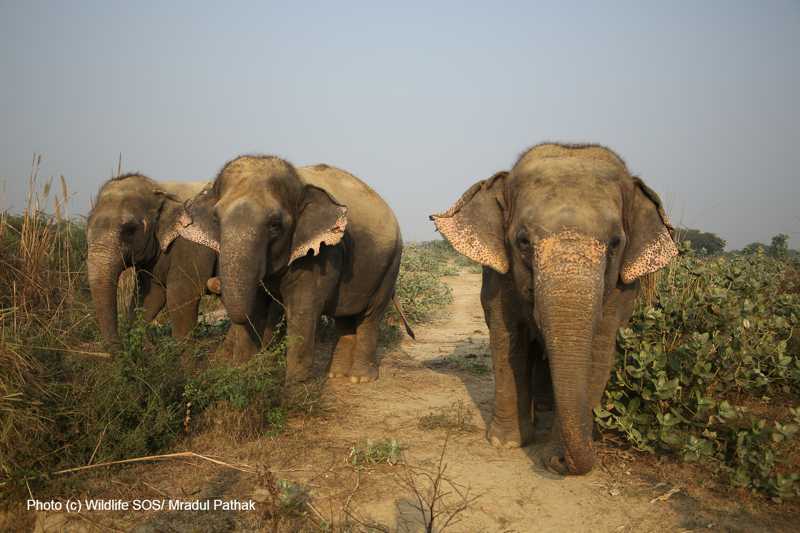 Stubbornness, when channelled correctly, leads to determination, and Laxmi very well knows when to make this switch. Enrichments are a fun way to engage our rescued pachyderms and to encourage them to exercise. Making food motivated enrichment encourage the natural browsing behaviour of the elephants that helps sharpen their problem-solving skills. As such some enrichments are suspended from greater heights using pulley systems and ropes. Our keepers often tie these ropes at the pillars of the enclosure. Our smart Laxmi is not a big fan of exercise and tries to avoid it as best as she can. In fact, if her keeper calls her from behind instead of turning 360 degrees, she simply starts reverse walking to preserve her energy. She has managed to apply the same principle to her suspended enrichments as well. Laxmi has learnt that if she opens the knots that keep her food suspended, everything will fall down at once and will be much easier to eat! She does not mind spending hours opening the complicated knots and does not mind a delayed gratification with food. Knots have proven to be a great cognitive enrichment for her and our keepers experiment with new types of knots to keep challenging her. However, nothing can beat the lethal combination of Laxmi's wit and determination!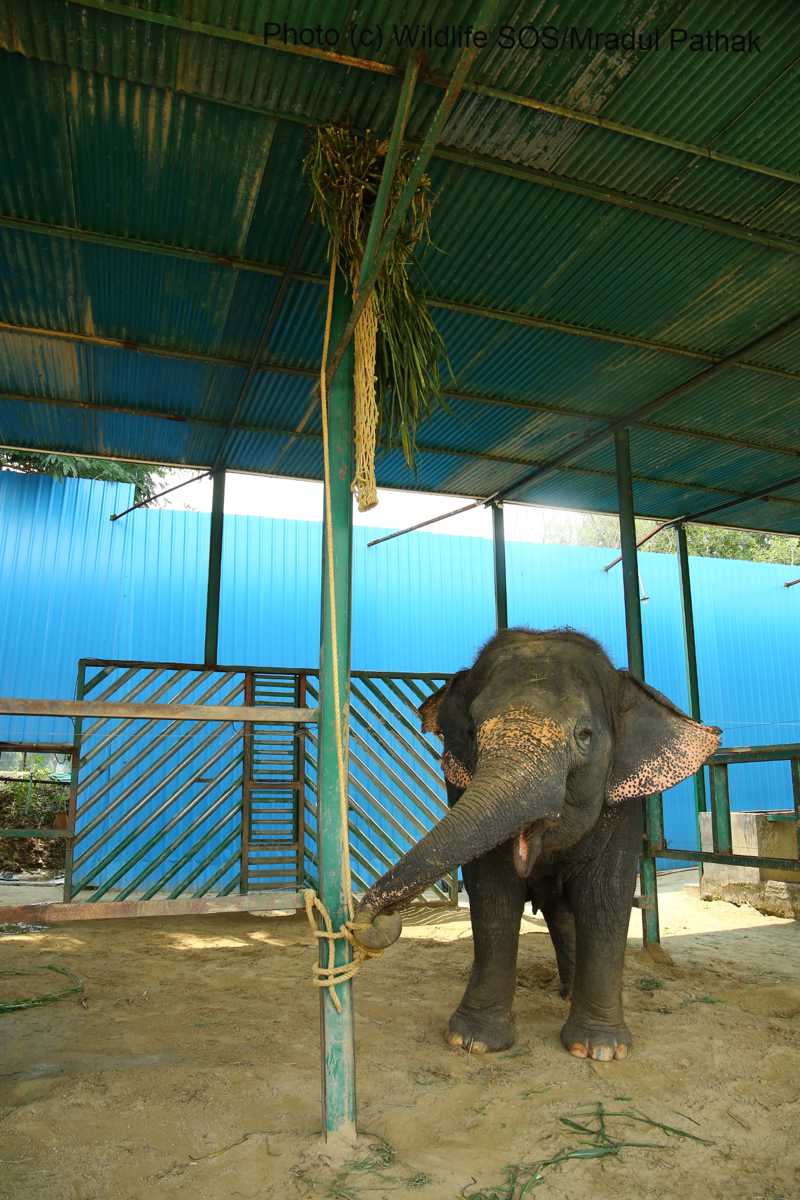 It was Laxmi and her curiosity that inspired us to build a specialised Elephant Ambulance for elephants when on her way to the safe haven of ECCC, she tried to steer the stirring wheel of the truck. Each day with her reminds us of how special and intelligent elephants truly are. We hope that the journey with Laxmi is always filled with new quirks!