Almost a year ago, an elephant navigating through the congested city roads of the National Capital of Delhi would have been a common sight for the residents and the tourists, alike. Some would feel pity for this elephant while, some would fight with her owner for putting her through this misery. A casual glance at Jasmine, one of Delhi's last captive elephants, and you could see her eyes screaming of exhaustion and pain.
Wildlife SOS, in a joint operation conducted with the Delhi Police, Delhi Forest Department and Haryana Forest Department, rescued Jasmine and freed her from a lifetime of misery in September 2019. Jasmine's rescue concluded the capital's long-drawn association with captive elephants. Despite the innumerable difficulties that surfaced during her rescue, everyone breathed a collective sigh of relief when she took her first steps into the thick, forested area of the Elephant Rehabilitation Centre, Ban Santour in Haryana, run by Wildlife SOS in collaboration with the Haryana Forest Department.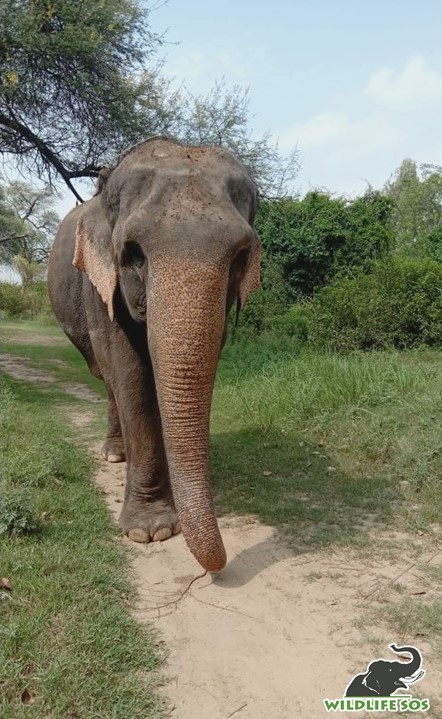 Jasmine took confident strides into her new home and accepted this new, positive direction of her life. We instantly knew that she has taken to her surroundings and rightly so, owing to the lifetime of abuse that she had to undergo, not being allowed to roam around freely. Jasmine's life was burdened, and physically so, with the overbearing weight of a carrier crushing her spine and her spirits down. Now, with the serene surroundings of the Elephant Rehabilitation and the company of a loving herd, Jasmine's health is improving gradually.
Jasmine has a vibrant personality and there is nothing that she enjoys more than walking around the forested area of the Centre! One may not see her but will clearly understand that she has hidden in the green foliage, and is playfully munching on the fresh leaves or lifting her trunk to break off a branch.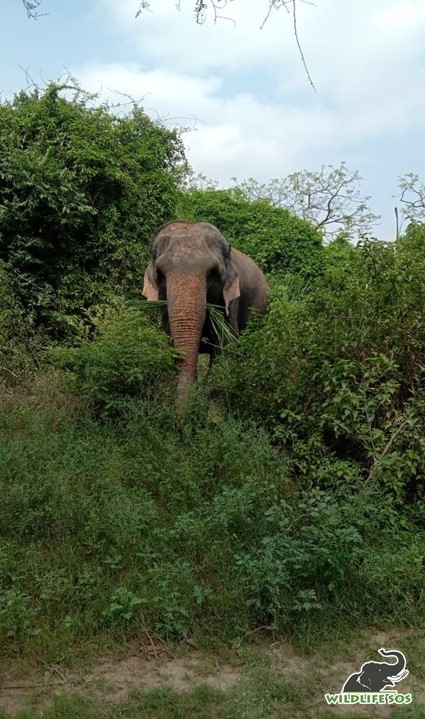 Another trait very unique to our gullible Jasmine is her unwavering trust in humans. Every time that someone passes her enclosure, Jasmine will eagerly lift her trunk out to understand the new smell and make a soft trumpeting sound to acknowledge the presence.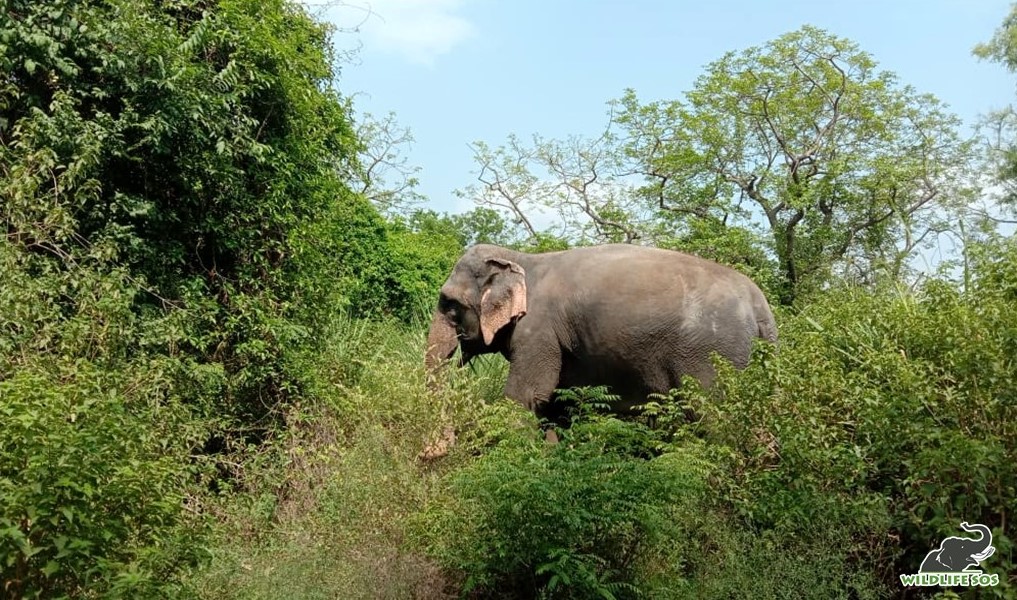 She is closest to Daisy, who was also rescued from Delhi and is completely blind, Jasmine has taken it upon herself to be the guiding light for her. She never leaves Daisy's side, even when they go for their walks and each time that Jasmine deviates from the path to follow a bushy trail, she almost immediately remembers that her dearest companion must not miss out from this experience.
It is an extremely heartening sight to watch Jasmine walk back and rumble to Daisy, who then follows her into their daily doses of adventure. With Daisy's loss of sight and Jasmine's arthritic limbs, the duo walks slowly around, picking up the fresh smells of the forest.
Jasmine weighs 3774 kgs, and her weight is managed by our veterinarians as well as the elephant care staff to ensure that it does not add strain to her arthritic limbs. In addition to joint supplements, Jasmine feels the most relief when she gets a chance to go to the riverside and immerse herself in the freshwater! The coolness of the river and the subtle warmth that the natural sun adds to it becomes the most ideal thing for the elephants at the Elephant Rehabilitation Centre to enjoy! She also undergoes regular sessions of toenail trimming and relaxing, medicated foot baths to improve the condition of her feet for her to be able to walk around easily.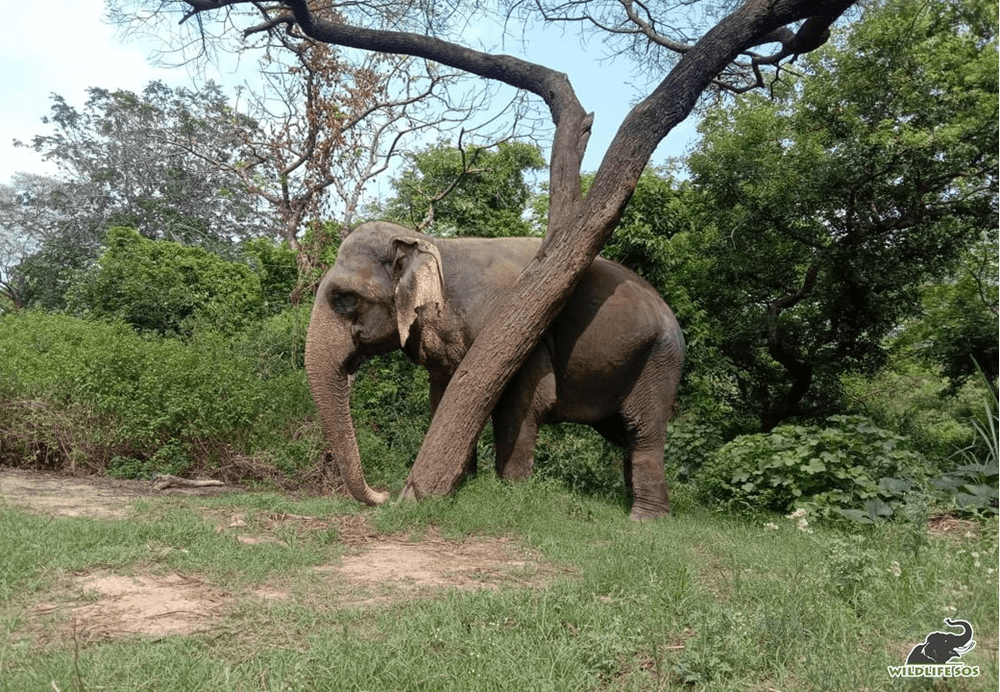 She thoroughly enjoys munching on pumpkins, bananas, green fodder and cooked concentrate which is made of ragi flour and has delicious condiments like ginger, garlic, turmeric and pepper added to it, to be able to improve core strength and immunity.
The natural sounds of the wild, as opposed to the ungainly clamour of the city traffic and horns, the lush green forests of the Centre as against the painful concrete surfaces that would be her solace and the loving company of four other elephants immensely help in giving her the psychological relief she deserves, Jasmine, is rightfully home.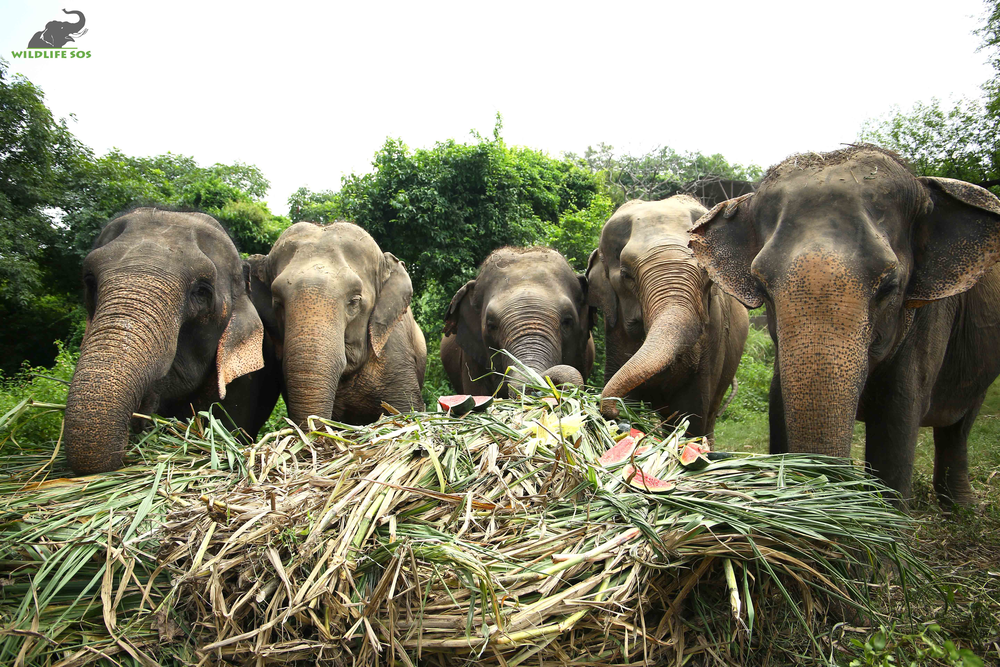 For us to continue to care for Jasmine, kindly consider becoming a monthly sponsor for her to prosper with us at Wildlife SOS here!