Bhola's past was riddled with pain, abuse and neglect which severely traumatized him for years. To add to his woes, Bhola's owner kept him tethered by his tail, leaving him with a seriously infected tail injury and an insurmountable amount of pain that he underwent for ages.
On a fateful night, Bhola's owners were illegally transporting him across the porous state borders, making him run in the middle of a dimly-lit highway when he collided with a truck – an impact so grave that it would leave this gentle pachyderm with physical and psychological scars, for the rest of his life.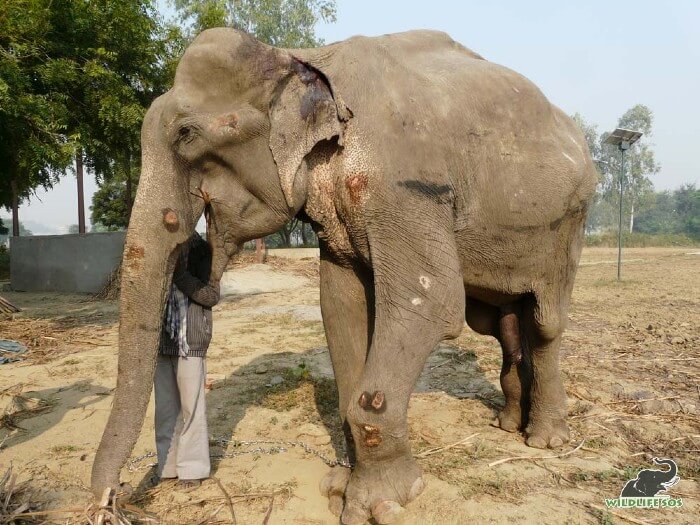 With the timely intervention of the Forest Department, Wildlife SOS learnt about Bhola's serious condition and a rapid response unit team was dispatched to his location. Bhola was unable to handle his weight due to the serious injuries that he had suffered, thus, with the help of a crane, he had to be lifted to be transported to the Elephant Conservation and Care Centre, in Mathura.
A gravely injured Bhola took more than few days to be able to stand on his own two feet and from thereon, started his journey of heroic healing. Additionally, Bhola was extremely uncomfortable to the new smells that surrounded him, with his loss of vision and gradual loss of hearing as well, we knew Bhola had to be taken under intensive care and treatment.
For ten years, Bhola has made the Elephant Conservation and Care Centre his home, where he can be spotted roaming around his spacious enclosure with cushioned edgings to allow him to walk without bumping and injuring himself. Bhola's abusive past, intensified by the serious accident, covered his body with chronic and infected abscesses on the right side of his hip, both his elbows, his thigh region and at the base of his ear, along with his mandible region. These chronic wounds need intense treatment, twice a day, and prove immensely painful for our dear Bhola, who dreads treatment. A steady supply of peanuts and raw bananas along with his caregiver's comforting touch is the only way that Bhola remains calm during his hour-long sessions of treatment. Bhola also receives regular toenail trimming sessions followed by relaxing foot baths of Epsom salt and turmeric which aid healing of his toenail abscesses and the delicate condition of his foot pads.
However, one witnesses a carefree side to Bhola when there are monsoons! Standing in the pouring rain, Bhola loves to take mud baths and enjoys walking alongside the periphery of his enclosure to pick off branches and pluck leaves from the massive trees that surround him. Bhola's diet is carefully curated understanding the degenerative joint condition that he suffers from and includes his favourite sugarcanes, apples and watermelons that he is quick to gorge!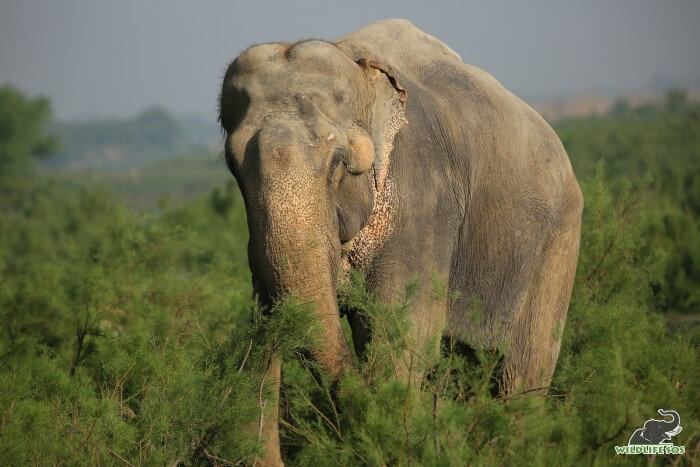 Bhola, at the age of 55 years, experiences musth which is a natural and healthy phenomenon in adult, bull elephants where they experience heightened levels of testosterone. Since Bhola is blind, this time becomes even more sensitive as he is extremely unpredictable and moody which is why his caregiver, Asif, who has been by Bhola's side all through his decade-long journey with us, knows exactly how to keep him calm. Asif talks in great awe about Bhola's brave journey and recalls how Bhola, who could barely walk without the support of a crane initially, today has a sure gait when he is spotted walking in his enclosure.
"Even though Bhola is blind, he is a very smart elephant and will use his trunk to actively survey his surroundings, especially when out for his walks. He loves walking by the Yamuna riverside and will forage on fresh grass patches, which feel very soft under his feet", adds Asif when asked about what Bhola thoroughly enjoys to do!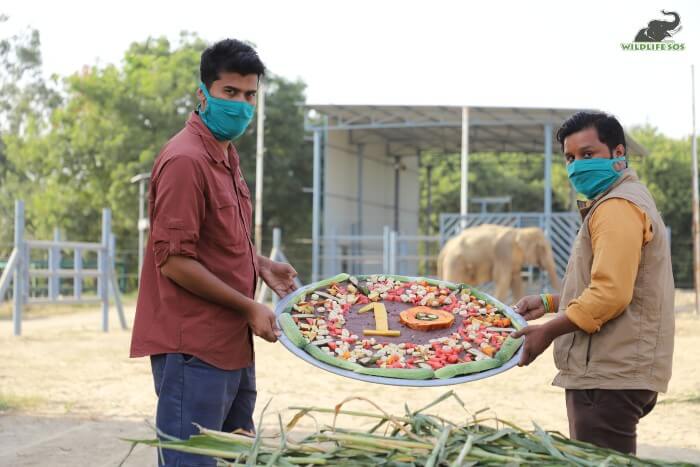 For Bhola's ten-year anniversary, the elephant care staff organised a lavish spread to mark the celebrations and Bhola walked gradually to his delicious treat, softly trumpeting in delight before munching it all down within a matter of minutes. Bhola's special day included a calming dip in the pool followed by the delightfully long sessions of mud baths, which are his favourite. Bhola's enclosure is equipped with mud beds, on which he sleeps every night, only to be awake at the strike of dawn to rattle his cage enrichment demanding sugarcanes!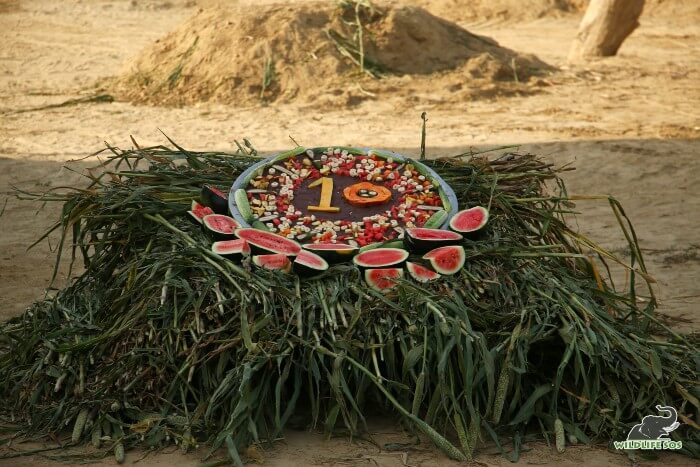 Ten years ago, it would be hard to imagine that Bhola would survive the accident and live a life of freedom that he truly deserves. The intense treatment that Bhola underwent did manage to cure his tail injury, an infected abscess on his shoulder and improve the condition of his hindlegs which were permanently damaged after the accident.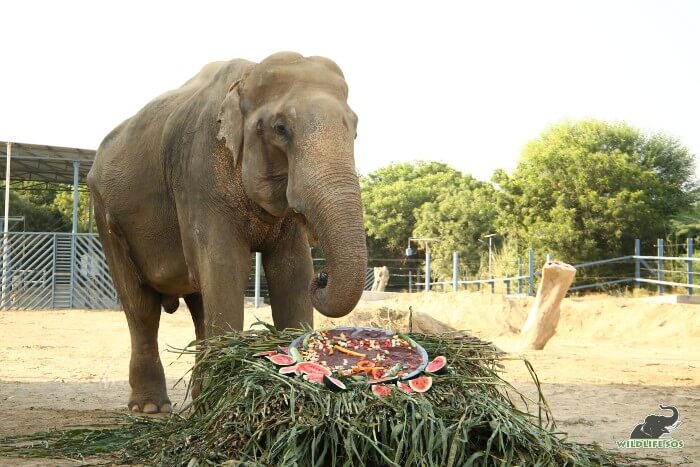 Here's celebrating your innocence and your courage, Bhola! To ten years and a lifetime more.