Friendship needs no words – it is solitude delivered from the anguish of loneliness.
– Dag Hammarskjold

The pachyderms cared for by Wildlife SOS certainly embody this statement. One of the ways we assist most of our elephants in recovering psychologically from their traumatic pasts is by pairing them with other elephants and observing the miracle of friendship work its wonders.
To highlight this fact, we shine the spotlight on Kalpana this month, who is currently residing at our Elephant Hospital. Here, she shares a close friendship with Holly, who shares a past similar to Kalpana's.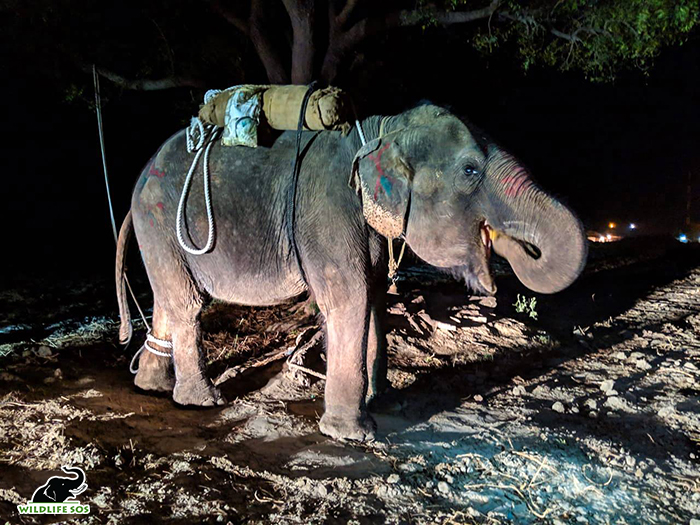 Kalpana was owned illegally as a begging elephant, who would be forced to roam the blazing streets of Uttar Pradesh to collect alms. The scars caused on her trunk and forehead by the sharp end of an axe or bullhook would be covered with paint by her owner.
After being rescued by Wildlife SOS in 2019, Kalpana was brought to the Elephant Hospital where she was diagnosed with an ankylosed forelimb. This stiffness of the joint had been further aggravated due to constant exertion and an improperly set fracture. Kalpana's toenails were found to be overgrown, and were ridden with numerous abscesses and callus formations that looked extremely painful! She was also found to be blind in the right eye.

To aid her with all of these impairments, Kalpana undergoes regular laser therapy even today, along with a medicated foot bath to treat the abscesses on her foot pads. Kalpana is now healthier than she was during her rescue and on the road to recovery.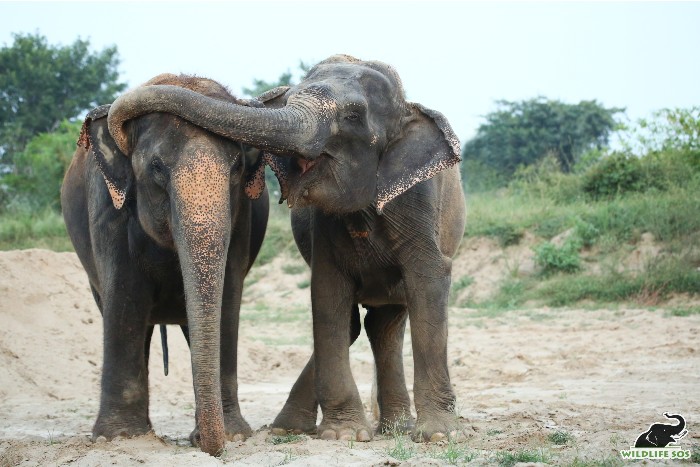 Elephant care is a continuous and difficult process to undertake, needing a dedicated and hardworking team. The best form of treatment for Kalpana came not just from her human caregivers, but also from fellow pachyderm Holly in a significant way. Rescued from the begging elephant trade as well, Holly is an blind elephant, and the duo have become inseparable.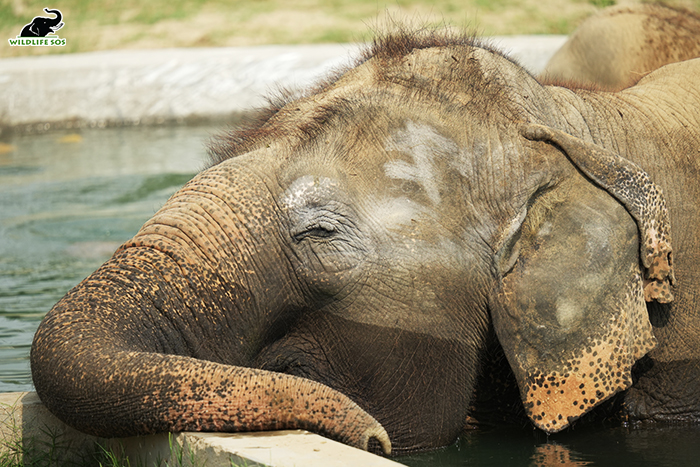 Being social animals, elephants thrive best when with companions. When introduced to each other, the two immediately got along. Holly was the first elephant Kalpana met, and she had a huge role to play in helping Kalpana's mental wellbeing. The two have been partners during their daily walks and also during their hydrotherapy sessions in the pool.
And while one may assume that spending every day with the same group could become monotonous, these elephants showcase just how strong their bond is! Kalpana plays a protector's role; she leads Holly on their daily walks by guiding and steering her along the right path.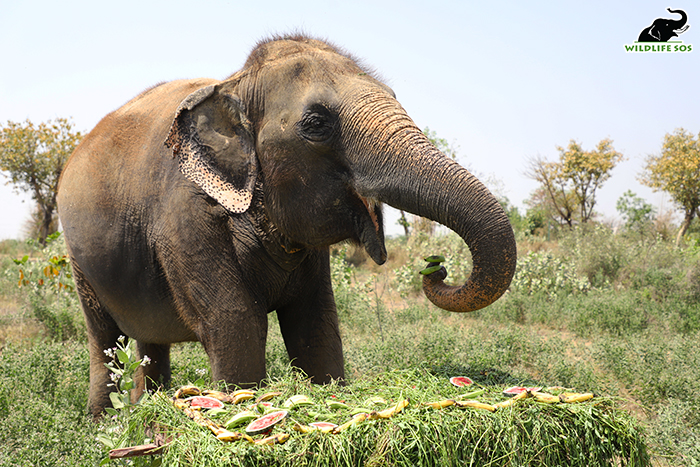 The elephants head out for their walks twice every day. The time between their walks is spent leisurely, as they indulge in resting as well as eating their meals. While Kalpana is not fussy about food, her special love for sugarcane is unrivalled, and she can be seen munching away at the leaves first before devouring the sweet stalks. Since she is still undergoing treatment for her degenerative joint condition, her diet is carefully curated by her doctors and caregivers to ensure that she gets the required supplements. The diet chart is also made keeping in mind that Kalpana maintains her weight so as to not add any stress to her limbs.
Kalpana's road to complete recovery is a long one. Help Kalpana in her ongoing battle against her chronic illness by becoming a sponsor. You can also consider making a donation for her health and upkeep.