Earlier this month, an adult striped hyena was found critically injured in Bhilawali village, located in Kheragarh, Agra. A passerby had found the hyena in an unresponsive state on a field 500m from the road, after being hit by a speeding vehicle. Perturbed by the critical state of the hyena, the concerned passerby immediately called the Wildlife SOS helpline that runs around the clock, rescuing animals in distress.
Understanding the precarity of the situation, we immediately dispatched a three-member Rapid Response team with all the necessary equipment to conduct the rescue.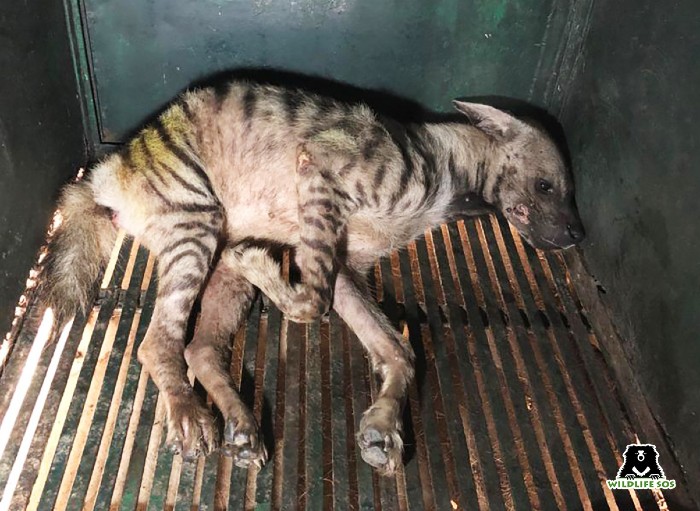 The hyena was wheeled off to our animal hospital for medical examination and was found to have hindquarter paralysis, unable to bear her weight leading to restricted movement. Our team of veterinary experts declared the prognosis grave.
A detailed radiography examination revealed that her lumbosacral (lower part of the spine) is severely damaged. Days later, the hyena continues to fight for her life.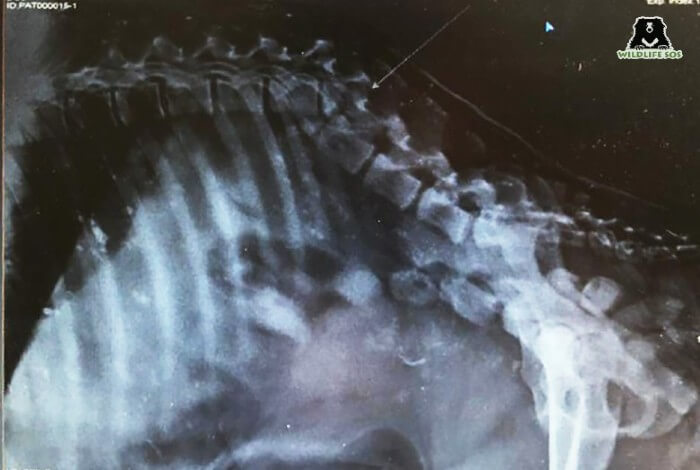 One would hope that such a tragic road accident was rare. Yet, this is the second hyena we have rescued from such a situation this year. In March 2021, Wildlife SOS rescued an injured hyena who was hit by a speeding train in Garhi Dryab Village of Fatehabad, Agra. On being medically examined by our expert veterinarians the hyena was found to have a severe spinal injury. Despite our best efforts, the hyena succumbed.
Hit and run cases of wild animals in India are becoming way too common. With expanding cities, the natural habitat of wild animals is shrinking. Linear intrusions like roads and railways act as obstacles for the animals. They find themselves traversing the unknown landscape of concrete roads and railway tracks, searching for food and water. In 2018, 161 wild animals died in road and rail accidents. In 2019 alone, 83 leopard deaths due to train and road accidents were recorded. This was a 278% surge from 2010, when only 22 deaths were recorded.
As we rapidly urbanize and climb the ladder of economic development, we leave behind a trail of animal carcasses that will haunt the bright future of our country. Wildlife SOS aims to rescue animals in distress and create long-lasting change by instilling in people's minds the responsibility we have towards Indian wildlife. Our dream is to eventually have the ringing of our hotline fall silent, with humans and animals thriving simultaneously on our green planet.
Here are a few steps you can take to protect India's wildlife from such accidents
Call for Help
If you see an injured animal, simply calling a helpline could save its life!
You can contact the Wildlife SOS 24 X7 helpline (Delhi NCT: +91-9871963535, Agra: +91-9917109666, Gujarat: +91-9825011117, Elephant Helpline: +91-9971699727)
Remain on the Scene
Remain on the scene of the accident if you can. Provide the authorities or the rescue team any information you have. Even tiny bits of details can help to provide the animal the care it needs.
Be a Smart Driver Yourself
Change always begins with oneself. By simply being a responsible driver, you can contribute to preserving India's wildlife.
You can follow basic steps like having your headlights on at night, asking your co-passenger to be vigilant, and wearing your seatbelt.
Watch Out For Sign Boards
While driving, keep an eye out for wildlife warning signboards or cattle signboards that may indicate the possibility of animals being present.
Once you see the sign, drive slow and be alert to your surroundings.
Sign the petition to get Elephants off the road
Delhi and Mumbai have taken action to ban elephants in their cities. This helps in protecting both the elephant and drivers from entering into a collision. Sign the petition to push other states from enacting a similar law!
You can also support our efforts by contributing to Wildlife SOS.