Wildlife SOS with the assistance of the Chhattisgarh Forest Department, successfully radio-collared the matriarch of a wild elephant herd in Mahasamund area of Chhattisgarh in the year 2018. With the help of the radio-collar, we were able to establish and Early Warning Alert System (EWAS) in the surrounding areas to avert situations of conflict.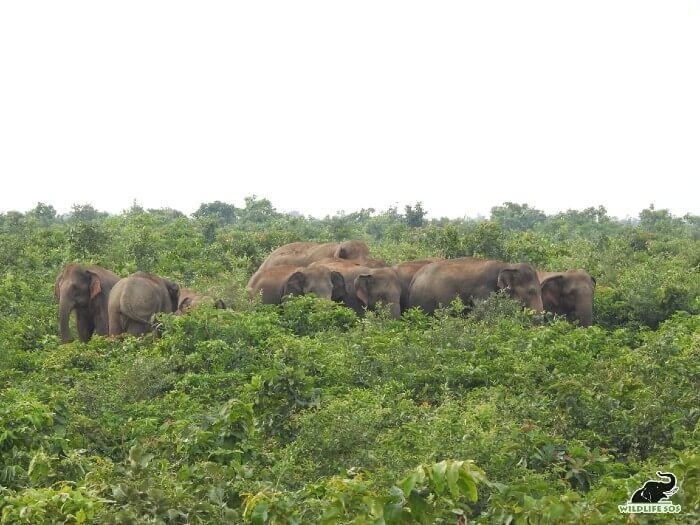 We bring to you the details of the movement of the radio-collared herd for the month of July, 2021 wherein our team continues to closely track the elephant herd in an effort to mitigate conflict.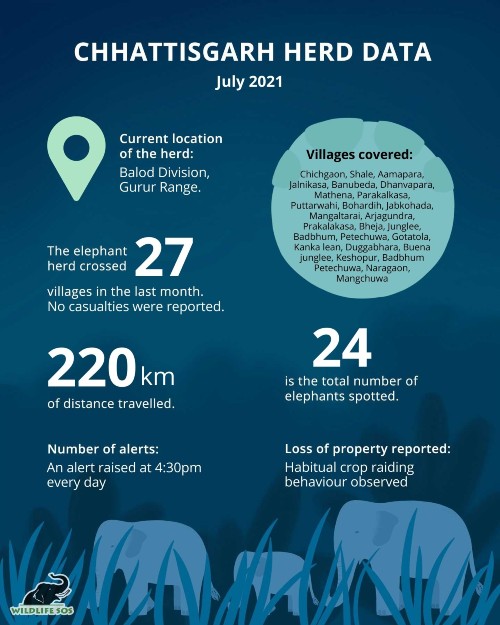 The Mahasamund area of Chhattisgarh, situated in Central India was the hotbed of human-elephant conflict with wild elephants regularly venturing out to the nearby villages for crop raiding. By radio-collaring the matriarch of the wild elephant herd, our team of biologists and the officers of the Forest Department are able to track the exact location of the herd. Elephant herds are led by matriarch elephants and this is why we're able to ascertain where the herd is and where they will pass through.
When the herd is on the move, villages are alerted with the help of WhatsApp groups and the forest officers inform the villagers to stay inside or not venture into the forest for the next few hours. For the month of July, 27 villages were alerted in 30 days with the exact location of the herd and the details of the villages from where the herd passed has also been enlisted in the infographic above. To everyone's relief, there was no human casualty or elephant casualty but crop depredation happened and the Forest Department expedited crop compensation to the farmers who had been affected by the same.
We owe a great debt of gratitude to the The Elephant Sanctuary in Tennessee for their undeterred support for the radio-collaring project. Their encouragement of the project has enabled us to continue moving forward!