Recently, Wildlife SOS & the Gujarat Society for Prevention of Cruelty to Animals (GSPCA) in collaboration with the Forest department in Vadodara, busted a gang of smugglers in illegal possession of an Indian Eagle Owl. While one of the accused managed to flee the scene, three of his accomplices were immediately arrested and taken into police custody for further interrogation.The arrest of the three smugglers was the culmination of several months of careful monitoring and surveillance work by Wildlife SOS. Incidents involving poaching of different species of owls spike during the festival of Diwali and the undercover informants from our Anti-Poaching Unit – ForestWatch gathered invaluable intelligence on the poachers' plans and movements over the course of several months.
During one of the reconnaissance trips, we learnt that four residents of a village called Dungripura, were in possession of a rare owl which they were planning on selling for 'tantrik' or black magic rituals. Pretending to be interested in purchasing the owl, our team was able to get in touch with the group through an internal network. The four men agreed to meet with an undercover operator at a secret location, where unknown to them, our team and the Forest department had laid a trap to nab the culprits. On their arrival,  as soon they handed the bird over, the authorities arrested them. However, a fourth culprit was able to escape but the enforcement authorities have issued a search warrant, meanwhile , the three perpetrators have been booked under relevant sections of the Wildlife Protection Act 1972.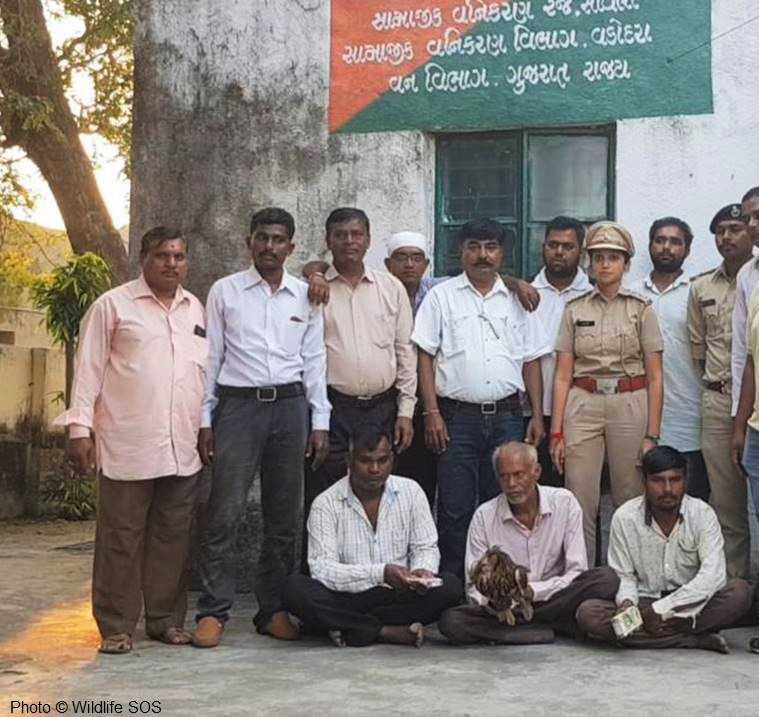 Every year, countless owls face a cruel fate at the hands of poachers who are catering to ignorance and misguided beliefs. Driven by religious myths and superstitions tied to them, these birds are poached for their body parts such as talons, skulls, bones, feathers, meat and blood, which are then used in talismans, black magic, traditional medicines etc. The superstitions surrounding owls in India are never ending. For centuries, they have been associated with demon rituals, spooky tales and folklore but at the same time, ironically, owls are considered to be the sacred "vahana" or mount of the Hindu goddess of wealth and prosperity, Lakshmi who is worshiped during Diwali, the festival of lights.
These majestic birds are used in black magic rituals around the country as sacrificing them is believed to gain favour from the goddess. The domestic trade of owls is highly lucrative and it is appalling that the festival of Diwali is used as a front by traffickers to peddle endangered birds for monetary gain. Though the exact number of owls traded and sacrificed each year remains unknown, ahead of Diwali these incidents increase and take a more visible shape.
According to ornithologist Abrar Ahmed, who conducted an extensive investigation into the exploitation and illegal trade of owls in India (2010), of the 30 owl species recorded in India, 15 species were recorded to be in the domestic pet trade. The study further recorded that, the Indian (Rock) Eagle owl, Brown fish owl, dusky eagle owl, Indian Scops owl and Mottled wood owl are five of the most traded owl species in the illegal wildlife market, making them a target for poachers. Horned owls such as the Indian Eagle Owl are most sought after as they are coveted for their false feather ear tufts (feather extensions on the head which are considered to have mystical properties.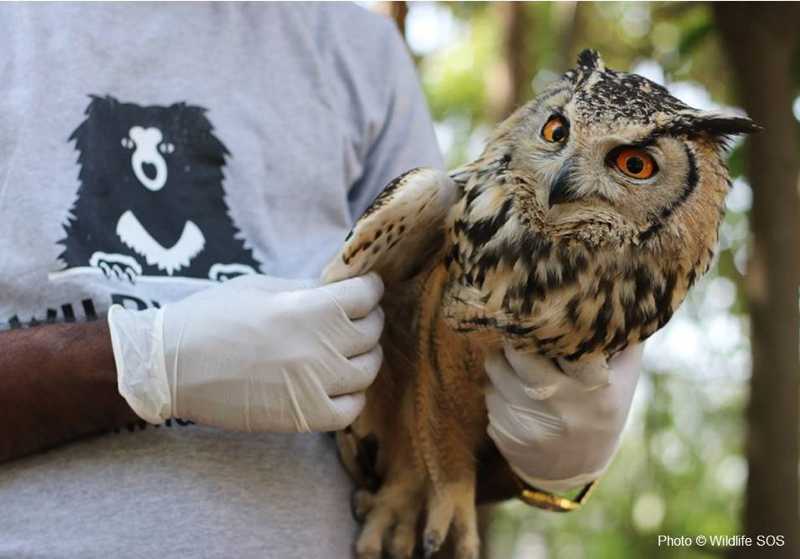 Such blind faith has led to exploitation of this unique wildlife species, thus threatening their very existence in the wild. Awareness regarding the illegality of the offense and the abominable treatment of these birds is incredibly important to curb cruelty and poaching of wildlife. Trapping and poaching of owls or the possession and illegal trade of their body parts is a criminal offence leading to imprisonment for between three to seven years. Moreover, International trade in owls is prohibited under the Convention on International Trade in Endangered Species of Wild Flora and Fauna (CITES).
The rescued owl was kept under medical observation for a few days and has since been released back into the wild.