Monkey menace? Call the Langur manager!
This is a classic response on how to tackle this situation.
With rapid deforestation, cities have become new homes to numerous various animals, including the Rhesus Macaque (Macaca mulatta). The species has established itself in the midst of major Indian cities such as Delhi, Chandigarh, Agra, and Shimla. Ample space and food offered by the city attract primates. The prevalence of primates in urban regions often leads to conflicts such as monkey bites, encroachment with unprecedented raiding, and destruction of property. In order to mitigate the problem of the monkey menace, langurs are beckoned as a solution.
The Preferred Solution
Sometimes referred to as the Hanuman langur, the Indian Gray Langur (Semnopithecus entellus) is distinctly identified by its black face and ears, and a long tail. It is found commonly in India, Sri Lanka, Bangladesh, and Pakistan, occupying a variety of habitats. A highly adaptable primate, langurs have managed to settle well in human-dominated landscapes.
Over the years, the Gray Langur has become an invaluable asset to those disturbed by monkeys. Langurs are usually brought to areas of frequent conflict. Their presence is believed to scare away monkeys, which is why several places within the National Capital and in Agra have adopted this method. Residential communities, farmhouses, and hospital establishments have hired skilled langur handlers to keep monkeys away.
Is Using Langurs The Right Choice?
The assumption that Rhesus Macaques are afraid of Indian Gray Langurs is an age-old myth – a myth that has led to its population being threatened by the practice. When langurs are used for tackling the monkey menace, they are torn apart from their families and habitat. Cramped in suffocating cages, tortured, and tamed – langurs made to suffer. This impacts their physical as well as psychological welfare, thus reducing their quality of life.
The Wildlife Crime Control Bureau (WCCB), a statutory body established under the Ministry of Environment, Forests, and Climate Change (MoEF&CC), imposed a ban on the use of langurs to put an end to this practice in 2012. The langur also receives protection under the Wildlife (Protection) Act, 1972. Listed under part I of the Schedule II of the Act, langurs cannot be owned, sold, bought, traded, or hired by anyone. Any violations of the law entail a fine or a three-year sentence or both.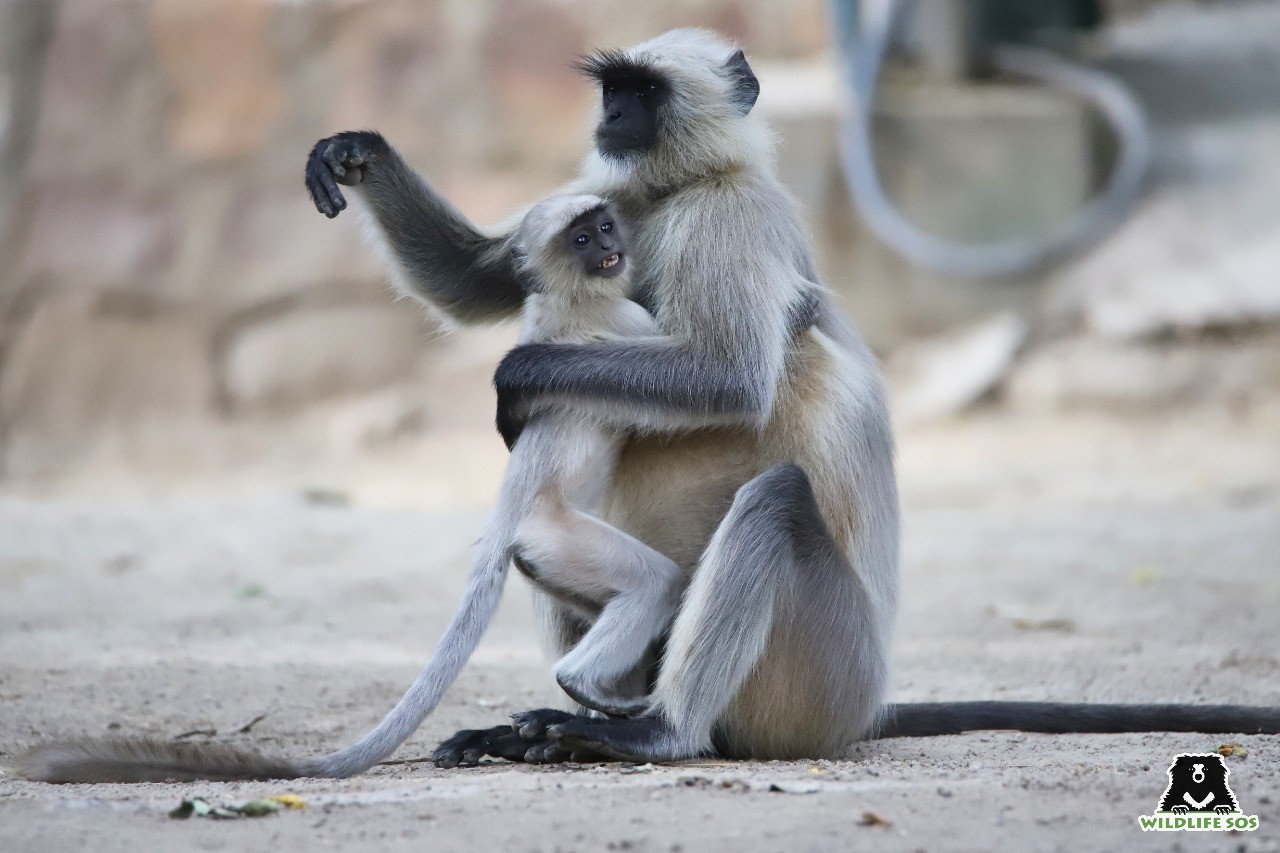 Moreover, wild primates cannot be kept and trained in India, under Section 22 (ii) of the Prevention of Cruelty to Animals Act, 1960 and the Indian Penal Code. Hanuman Langur is even listed under Appendix I of the Convention of International Trade in Endangered Species (CITES), making it illegal to capture and transport them. Often unaware of the legal protection they have, village and city authorities continue to employ langurs to guard off monkeys.
Langur Rescues By Wildlife SOS
Langurs being kept as pets encourages the illegal practice of wildlife trade, thereby increasing the number of langurs deployed to keep away monkeys. Despite the laws that have been set up to protect them, numerous private handlers continue to use them. Time and again, Wildlife SOS encounters cases of illegally stranded langurs being used to scare off Rhesus Macaques. Our team is dedicated to rescue them, conduct medical treatment, and set them free in their natural habitat.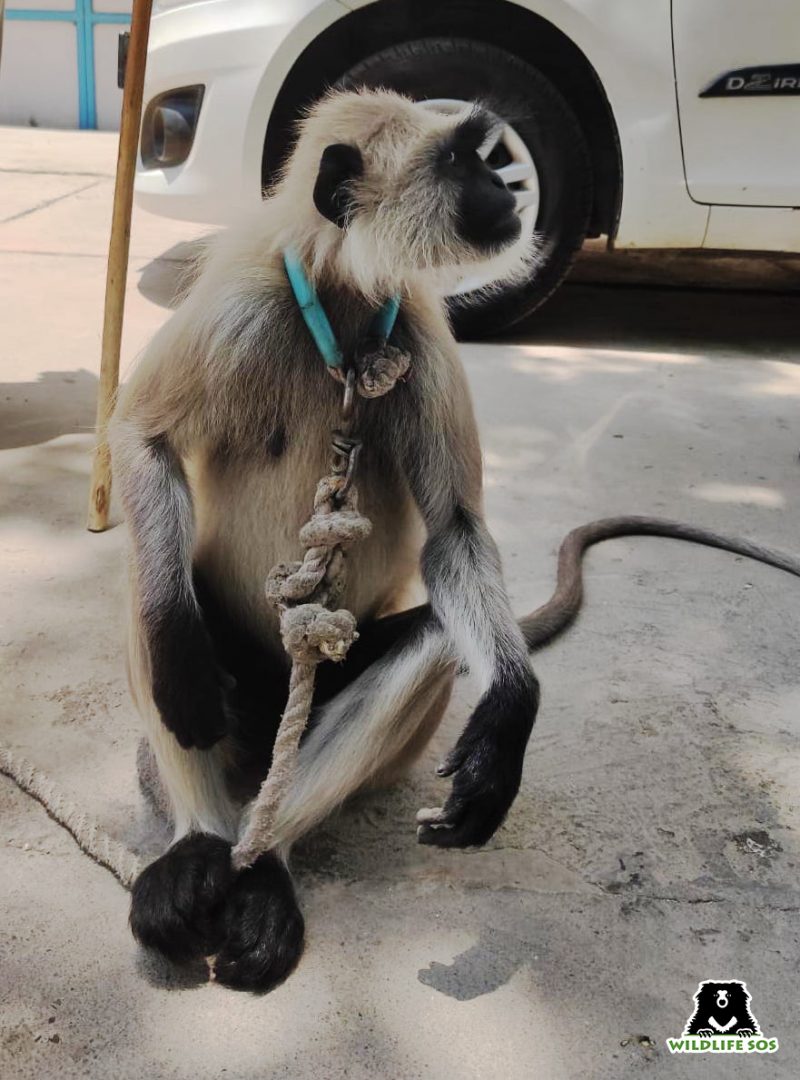 In a recent incident, the Uttar Pradesh Forest Department and Wildlife SOS received a report about an Indian Gray Langur kept illegally in Agra. The primate was tied with a rope around its neck on a terrace of a residential building. The teams rushed to the location, and after an on-site medical examination, the langur was successfully released into the forests.
The Forest Department and Wildlife SOS together have rescued langurs from Kamla Nagar, Sikandra Nursery, and Sanjay Place in Agra. The langurs were found tethered and constrained by a rope. After safely extricating them, our team conducted an assessment to check for any injuries. Once they were deemed fit, the rescuers released them in the wild.
You Can Help
"Knowledge is power, information is liberating. Education is the premise of progress, in every society, in every family." – Kofi Annan
The instances highlighted above pose an urgent need to educate the public with regard to the practice of keeping wild animals as pets. While rescuing wild animals like langurs from such distressing situations, our team ensures to educate the locals about the illegal practice and its consequences. Now that you are aware, we urge you to communicate and spread the word amongst the public.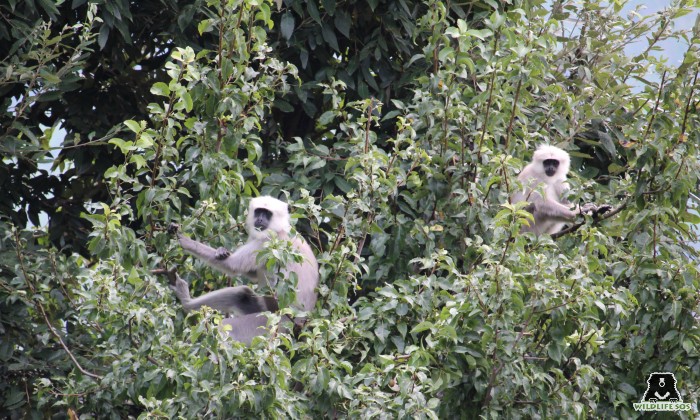 As an organisation that protects and conserves wild animals across India, we encourage people to immediately report instances of an animal being exploited. Our dedicated team works round-the-clock to rescue, rehabilitate, and provide aid to wildlife in distress. We respond and react to calls about road accidents, entrapment, and electrocution of monkeys. Baby monkeys have often been rescued and provided for at the Wildlife SOS.
Wildlife SOS Rapid Response Unit is established in the following regions and can be reached out for assistance:
Delhi NCR – +91-9871963535
Agra & Mathura in Uttar Pradesh – +91-9917109666
Vadodara, Gujarat – +91-9825011117
Jammu & Kashmir – +91-7006692300, +91-9419778280