Every month, we receive hundreds of calls regarding urban wildlife in distress. Wildlife SOS operates 24×7 emergency rescue helplines in three cities:
Delhi NCR – +91-9871963535
Agra & Mathura in Uttar Pradesh – +91-9917109666
Vadodara, Gujarat – +91-9825011117
If you come across any wild animal in distress, please alert our rescue team on these numbers as soon as possible!
Temperatures across the country in April rise to as high as 40 degrees Celsius, thus forcing snakes to seek shelter in cooler areas. All popular tourist spots were shut by the State Governments, due to the lethal second wave of the COVID19 infection. However one unexpected tourist was spotted at the Taj Mahal ticket counter – a 5 feet long Indian Rock Python! The tourism police officials immediately reached out to our team operating out of Agra, and the snake was safely rescued. After a quick medical examination, the python was deemed fit to be released back into the wild.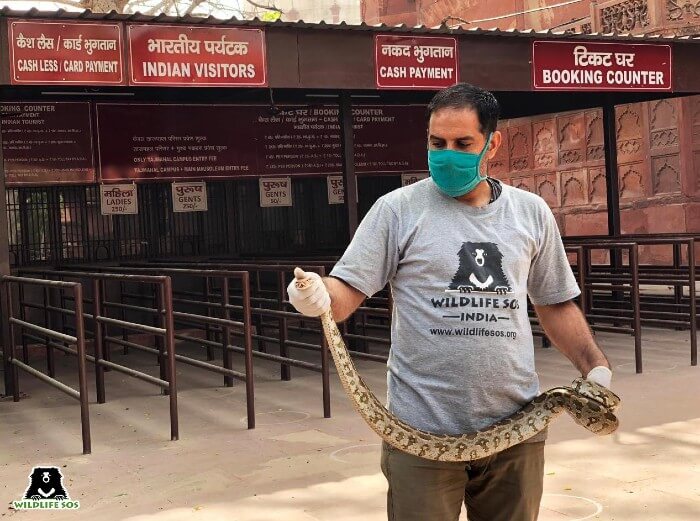 An adult male Striped Hyena escaped a narrow brush with death after falling into a 30-foot-deep
well in a village located near Agra, Uttar Pradesh. The hyena was trapped in an unused well and
the residents immediately alerted the Forest Department. A five-member rescue team operating out of Wildlife SOS Agra Bear Rescue Facility was also dispatched to the location to assist the forest officers.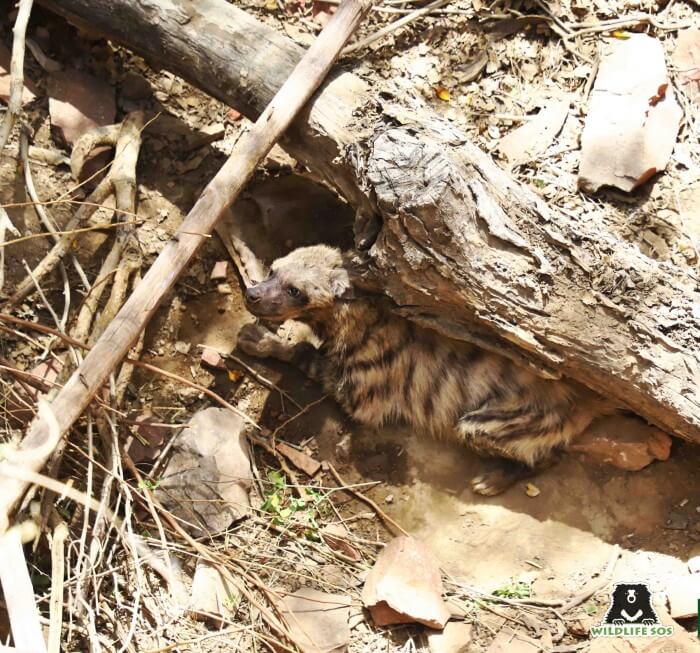 After a quick assessment of the situation, a trap cage was lowered into the nearly 30 foot deep well to extricate the hyena. It took almost three hours for the team to safely extricate the distressed animal. The hyena had sustained injuries on its hind limbs and was rushed to the Wildlife SOS transit facility for medical treatment.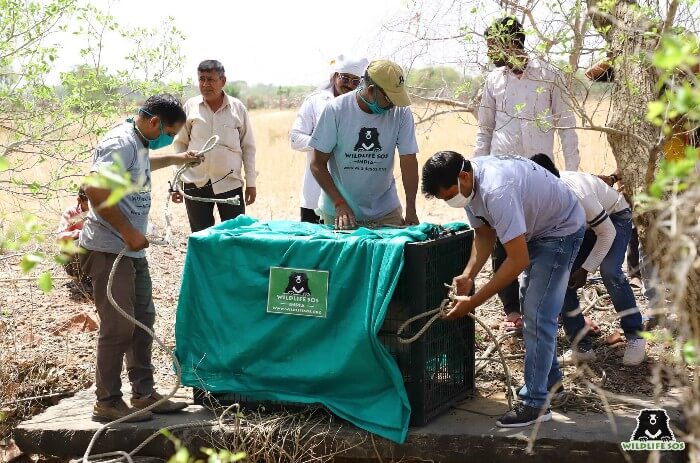 You can watch the entire rescue operation, right here.
In the residential area of Greater Kailash II in Delhi, a black Kite was found in a park, looking dehydrated and distressed. Birds often become victims of high temperatures and severe dehydration during the summer months. The timely intervention of Wildlife SOS Rescue team, in Delhi, saved the Kite's life as our team rendered it with oral rehydration fluids. The bird was released back to its natural habitat, after remaining under observation for a few days.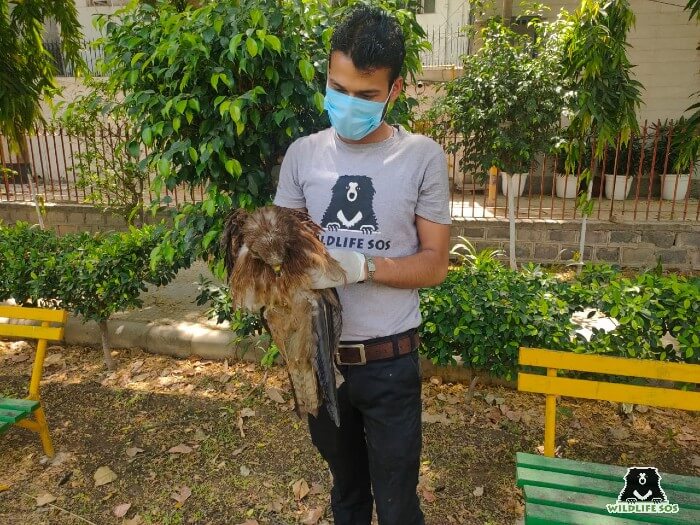 Our team, operating out of Delhi, received a distress call about a snake in a workshop in Alipur. Without wasting any time, our rescue staff advised the workers at the workshop to maintain a safe distance from the snake while our team reaches. The snake was identified to be a venomous Cobra, which had sought shelter in the workshop from the blazing sun outside. It was safely rescued from the workshop and released back to its natural habitat in a timely manner.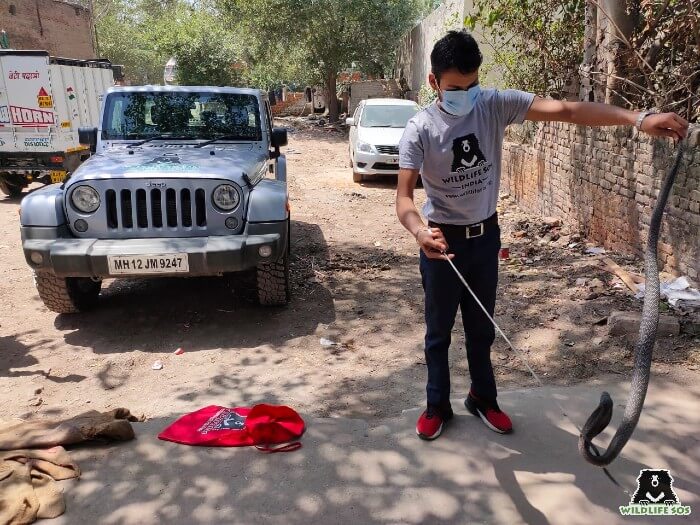 In another example highlighting conservation of biodiversity, a juvenile Greater Flamingo bird was rescued, treated and successfully relocated amongst a resident flock of flamingos in Keetham lake located inside the Soor Sarovar Bird Sanctuary in Agra. Earlier this week, Forest Department officials at the Soor Sarovar Bird Sanctuary received information about a large injured bird that was spotted in Arsena village located near the sanctuary premises. The bird had injuries on both wings and after being treated by the Wildlife SOS veterinarians, it was successfully relocated to its natural habitat.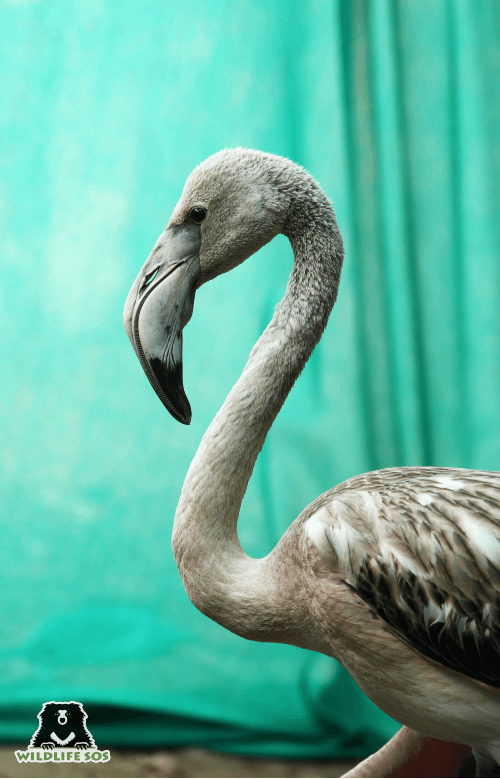 The Wildlife SOS team, operating out of Vadodara, Gujarat, rescued a Banded Racer Snake from an electric board junction in a residential area. The snake was in grave danger of being electrocuted and losing its life, if it weren't for the timely intervention of our team. Residents of the colony had informed our rapid response unit in Vadodara and the snake was safely rescued and released back into the wild, away from human habitation.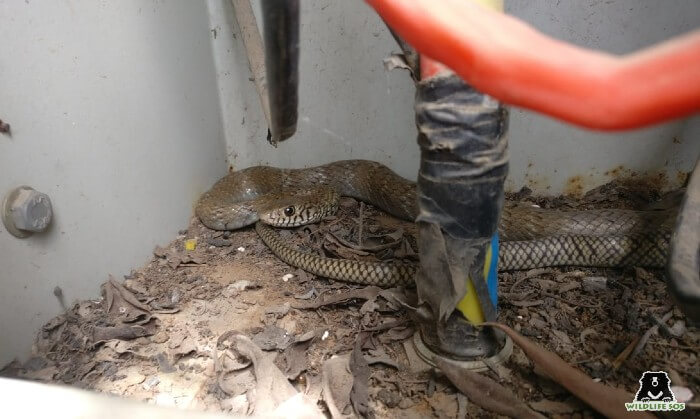 Our rapid response teams have worked all through the tough times of the pandemic to save the lives of wild animals in distress!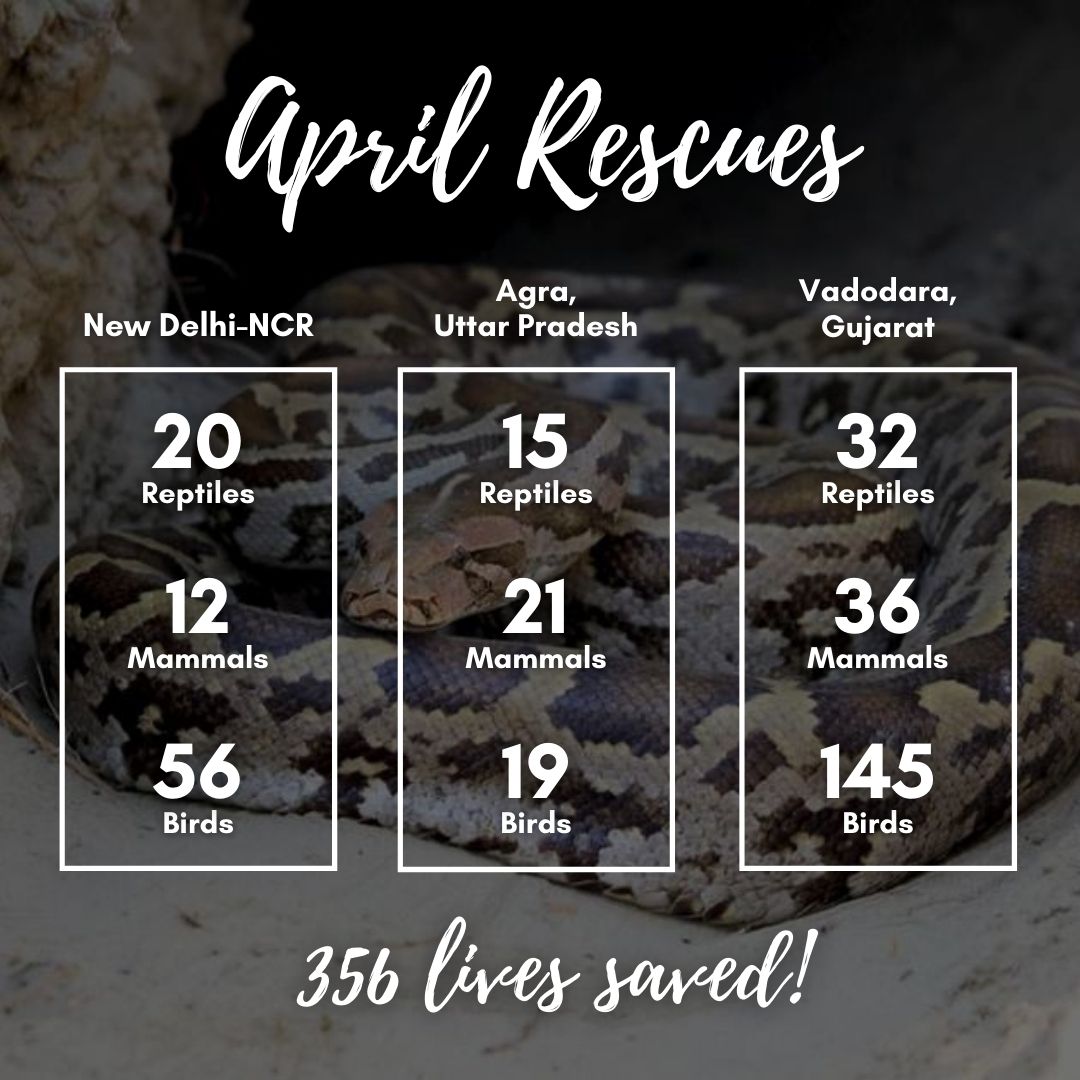 A total of 356 lives were saved by Wildlife SOS!