As a colourful chalk reaches dangerously close to her damaged eyes, she flinches a little at the odd feeling but cannot step away from it. Shortly after, ornate garbs are placed over her weak and emaciated body and a heavy saddle is fitted atop her protruding spine. This has been Nina's reality for many years now—an elephant reduced to a mere prop in wedding processions and forced to beg on the streets.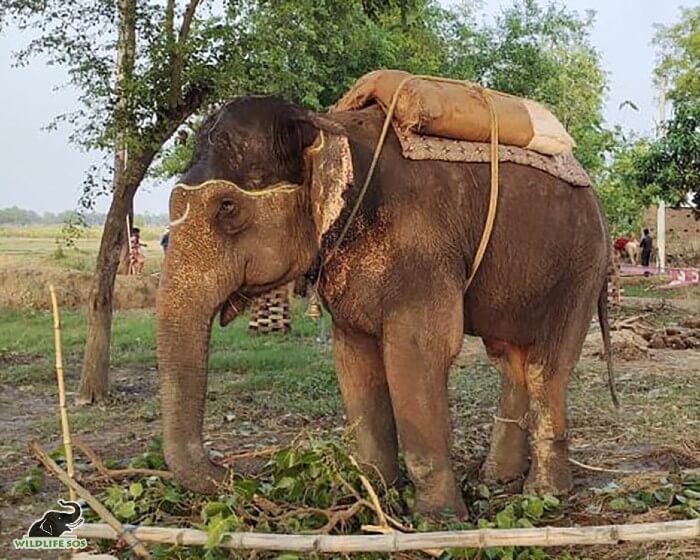 For sixty years, Nina's life was a mundane routine of walking on hot concrete, being prodded by a sharp bull-hook. With every step that she took, her anxiety peaked due to the complete loss of vision in her eyes not knowing where to put her next step. Nina needed immediate rest and retirement from her exhausting routine and as soon as Wildlife SOS learnt about her deteriorating condition, a team swung into action to bring her to the Elephant Hospital.
Looking at Nina's calming demeanour, it was difficult for us to imagine the pain and suffering she has endured. Despite facing years of mistreatment and abuse under human hands, Nina allowed our team to approach her. She had never been on any vehicle and thus grew anxious after sensing the presence of the Elephant Ambulance in front of her.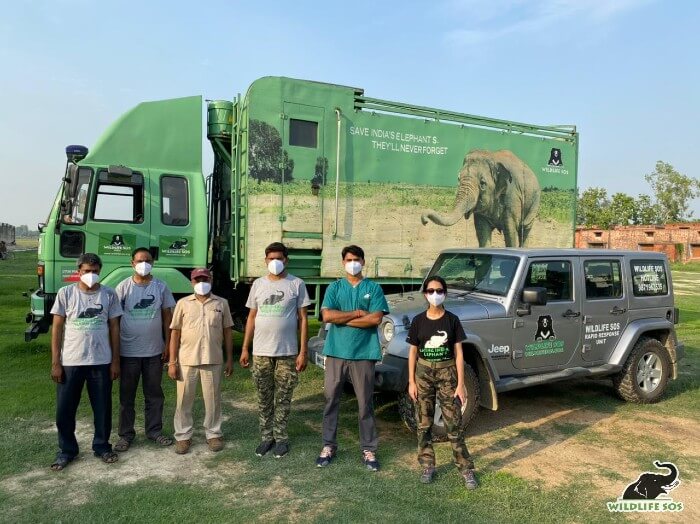 We let her enter the Ambulance at her own pace while our veteran elephant caregivers encouraged her by giving her treats. Given her deteriorating health, Nina was exhausted from the sheer effort of climbing onto the Ambulance which made it even more crucial for us to start her treatment process right away. It took her many attempts and a long time to get in to the ambulance, but she finally did it!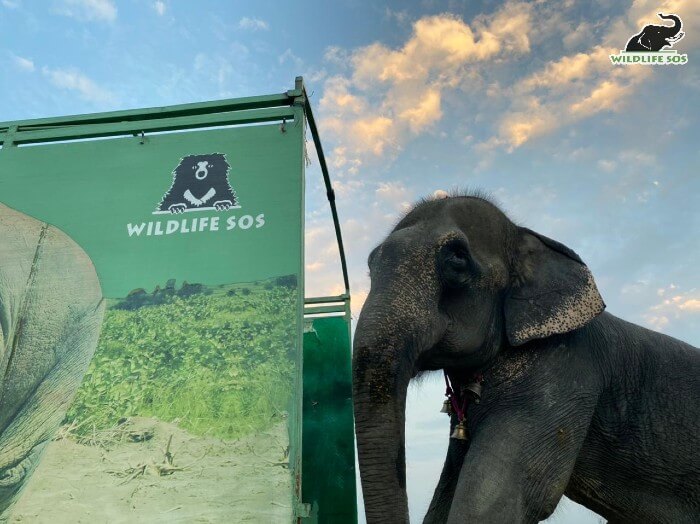 Her journey to the Wildlife SOS Elephant Hospital was a day long and we made regular stops to buy fruits and vegetables for her. Since the temperatures were soaring in the Northern parts of India, our priority was to keep her cool and hydrated during the trip. We had generous restaurant owners lend us their water pipes so we could give a quick shower to Nina and clean the area where she was standing.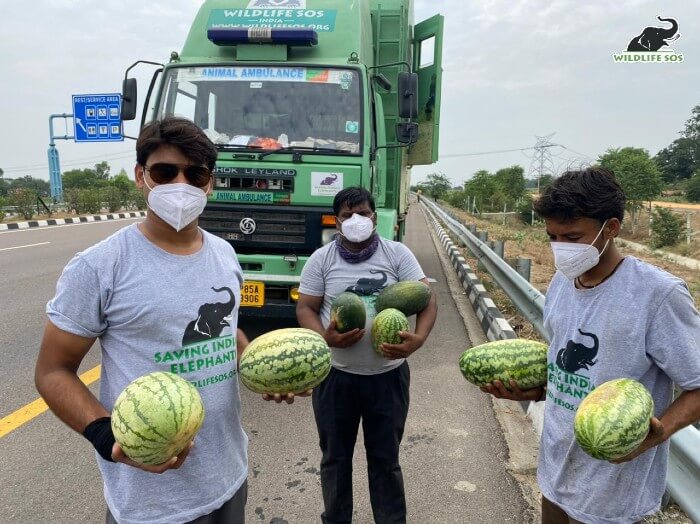 Upon arriving at the Elephant Hospital Campus, Nina took tender steps out of the Elephant Ambulance, with our caregivers gently leading the way. As she alighted, she paused for a second and lifted her trunk to identify the new smells around her.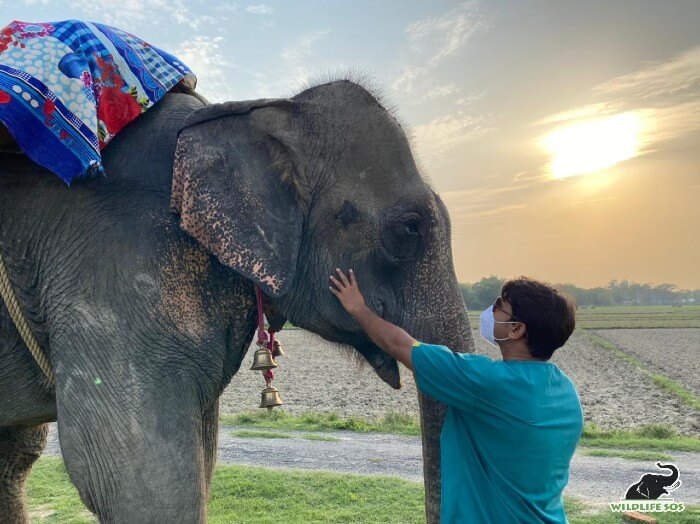 She took her first steps of freedom and entered Elephant Hospital for long-term care and treatment, where she will no longer live a life of brutality. Nina presently weighs 2675 kgs, displaying severe malnourishment, which is evident in the distinct shape of her spine and her compromised gait.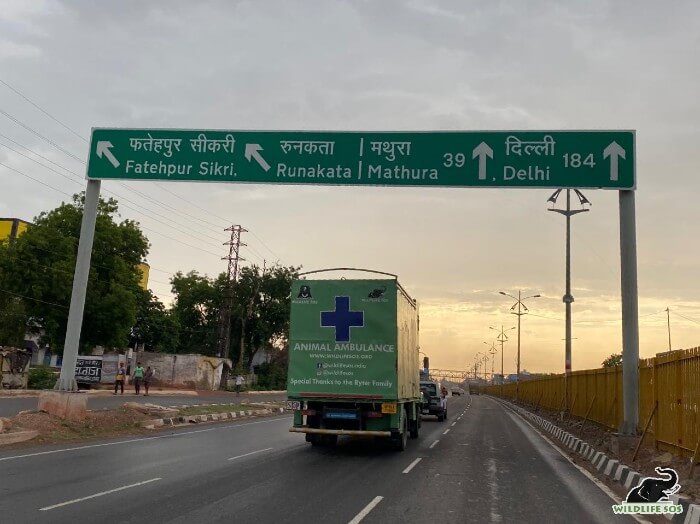 Our veterinary team gave her some time to settle in her new surroundings, while the elephant care staff organized water for her to consume after the strenuous journey. While she suffers from a case of irreversible blindness, she will receive eye drops twice a day so as to safeguard her eyes from any infection.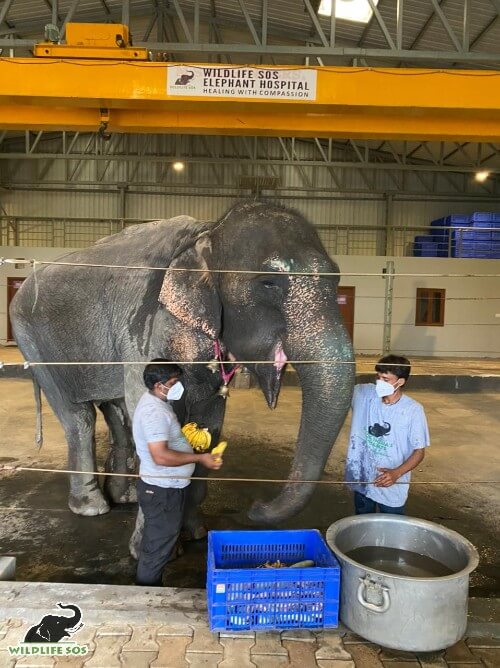 Nina suffers from an aggravated condition of osteoarthritis that affects her hind limbs in particular. Our veterinary team suspects that an unhealed injury after falling in an uncovered ditch or a possible collision may have led to this condition. She has an ankylosed right hind limb and there is serious inflammation in her hind muscles and forelimb muscles due to compensatory weight bearing.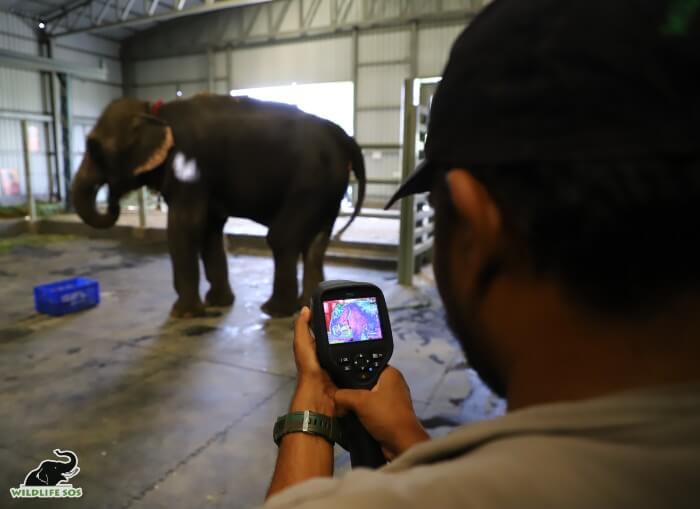 Nina's spinal region also shows swelling and inflammation which is due to the overbearing weight of a saddle that has cut through her flesh. There are distinct scars on her spine and she finds it immense uncomfortabe to lie down on her own. To tackle the swelling, she will receive cold compress along her spinal region which will be instrumental in spelling relief. Additionally, she will receive pain management medication and joint supplements to gradually build the strength in her weak tissues.
We have observed that there are wounds on top of her forehead and her ears which look like bullhook and axe piercings. If timely intervention was not rendered to her, these wounds would have become infected and caused unimaginable pain and discomfort to Nina. Fortunately, now, Nina will be the master of her will with nobody ever forcing her to do anything.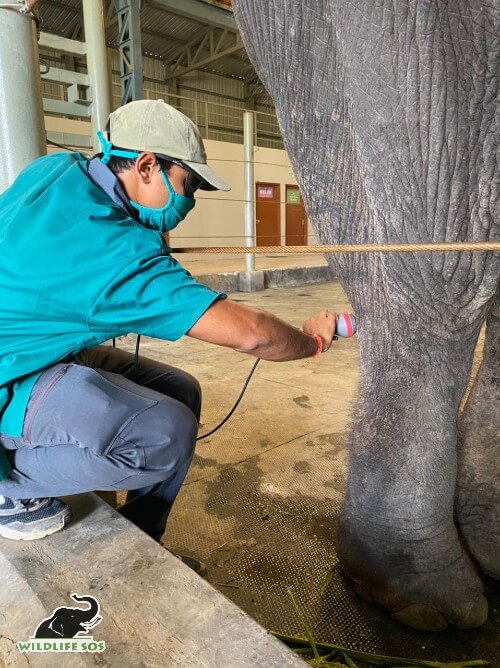 Here, under our care, Nina will heal physically as well as psychologically, with soft earth under her ailing feet. She will receive regular laser therapy sessions which will provide her relief at a cellular level and expedite healing. During these long therapy sessions, Nina remains calm as she munches on her favourite watermelons and bananas. She also munches on papayas, cucumbers and fresh green fodder, with utter delight! The quantity fed to her is controlled and charted by our veterinary team so as to ensure she is able to digest it with ease.
Nina's healing journey has just begun and she will require highly intensive care and treatment for her rapidly deteriorating condition. Our aim is to stabilize her condition and give her the love and care that she rightly deserves in her new home. We take this opportunity to thank all of you for your constant support and words of encouragement during Nina's rescue. Please consider becoming her sponsor or monthly donor and allow us to give Nina a life she deserves!