During the month of July, India experienced a combination of scorching heat and substantial rainfall, particularly in the northern regions. With major floods affecting various parts of the country, it comes as no surprise that Wildlife SOS' 24×7 Rapid Response Units found themselves drenched in numerous animal rescue calls.
Delhi NCR
Following the intense rainfall and the subsequent flooding of the Yamuna River, our hardworking team of rescuers successfully saved a total of 56 reptiles. This marked the year's most significant reptile rescue effort thus far. Notably, the majority of these rescues involved snakes. A six-foot-long Indian rock python was discovered inside an abandoned building, a five-foot Indian cobra was found near Lodhi Garden, and a black-headed royal snakelet was rescued from Daryaganj — all on the same day!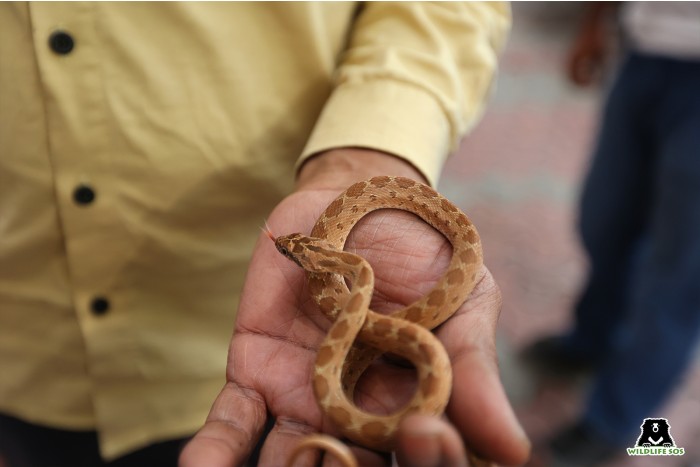 The increase in snake sightings can be associated with the heavy downpours witnessed in these regions. Heavy rains cause their underground burrows to flood, which consequently flushes the snakes out and into unconventional and unexpected places as they seek refuge on higher and drier ground.
In a distinctive and unique rescue operation, Wildlife SOS joined forces with the local fire department to save an Indian rat snake that had climbed a 60-foot-tall tree in a park in a residential area in Jor Bagh. Presumably seeking shelter from the rain, the snake was carefully retrieved by our team using the fire department's hydraulic truck in an operation that lasted approximately two and a half hours.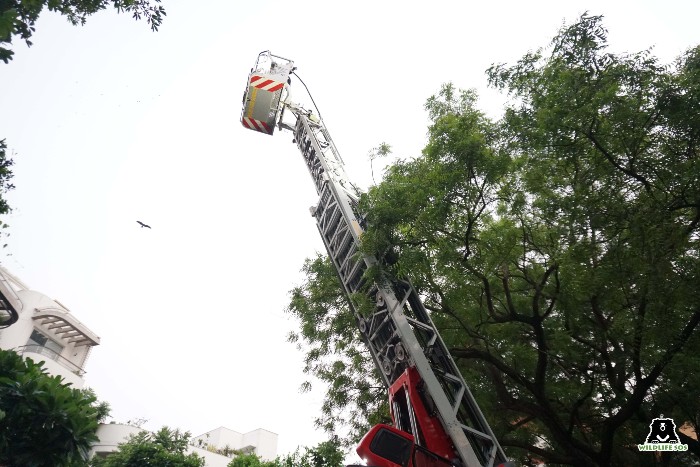 Our team also rescued 73 birds and 16 mammals in July. In addition to that, Wildlife SOS also collaborated with our sister organisation Friendicoes to extend assistance in the rescue of around 150 animals affected by the flood-stricken areas of Delhi-NCR.
Agra
The heavy rains also affected many regions of the state of Uttar Pradesh, keeping our Rapid Rescue Unit in the Agra-Mathura region on their toes. The dramatic shift in the environment due to the heavy rains and floods prompted numerous cold-blooded reptiles to seek new shelters, leading them to places like residential gardens and schools.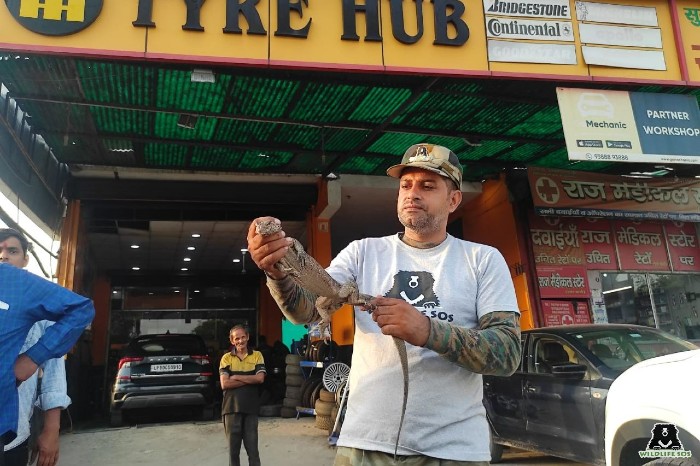 Wildlife SOS applied its skill and experience to recover over 150 reptiles trapped in these flood-affected areas. The list of reptiles rescued included Indian rat snakes, Indian wolf snakes, spectacled cobras, Bengal monitor lizards, and other indigenous reptiles commonly found in the area.
Coinciding with the season was the sacred month of Shravan, a time of reverence for Lord Shiva that culminates in the festival of Nag Panchami. During this period, snake charmers flock to temples, capitalising on lingering superstitious beliefs about snakes.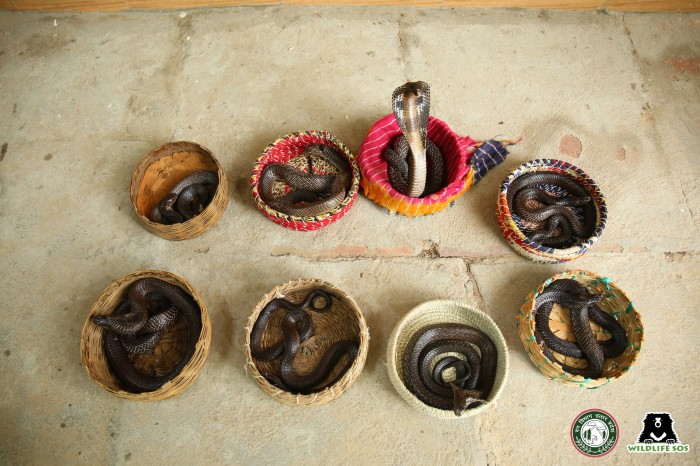 To counter this illegal practice, Wildlife SOS, in collaboration with the Uttar Pradesh Forest Department, jointly conducted numerous seizure operations in Agra and Mathura. This joint effort led to the rescue of 51 snakes from various temples, encompassing species like spectacled cobras, Indian rock pythons, and rat snakes.
Our dedicated team also extended their hand to aid 65 avians including two Egyptian vultures, eight barn owls, nine black kites, and 37 Indian peafowls. Additionally, we attended to 44 mammal species, including 34 Rhesus macaques, four blue bulls (nilgais), two Indian grey langurs, two Asian palm civets, a hog deer, and a golden jackal.
VADODARA
In addition to its historical and cultural significance, the Vishwamitri River holds great ecological significance for the city of Vadodara. It hosts the highest population density of mugger crocodiles in the state of Gujarat. Monsoons invariably swell the river, and its flow within the urban landscape is known to inundate floodplains and adjacent areas. Consequently, local wildlife is displaced, with animals seeking refuge in drier zones or are carried along by the current to new territories.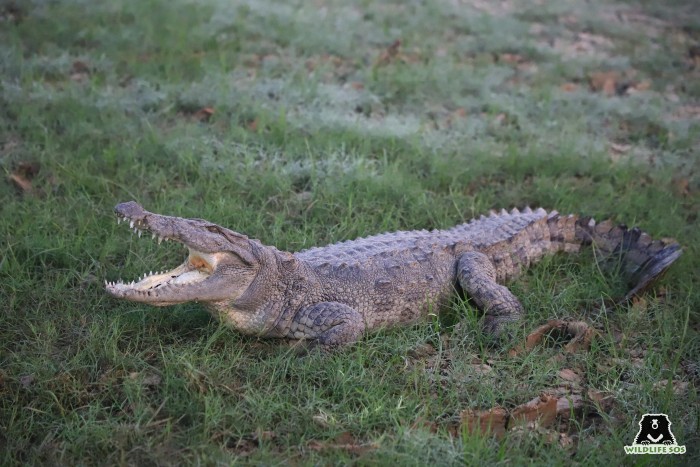 Thus, it comes as no surprise that the Wildlife SOS-Gujarat Society for Prevention of Cruelty to Animals (WSOS-GSPCA) team came to the rescue of 113 reptiles, including 28 venomous and 65 non-venomous snakes, 10 monitor lizards, and seven mugger crocodiles. The team also came to the rescue of 65 avian species, including peafowls, parakeets, and raptors, as well as 22 mammal species ranging from nilgai and mongooses to various domestic animals.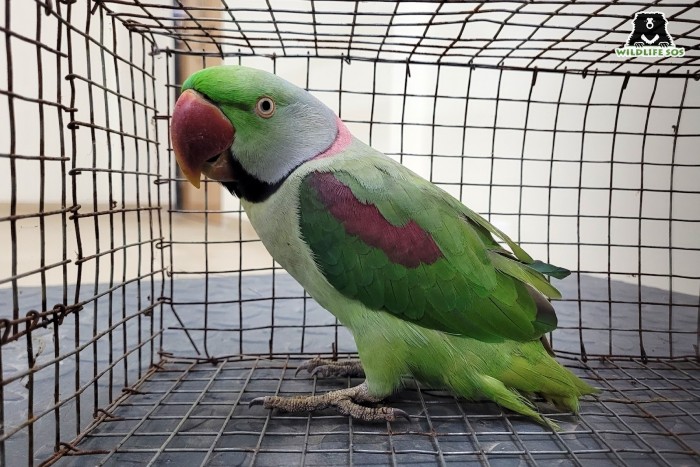 In addition to these rescues, Wildlife SOS-GSPCA team, in collaboration with the Gujarat Forest Department, orchestrated a successful operation resulting in the confiscation of seven illicitly held rose-ringed parakeets from residences across Navidharti, Golvad, and Nagarwada localities in Vadodara. This meticulous endeavour, conceived over a span of almost a month, culminated in an operation that required three hours to execute.
Jammu & Kashmir (J&K)
In keeping with the trend of increased reptile rescues during the month of July, it was unsurprising that our J&K helpline buzzed with snake-related calls as well. However, there is a distinct twist to the rationale behind this hike as compared to the other states. In J&K, snake sightings peak in the hotter months, whereas during the rainy season, their appearance is virtually nil as the cold confines them within their burrows.
Despite the number of calls we get on a daily basis, our rescue team's operational range remains limited. Thus, to ensure swift and effective responses, we promptly transfer these calls to the nearest control room. For those within our operational range, our dedicated team has developed the ability to deduce the species of snakes commonly rescued from the different areas falling within their perimeter.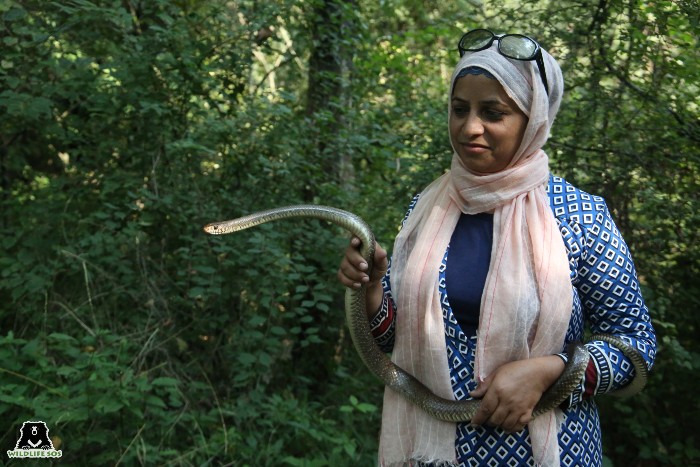 Located in the heart of the Kashmir Valley is the Pulwama range, often referred to as the rice bowl of the region, and it serves as a haven for rat snakes. This is primarily due to the expansive agricultural landscapes that define it. Rat snakes thrive here due to the easy availability of their primary prey: rodents. Rats and mice are drawn to the abundant food sources in fields and farms. Thus, rescue calls originating from this region mostly deal with this snake species.
In contrast, calls emerging from the catchment areas of Dal Lake largely revolve around Eastern cliff racers, vipers, and trinket species, showcasing the diverse species thriving within this dynamic ecosystem. Thus, our rescues in the month of July included three Himalayan trinkets, 9 rat snakes, five vipers and an Eastern cliff racer from various locations that ranged from police stations to house gardens.
Assist Animals In Need
Every month, Wildlife SOS' Rapid Response Units play a crucial role in safeguarding and rescuing numerous distressed animals via our four helplines. Each unit also happens to be the only 24-hour rescue cell in their respective regions, tackling human-wildlife conflicts in urban settings. However, this endeavour can't be undertaken alone. If you encounter distressed wildlife or suspect illegal activities in your neighbourhood, take a stand. Reach out to your local animal welfare organisation or Wildlife SOS Rapid Response Unit hotlines if you are in the following regions:

Delhi-NCR: +91-9871963535
Agra, Uttar Pradesh: +91-9917109666
Vadodara, Gujarat: +91-9825011117
Jammu & Kashmir: +91-7006692300 or +91-9419778280
Together, let's make a difference. Your call could save a life.