Prior to his rescue in 2006, Deva's every day was a vicious flat circle. He would accompany his Kalandar master everywhere he went after all Deva was his only source of livelihood. This dependence as a means of earning money, however, came at a great mental and physical cost to this then 5-year-old bear. Snatched from his mother as a young cub he never knew love and care, for his entire life had become about performing a painful 'dance' and suffering in isolation. The extent of his world was the length of his taming leash. Today, Deva's life is full of exciting possibilities at our Bannerghatta Bear Rescue Centre (BBRC) in Bengaluru!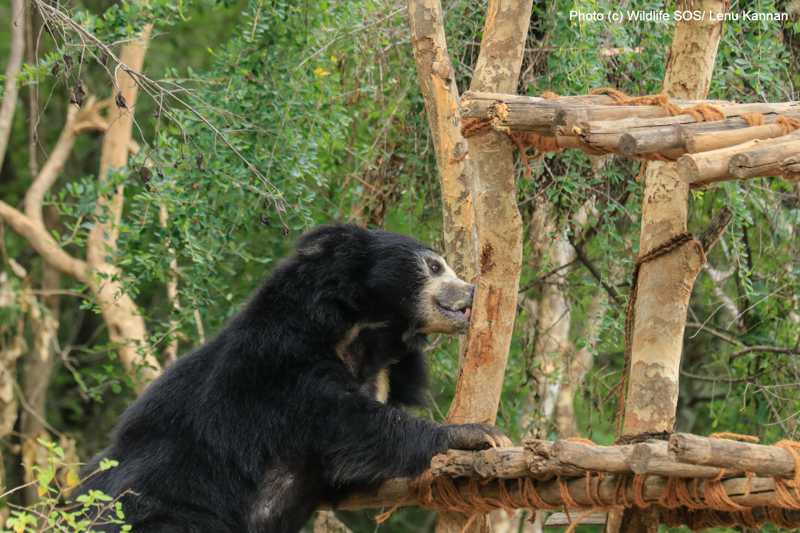 Coming from situations of extreme mental and physical trauma, it takes a while for the rescued bears to acclimatize to their new permanent homes. The sight of new trees, various enrichment and even good food can be daunting at first. As such our keepers work tirelessly to develop a trustful relationship with the rescued bear. It is important for them to know that they are in a safe place where they have the freedom to simply be bears. Deva's case too was no different, and he would be easily startled by everything and anything. However, under the skilful care of our keeper Husain Basha, he has truly emerged out of his shell and he is now a jovial, enthusiastic bear.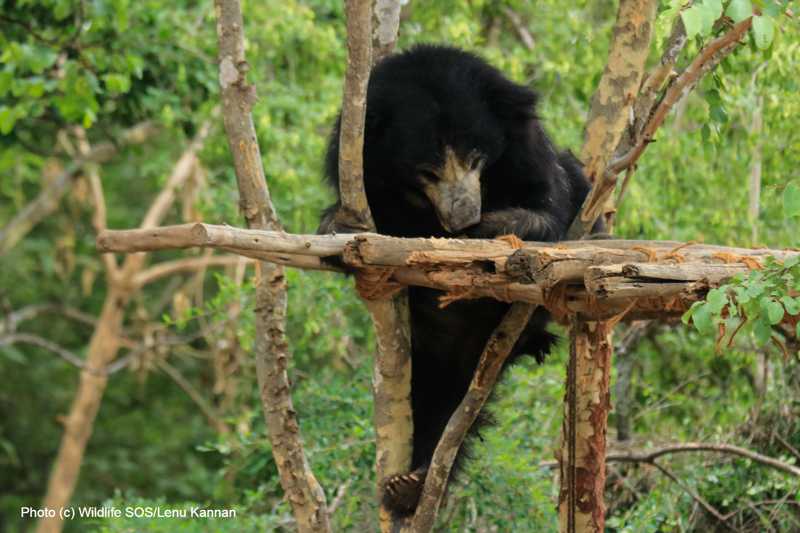 In fact, there is literally no stopping this curious bear! Physical fences of his enclosure too cannot contain his curiosity. While one might expect a furball such as Deva to be clumsy and easily slipover, but he masterfully parkours over the fences, venturing into the safari area to explore. He enjoys checking out every nook and corner of the safari area, that is ample in natural enrichment due to the dense green cover that hosts a variety of birds, reptiles and mammals. Every day has fresh new scents to satisfy his curiosity! His absolute favourite activity, true to his natural behaviour, remains to suck termites out of mounds and he can often be spotted diligently searching for them at the rocky terrain of the safari area. Once he locates the termite mound, he gleefully slurps out termites using his vacuum nozzle like lips.
In the safari area as well as his enclosure, Deva is quite the popular bear amongst his sleuth. He is amiable and has managed to befriend almost all the bears. He can often be spotted interacting with them on various enrichment. Balancing the see-saw is a group activity that he thoroughly enjoys with his buddies. Deva being the enthusiastic one often hops on to the see-saw first and then patiently waits for his other friends to join for this intelligent bear knows that he alone cannot balance it and enjoy the knotty feeling in his tummy as the see-saw goes up and down!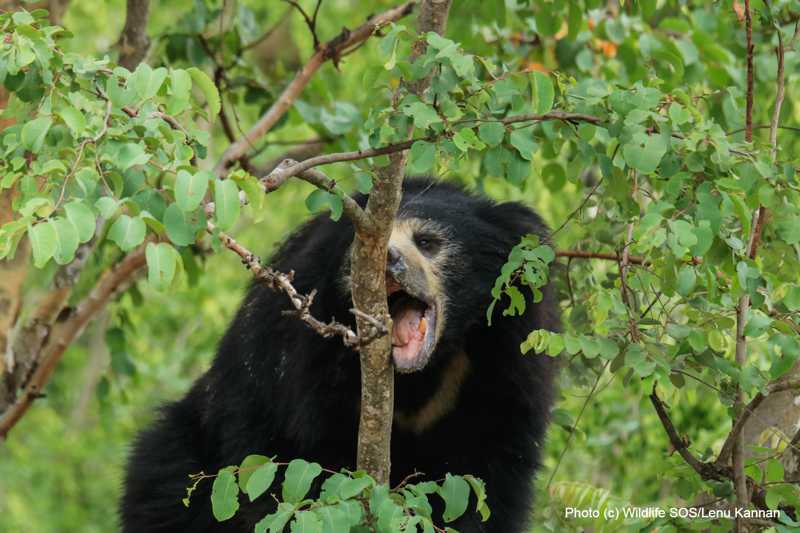 Deva's remarkable spirit is also reflected in his courageous physical recovery. When he arrived at BBRC, his muzzle piercing had discharge coming out of it and he weighed a shocking 48 kilos only. Our team was concerned that he was much too weak physically and as such, we were determined to nurse him to good health. With the help of a rich and nutritious diet, today he weighs a whopping 101 kilos. At the age of 18-years, he is a healthy bear and not undergoing any treatment. He is truly a symbol of hope!
Nothing gives us greater joy than to see the previously emaciated bears lead a happy and healthy life. In the last 13-years, Deva has emerged victorious in life and beaten all odds. We look forward to each day to see what this curious bear will be up to next!