Over the past decade, Vimal has been living a care-free and fulfilling life at the Bannerghatta Bear Rescue Center. Unfortunately, this was not the case for him during his first four years of existence. For the longest time, he was a 'dancing bear' who had been exposed to immense pain and mistreatment. As part of his indoctrination, young Vimal was subjected to the terrifying ordeal of having his teeth forcibly removed and having his delicate muzzle pierced by a hot metal rod, without the use of any anesthetics. A free and a happy life seemed impossible at that time, until in 2010 Wildlife SOS came to his rescue!
Vimal arrived at the center in an extremely pitiable state with scarred memories reminding of the brutalities of his past making him understandingly wary of humans around him. The staff at Bannerghatta Bear Rescue Center did not give up on Vimal and realized he needed extra care and attention. As he weighed only 40 kilos, we had to put him on an intensive treatment course and gradually our patience and hard work paid off. He started to regain his weight by eating nutritious, healthy meals and a happy state of mind.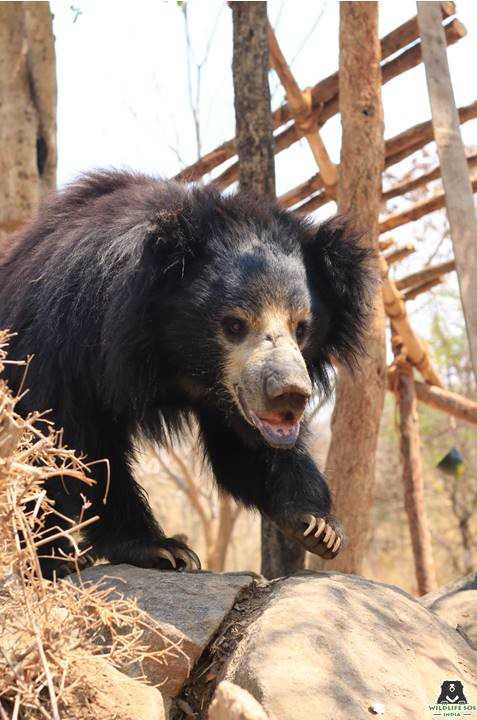 Vimal was soon introduced to other rescued bears at the center and he went on to form a close bond with Anusha, Aroshi and Kasturi. Finding comfort in their company, Vimal soon learnt to trust his keeper as well. His keeper describes him as docile and friendly. He enjoys playing with the enrichments made from rubber tires and loves swinging in it all day long. He is quiet active in the mornings and evenings and prefers uninterrupted naps on the hammocks in the afternoons.
Vimal is not fond of climbing trees and prefers spending his time exploring the enclosures for hidden treats. He digs around the field in search of termites and once tired, prefers to lie comfortably in one of the freshly dug pits. He usually doesn't budge from his position for hours but will jump up at the sight of his keeper bringing his favorite honey-laced porridge. With the arrival of summers in India, temperatures will continue to rise in the days to come. The team at the center is making sure to make the bears as comfortable as they can. Vimal has already started taking advantage of these resources by cooling down under the water sprinklers, and eating refreshing summer fruits like grapes, mangoes, and watermelons!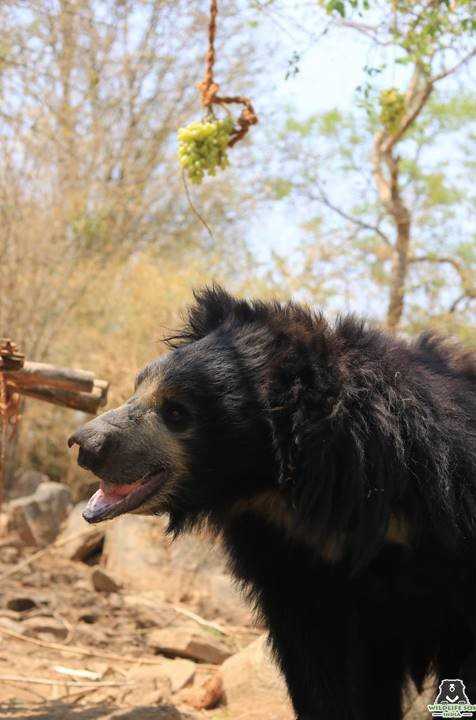 It fills us with immense pleasure to watch Vimal transform under our care. The veterinary staff is extremely happy to state that Vimal now weighs about 93 kilos and is in a healthy state. His wounds are now a thing of the past and he is finally living the life he always deserved. On behalf of Vimal and Wildlife SOS family, we would like to thank you for all your generous contributions and your support towards our cause.