Hussain Basha has been working with Wildlife SOS for 12 years now and is currently based out of the organization's Bannerghatta Bear Rescue Center. Sloth bears being his favorite species, it gives him immense pleasure to be able to look after them and take care of their well-being.  
How did you start working with Wildlife SOS?
I joined Wildlife SOS in 2007. I have always been amused by the sloth bears species. When I first visited Wildlife SOS, I instantly liked the work they have been doing and wanted to become a part of it. It's been 12 years now and I have enjoyed every bit of my work.
What is a typical workday for you?
Feeding the bears and looking after them consumes most hours of my day. I begin by cleaning the bear enclosures of any dirt. Soon it is time to feed the bears. I absolutely enjoy serving them porridge and fruits. The excitement is evident as the bears rush towards me with joy.
As part of my daily routine, I make sure the fields are clean and the enclosures are disinfected. Every morning I also do a visual examination of the bears to ensure they are fit and healthy. In case where a bear is behaving unusually, I immediately inform the veterinary staff, who then medically assists it.
What is the best part about your job?
I absolutely love every part of my job. Being able to work with bears- also my favorite animal is totally thrilling.
What is the most difficult part of your job?
There is no one specific thing that can be categorized as difficult. As part of my daily chores, there are certain tasks that I am unable to perform individually. In that case, my fellow keeper friends assist me and we make sure we accomplish it.
In case of a veterinary operation, managing the bear could sometimes seem difficult. But over the time, I have been able to understand their behaviors and make the bear cooperate with positive reinforcement in form of treats.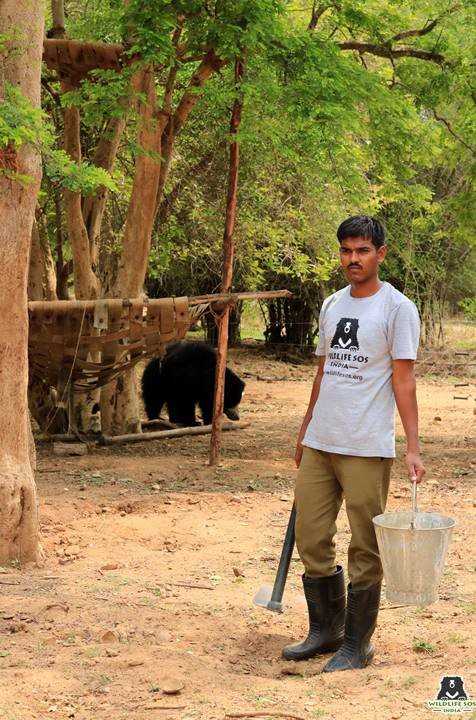 Why do you enjoy working with sloth bears?
I belong to the kalandar community that has for years depended on the tradition of dancing bears as a source of income. This prolonged until Wildlife SOS intervened and offered us better employment opportunities.
Having worked with Sloth bears since a young age, I have grown fond of them and have now started to understand that it was wrong to subject them to such practices, for entertainment purposes. Working with Wildlife SOS has given me a chance to finally be able to take care of them.
Who is your favorite bear?
My favorite bear is Gomati. She is extremely docile with me and this makes me feel like we share a special bond.  I adore and care for all the bears that I look after, but Gomati holds a special place in my heart.
What do you do besides work?
I have a family and a child, who is approximately 2-year old now. After work hours, I prefer going home to them and spending time with them.
What has been your fondest memory working with Wildlife SOS?
My most memorable days with Wildlife SOS has been when I was hand rearing Cupid. He was born in Bannerghatta Bear Rescue Center and is now almost 5-year-old. I have watched him grow up and become healthy under my care and that makes me immensely happy.
I fondly remember when he was still a cub, I would feed him the noon and put in extra efforts to make sure he is comfortable. I have an affectionate bond with him and my love towards him is immeasurable.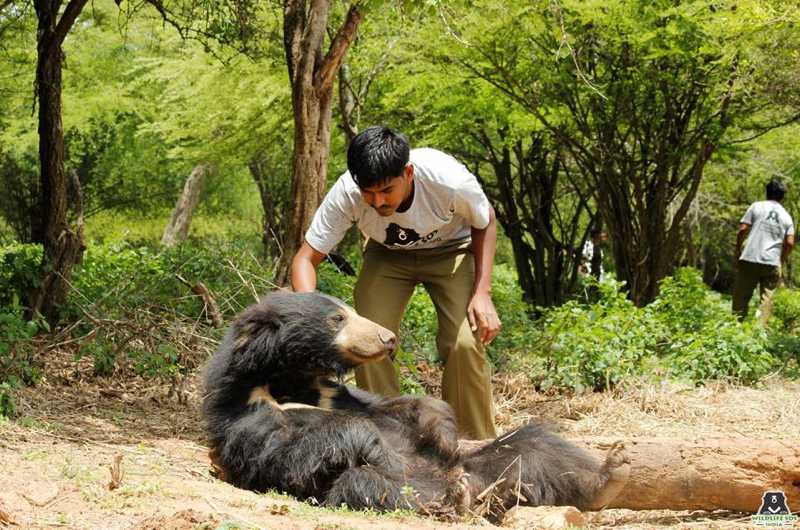 How many cubs have you hand reared?
So far I have hand-reared four bear cubs: Cupid, Meenakshi, Indra and Chandra. They are all currently residing at the Bannerghatta Bear Rescue Center.