When we come across the word 'corporate', what comes to mind instantly are air-conditioned rooms inside glass buildings in a busy, buzzing city. Who would think that corporations could play a meaningful role in conserving wildlife? Well, just as each of us, in our own ways, can help conserve wildlife, corporations too can contribute a great deal towards this cause. The team at Infosys, one of India's top tech multi-national companies, couldn't agree more!
Bangalore's Bears
In a city like Bangalore, India's Silicon Valley, one can easily lose themselves within the blinding lights, traffic and corporate culture, forgetting that less than an hour's drive from the city's centre takes us into the comforting lap of nature—the Bannerghatta National Park, which is rich in biodiversity with leopards, tigers, lions, elephants and over a hundred species of birds.
Inside the park lies Wildlife SOS's Bannerghatta Bear Rescue Centre—home to over 60 of our beloved Sloth bears that were rescued from conflicts with humans, poachers' cruelty or the now banned 'dancing bear' practice. The centre acts as a refuge to these bears, most of whom have only known trauma and abuse since a tender age.
On Saturday, 25th June, as part of their Corporate Social Responsibility (CSR) initiative with Wildlife SOS, Infosys brought a team of 30 international interns and a few employees to the centre. The enthusiastic volunteers were glad to spend a day away from city life.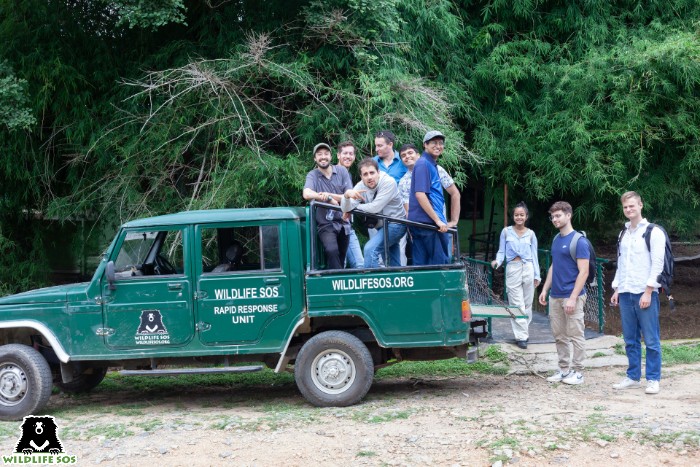 Fun with Volunteers
The Wildlife SOS team kicked the day off with a brief orientation talk for the volunteers, followed by the screening of 'The Last Dance', a documentary on our efforts to rescue Sloth bears across the country. The volunteer group was curious to know about the behaviour and traits of the bears, and were especially eager to learn more about our rescued dancing bears.
The group was then taken on a tour around the centre to explain how it functions. This included a session at the Operation Theatre for the bears where one of our vets demonstrated various medical equipment and procedures. Following this, the volunteers were guided to the green kitchen where porridge is cooked for the bears using eco-friendly biomass. Some of the volunteers were even willing to taste the mixture of grains, fruits and worms!
The Infosys volunteers also took part in several activities such as preparing enrichments for the bears, erecting a fence within the facility and cleaning a small pond for the bears to splash about in. As the day came to an end, one of the volunteers, Kisha Gupta, said, "This was one of the most positive experiences of my life."
So, What is CSR?
Corporate Social Responsibility is an approach wherein corporations make efforts to contribute to sustainable development. The chief idea involves making sure that companies and corporations take up more responsibility towards the environment and society, and lend their hands to causes that are working towards a better future for the planet, people—and wildlife, of course!
While many CSR initiatives involve working with marginalised communities, empowering women, educating underprivileged children and developing better healthcare, wildlife conservation is a sector that is much in need of support and help from corporates.
India was the first country in the world to incorporate statutory CSR through the new Companies Act, 2013. Wildlife SOS is grateful to have been in partnership with corporations like Infosys, who have supported us by actively participating on a regular basis.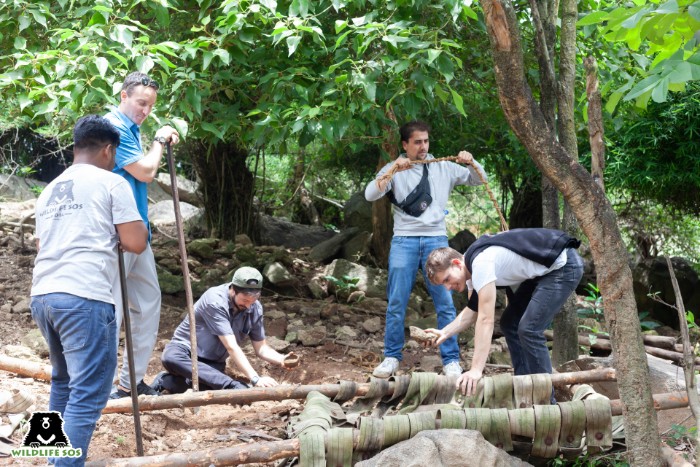 If you are someone working in the corporate sector, a pitch to your company or organisation to partner with Wildlife SOS would greatly help us help our animals. Here are some ways you can help us:
What Can You Do?
Corporate volunteerism is an excellent way to make employees engage in CSR initiatives and provide them with the opportunity to learn and lend a helping hand at our centres.
Sponsoring one or more of our resident animals would make a huge difference in their lives and allow us to provide better care and comfort to these animals.
CSR grants and funding will greatly help us further expand our efforts to conserve and rehabilitate wildlife, ensuring that more and more animals live better lives, be it in the wild or with us at Wildlife SOS.
If you wish to join hands with us, we are more than happy to work with you! For further information on our CSR programs, please feel free to reach out to our team at support@wildlifesos.org.