The first thought that comes to anyone's mind when thinking about a hammock is lying on a swinging bed strung on the barks of trees, the sun rays peeking through the leaves, and feeling absolutely relaxed. Hammocks can be used by children and adults who wish to take a break from their routine for just a bit.
It is believed that the hammock was initially developed by the inhabitants of Central and South America. It became popular since it prevented bug stings, snakes, and animal bites and also saved people from diseases since the hammocks were suspended from the ground. People slept peacefully without worrying about being harmed by animals in the middle of the night. Ever since, hammocks have evolved in different styles all over the world, and are used as daybeds to snooze in!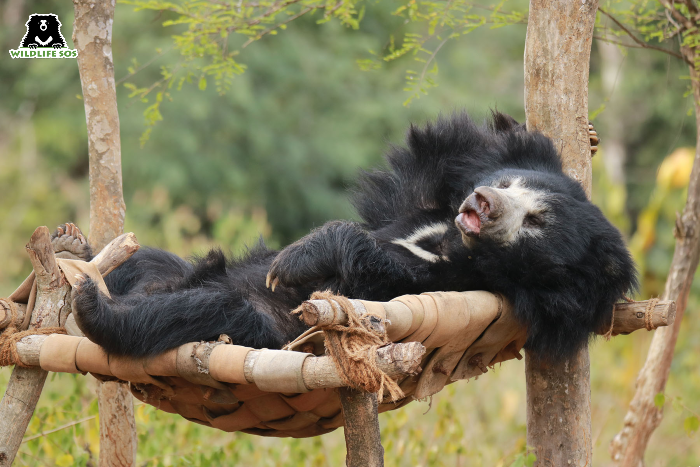 At our Agra Bear Rescue Facility (ABRF) and Bannerghatta Bear Rescue Centre (BBRC), we ensure that the bears feel comfortable, loved and cared for. They are provided with different kinds of enrichments that they can playfully engage with. Some of these enrichments are wooden platforms, swings, pools, logs smeared with honey or peanut butter, pipe feeders, and tire feeders. However, the most favourite enrichment among all sloth bears are the hammocks!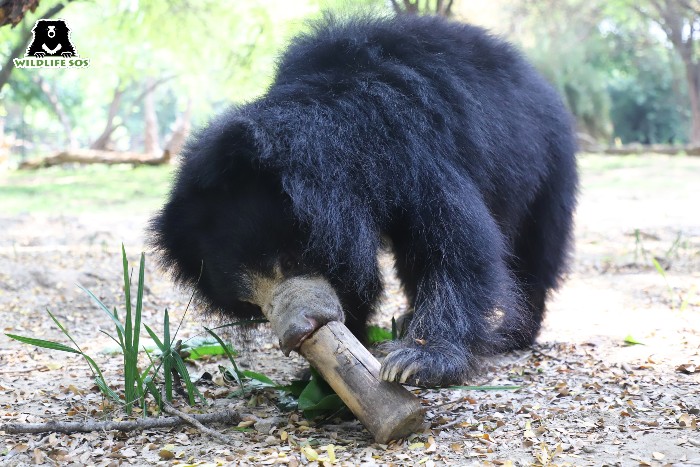 All of our rescued bears at the centres have had an abusive and traumatic past. Interesting enrichments therefore become essential ingredients in their healing journey. They keep our sloth bears physically engaged and mentally alert, both of which are crucial to sustain their welfare. 
Sloth bears are essentially nocturnal by nature, and therefore employ most of their energy during dawn, dusk and at night. However, they do remain active during the day as well. Hammocks serve as enrichments that bears love to use after tackling other enrichments in their field that keep their mind and body preoccupied. Just as humans seek opportunities to take a breather, bears at our centres get onto their hammocks for their siesta!
The caregivers at our centres creatively construct hammocks out of sturdy hose pipe material, making them reusable all year round despite the weather changes. They are made with a weave similar to that of a cot, and this technique, along with the material for hammocks, can withstand different weights. These hammocks are also prepared keeping in mind the needs and requirements of each rescued bear.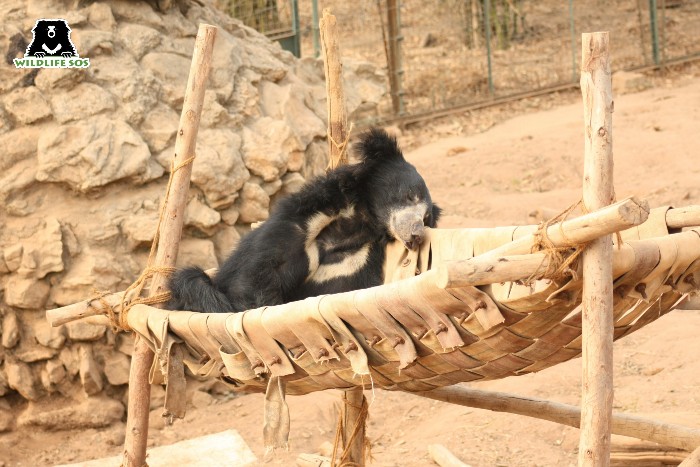 Depending on their physical health and characteristics, each bear has its hammock placed at convenient heights or at specific places in the enclosure to make it easier for them to climb. For old bears, hammocks are placed closer to the ground to give them better access to it. One of our bears in the Bannerghatta Bear Rescue Centre (BBRC), Odum, is relatively smaller in size than the other bears, so for him, the hammock is placed at less than five feet off the ground.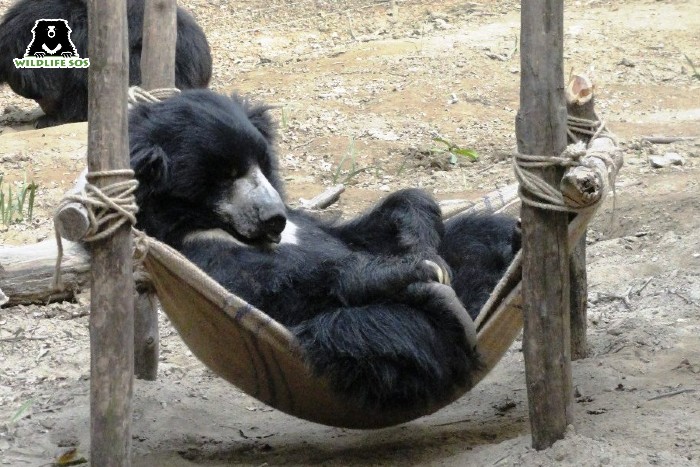 Often, fruits are attached as inviting enrichments to the hammocks, making sure that the bears have a ball as they get cosy. Soon after delightfully consuming these treats, the bears sneak in forty winks while basking in the sun!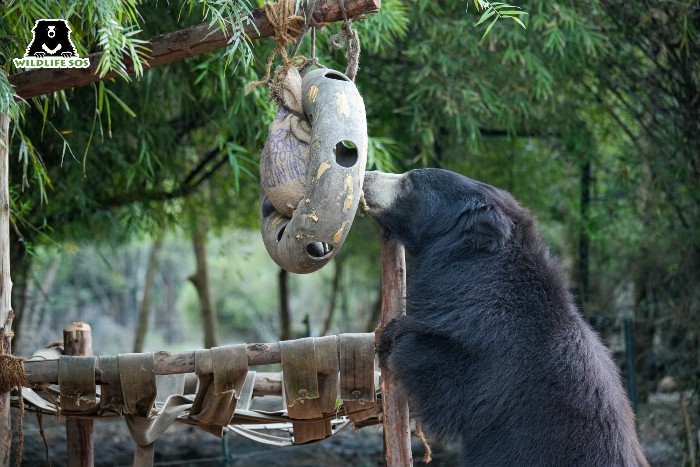 One of our bears, Millie, takes full advantage of her skilful ability to climb trees. Her hammock has especially been designed in such a way that it sits at a height of some trees in her enclosure. She devotes time to climb the trees and then enjoy a long nap on the hammock attached there. A lot of the bears also have hammocks placed at the base of the trees so that they can sit in the calming shade.
Enrichments significantly reveal the likes, preferences and habits of each sloth bear. In the case of hammocks, it is evident at our centres that they are used frequently by the bears. These hammocks are therefore susceptible to wear and tear over time, and our team actively maintains these hammocks for the bears. Hammocks are not permanent fixtures, so they can be adjusted or remade according to the changing needs of the bears.
This task also adds up as an activity for volunteers at the centres. Volunteers visiting our centres get the chance to fix the existing hammocks and learn to build new ones that can be used. Recently, corporate volunteers from HSBC visited BBRC and participated in various activities that were oriented towards the upkeep of bears. One of the tasks included the repair of a hammock. As the participants indulged in rebuilding the enrichments, they also gained a better understanding of its significance in the health and wellbeing of sloth bears.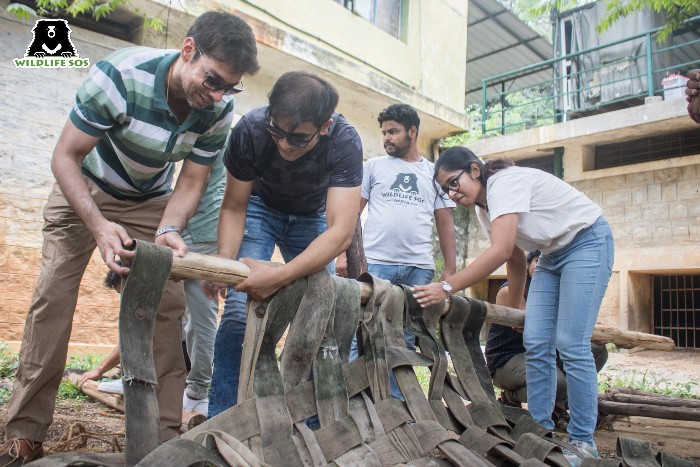 ABRF and BBRC are open to visitors all year round. If you are a wildlife enthusiast and wish to volunteer at our centres, exciting activities for the care and wellbeing of our rescued bears await you! For more details, get in touch with our team on volunteer@wildlifesos.org.