Though time has passed since Wildlife SOS drew the curtain on the trade of 'dancing' bears, one might wonder why we strived hard to declare World Sloth Bear Day on October 12, 2022. Conservation is a continuous, ever-changing field, and with the current scenario of the world, the challenges that wild animals face are far from coming to an end. A few decades ago, the 'dancing' bear practice might have been the most evident issue faced by Sloth bears, but as the Kalandar community slowly shifted to alternative means of earning their livelihood, and bears were taken off the streets, another issue that was previously lesser known came to light.
There seem to be various incidents of human-bear conflict arising in areas where wild Sloth bears are known to be prevalent, and it became evident that something needed to be done to ensure that these issues are mitigated. Wildlife SOS started working with local communities to create awareness among those living on the fringes of Sloth bear habitats. Here is a video on the same:
It also came to our attention that many young children in India were aware of species such as giraffes or anacondas found outside of the country, but had no knowledge of the Sloth bear, a native species of our country that is listed as 'Vulnerable' on the IUCN Red List! It was high time to now move from the era of rescuing 'dancing' bears, to educating the youth about the presence of this important bear species found across our country. The inception of World Sloth Bear Day on October 12, 2022 in collaboration with IUCN and the forest department has allowed us to create a day that highlights this species. This day would allow students in schools and colleges to have discussions, make art, and participate in creative writing surrounding the theme "Sloth Bear".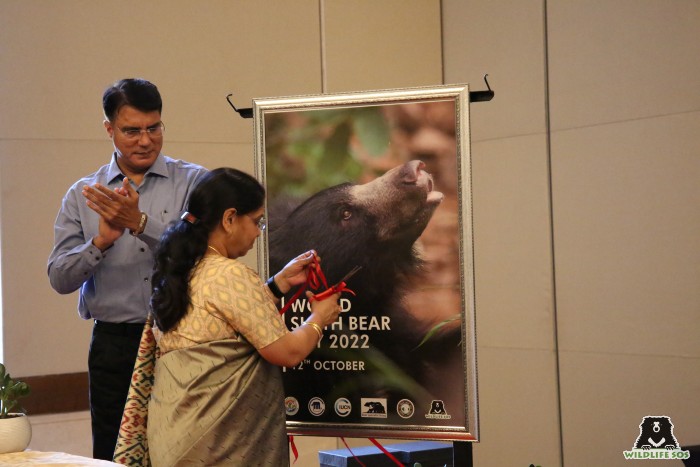 The inaugural event held by Wildlife SOS was attended by the Principal Chief Conservator of Forests and Head of Forest Force of Uttar Pradesh Forest Department – Smt. Mamta Sanjeev Dubey, IFS along with the Member Secretary of the Central Zoo Authority, Govt. of India – Dr Sanjay Kumar Shukla, IFS and other dignitaries.
As a kick off to the celebratory event, Wildlife SOS invited students from schools in Agra to participate in art and creative writing competitions. The winners were welcomed on World Sloth Bear Day, where they were presented with trophies and certificates for their efforts. Smt Mamta Sanjeev Dubey spoke about how the youth of this era are taking up initiatives to learn more, and push for a cleaner, greener and safer future for all humans and animals.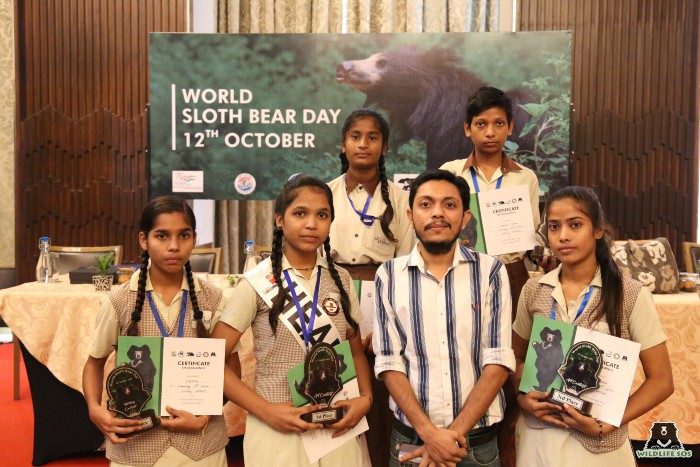 We hope to see more young citizens participate in World Sloth Bear Day next year, as we continue to spread awareness about this key species and the wondrous wildlife surrounding us.