As the sun began to fade over Goharganj district of Madhya Pradesh, a group of children from Karakwadi village were returning home after spending the afternoon playing in the fields. They were suddenly interrupted by loud and distressed roars, echoing from deep within a neighboring well. Left in a state of panic, the children rushed back to alert their parents and on further investigation, the occupants were shocked to find a young leopard trapped inside the nearly 60 feet deep unused well.
An incident such as this is not unheard of in areas located in close proximity to protected forests and natural reserves across India. Wild animals often wander out into the buffer zones in search of easy prey such as dogs, cattle and goats as well as water bodies particularly during the hot summer months. Due to rampant urbanization and altering of natural habitats, wildlife often has to forcibly move into human habitations for survival. Many species learn to adapt to urban environments which bring them into close proximity to human beings. This often results in cases of man-animal conflicts. The villagers were quick to report the incident to the Forest Department, who in turn contacted the Wildlife SOS team that manages the Van Vihar Bear Rescue Facility in Bhopal, for their help.
A three member team led by Wildlife SOS Veterinarian, Dr. Amol Narwade accompanied by five forest officials embarked on the 90 kilometer journey from Bhopal to Karakwadi. The team also brought tranquilizer and rescue equipment in hand. In the meantime, the terrified and helpless leopard was met with awe and curiosity from the growing crowd that had gathered around the well. The Forest Department officers were efficient in ensuring that the crowd was under control as public safety is imperative while carrying out such sensitive rescue operations.
After an assessment of the situation the team lowered a stretcher into the well for the young leopard to clamber onto. Dr. Amol then carefully tranquilized the young leopard with a darting gun using a sedative injection. The animal was then moved out of the well and shifted to Van Vihar National Park for observation.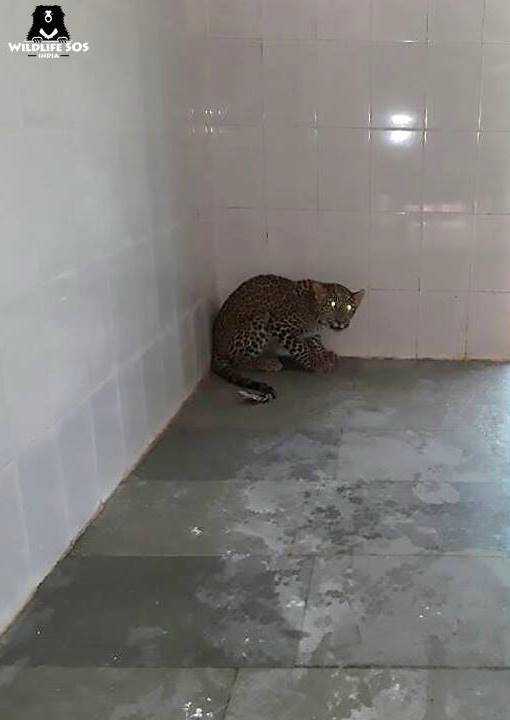 The leopard was identified as a healthy male of approximately two years. Physical examination revealed that the animal had sprained his hind limbs during the fall but apart from that there were no injuries. We are currently providing him with necessary treatment and care. As leopards are territorial animals, their survival in the wild reduces if they are released in a different area. Therefore it is essential to release them in the vicinity of where they are rescued. Once he has fully recovered, we will release the animal back into its natural habitat.
Please take a minute to sign our #petition asking concerned authorities to fence areas around open wells or cover them so that the lives of many innocent animals and people can be saved here; http://e-activist.com/ea-action/action?ea.campaign.id=64997&ea.client.id=1971