In India, 'Shravan' or 'saawan' is the fifth month of the Hindu calendar and it is considered to be auspicious by devotees of Lord Shiva, a primary god in Hindu mythology. Every year, thousands of devotees across the country flock the temples during this month, especially on Monday's which is considered to be a highly auspicious day. Due to Lord Shiva's frequent depiction with a snake coiled around his neck, snake charmers or 'saperas' will often display snakes at such gatherings, to take advantage of the people's devotion and scam them into giving them money. This has turned into a lucrative business where every year, thousands of snakes are poached from the wild, defanged brutally and then kept hungry for months before the festival.
This year, in a joint operation by Wildlife SOS & the Uttar Pradesh Forest Department, 74 snakes were seized from the illegal custody of snake charmers across Agra and Mathura. A total of 57 cobras, 7 common sand boas, 6 rat snakes & 3 red sand boas were rescued and transferred to the Wildlife SOS rescue facility. The snakes were in dismal condition, especially the cobras as to prevent them from biting, they had been defanged and their venom glands were extracted. Our veterinarians treated each snake to determine whether release back into their natural habitat would be feasible.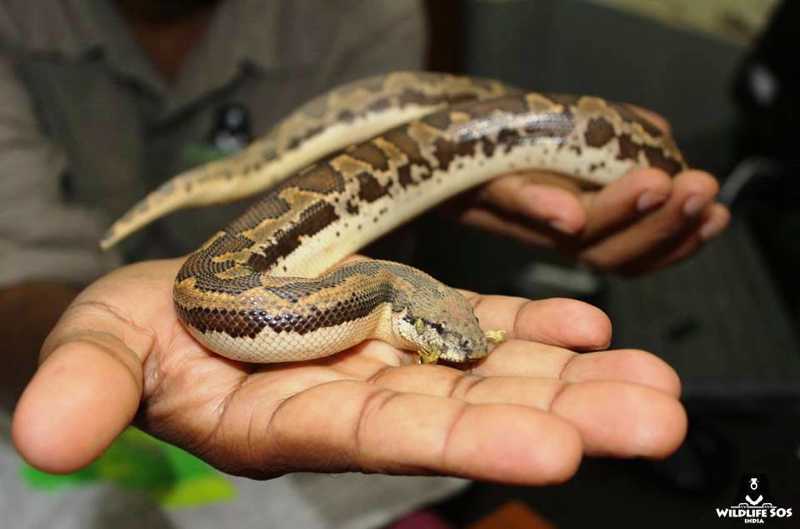 Snake charming is not enchanting, or brave and there are no skills involved in this practice. This is extremely crude and painful for the snake as its venom glands and fangs are pulled out. Since the venom is actually a snake's digestive juice, the snake suffers a terrible plight and eventually succumbs to death due to indigestion. Non venomous snakes like the sand boas and rat snakes are not spared either. Their mouths are stitched shut, making it impossible for them to eat.
Exoticized as 'tradition' in India, the profession of snake charming is one that is rife with cruelty and mistreatment of these poor misunderstood reptiles. The act of charming a snake with a flute or 'pungi' is based on incorrect facts, as in reality snakes don't have ears and therefore cannot hear the music being played. They simply follow the movement of the flute that the snake charmer holds and considering it to be a threat, sways with it in order to strike it.  The snakes are starved for months, without food or water, and will drink milk or water in a desperate attempt to alleviate dehydration, leading to the common myth that snakes at festivals will drink milk presented to them as offerings from devotees.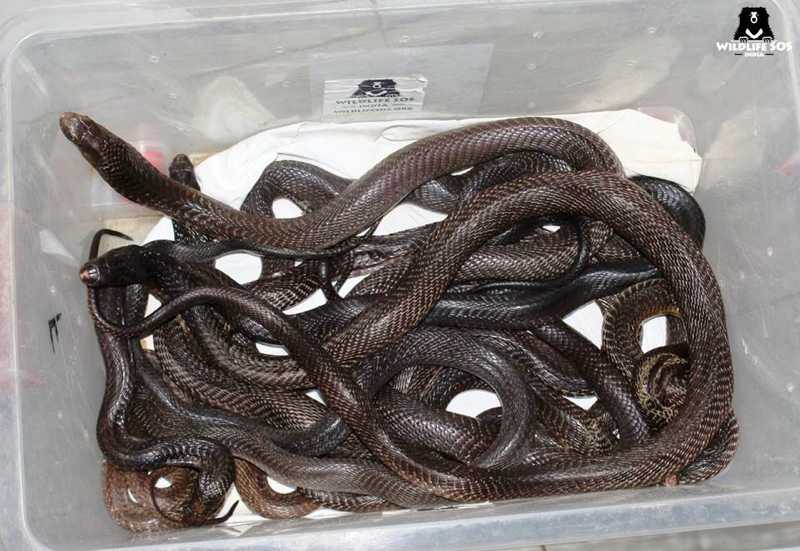 We see maximum number of such cases during Shravan, every year. This is a cruel and inhumane practice which exploits the lives of innocent wildlife species that are protected under Indian laws. Capturing snakes and using them for display and entertainment, is banned and a jail-able offence under the Wildlife Protection Act of 1972. It is the need of the hour to draw attention to the illegality of this offense and the abominable treatment of these animals is incredibly important to curb cruelty and poaching of wildlife.
Wildlife SOS urges tourists and locals to avoid giving alms and encouraging snake charmers from using snakes for display and entertainment, as this is an act of cruelty towards animals and promotes the illegal possession of protected wildlife species.