The bears in the Agra Bear Rescue Facility (ABRF) are lucky enough to have an oasis of leafy trees in the midst of the sweltering heat, with glittering pools at their disposal. The tree canopy softens the blow of the harsh sunlight while cooling the hot air that hangs over the area. For many of the bears at ABRF, this life is starkly different from the one that the majority of them were rescued from.
Amal bear arrived at the rescue centre at the age of twelve after living in deplorable conditions. Having had a hot iron poker punctured through his nose when he was only a cub was only the start of his trauma. He was suffering from a whole list of problems such as severe malnutrition, dry skin, and teeth that were smashed to smithereens and were infected. Our veterinary team and staff knew that they would have to deliver a miracle to pull this decrepit bear out of his failing health.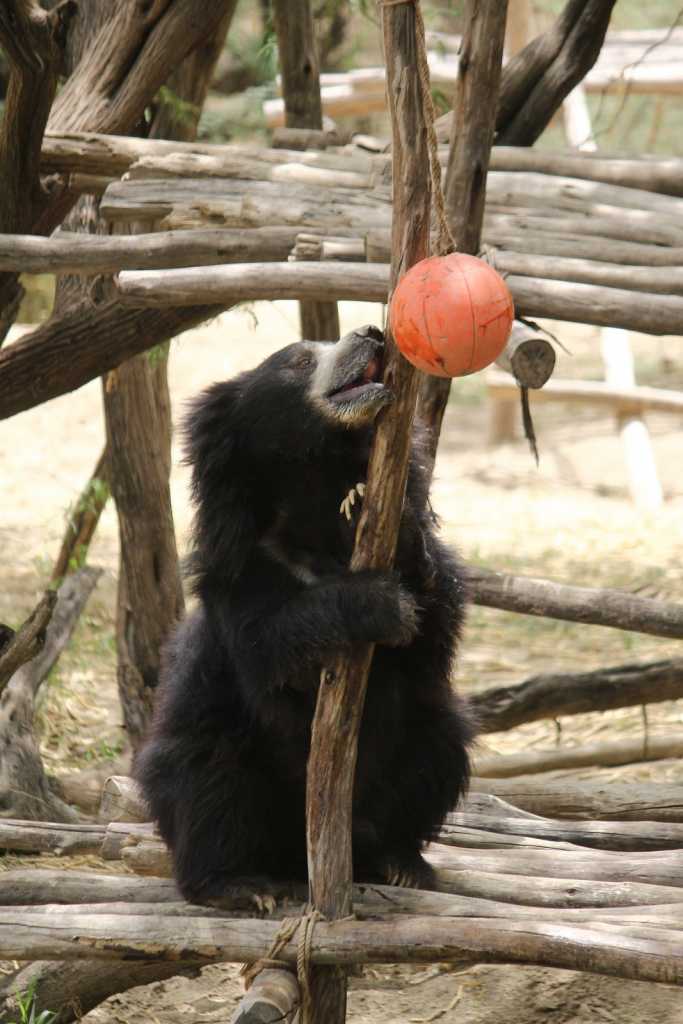 Although he had suffered much throughout his life Amal has been able to heal mentally and physically from the ordeal. One would expect such a bear to be wary and distrustful of humans, but that is not Amal's personality. His resilient nature was on display throughout his treatment and his bigheartedness is illuminated by his ability to trust and love for his keepers Deenanath and Sharif. When he spots them he makes sure to greet them as if they are his best friends, which they always affectionately reciprocate!
Amal is usually seen roaming around in the field with Ranjan bear and digging mud pits, which he then wiggles himself into for a relaxing time. He enjoys his dusty nap time so much that he is almost always covered in a layer of dirt! When the weather is hot, Amal prefers the comforts of his den and only ever comes out during the day for his favourite treats while in winter, he can be seen soaking the sun as much as possible while lying on his comfortable hammock. He bounds over happily and clumsily every time he sees honey logs and watermelons being brought in to his enclosure!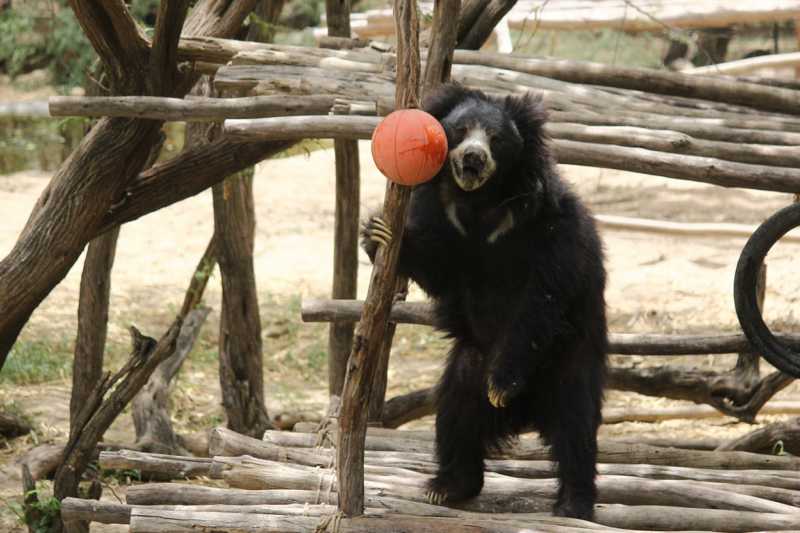 So far Amal has been in good health, but he was recently diagnosed with osteoarthritis due to which he has developed a limp in his left forelimb. Our veterinarians were able to spot the issue and provide him with the proper treatment to help reduce the pain and discomfort. He is on his way to recovery as the staff continues to keep a close eye on his progress.
We are so incredibly thankful for the support and generosity that you show towards Amal bear. Without your kindness we would not be able to provide top-notch care that many of our bears need!