Earlier this month, we had three eminent veterinarians from Kerala Veterinary and Animal Sciences University visit our team operating out of the Bannerghatta Bear Rescue Center (BBRC) in Bangalore.
It was a great opportunity for our veterinarians and paravets to interact with Dr. S. Sooryadas, Assistant Professor, Department of Veterinary Surgery and Radiology, Dr. Bipin. K. C, Assistant Professor, Department of Veterinary Epidemiology and Preventive Medicine and Dr. Leeba Chacko, Assistant Professor, Department of Animal Reproduction, Gynaecology and Obstetrics.
Dr. S. Sooryadas who is an expert on ophthalmology and anesthesiology lent his expertise to the team by carrying out an eye examination for Percy, one of our resident bears. Percy was detected with partial opacity in both eyes. We conducted the examination at our on-site hospital to determine the extent of his condition. Having years of experience conducting ophthalmologic tests and surgeries on elephants, Dr. S. Sooryadas shared substantial insight on the same and he was keen to explore the possibilities of examining some of our rescued elephants who are visually impaired. We also delved into the field of anaesthesiology and immobilising techniques for captive and free ranging wildlife.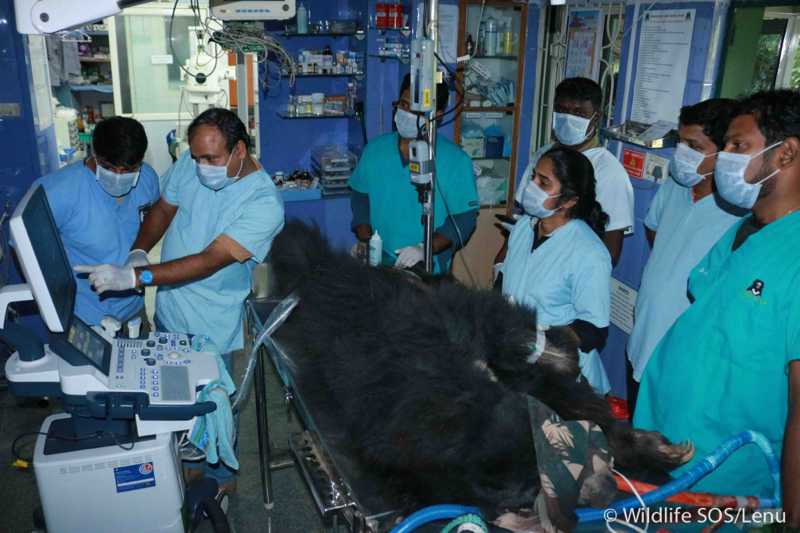 Dr. Leeba Chacko who specialises in animal Gynaecology and Obstetrics, demonstrated the visualization and positioning of the ultrasound probe on a bear. Dr. Bipin. K. C also shared the different aspects of monitoring the vital parameters of animal patients.
Following the engaging interactive session, our Director-Research & Veterinary Operations, Dr. Arun A. Sha gave the visiting vets a tour of the centre and of the bear enclosures. He also talked about our various conservation projects and walked them through our ground-breaking efforts to rescue and rehabilitate over 620 sloth bears from the dancing bear practise. They were highly impressed by our bear management skills and infrastructure and were keen on bringing their students to the centre for an exposure visit. They also expressed an interest in collaborating with us for academic and research study opportunities for aspiring veterinary students.
Wildlife SOS offers various internship and research opportunities for veterinary students from across the globe. Our team of veterinary experts are actively involved with student exchange programs as well as conducting workshops across the country.