Wildlife SOS & the Uttar Pradesh Forest Department recently celebrated World Ranger Day at the Sur Sarovar Bird Sanctuary in Agra. The event was hosted by Deputy Conservator of Forests (DCF)-Chambal, A.K. Srivastava, Range Forest Officer Sur Sarovar Bird Sanctuary, Anand Kumar Singh and Director Conservation Projects, Wildlife SOS Baiju Raj M.V.
World Ranger Day is celebrated annually on 31st July to honour front line officers who are devoted to conserving and protecting our wild heritage across the world.
This year, we extended our support to the Forest Department by distributing field equipment for 52 front line forest officers so they can continue to effectively protect the wild inhabitants of Sur Sarovar Bird Sanctuary. According to DCF (Chambal) A.K. Srivastava, their officers find it challenging to carry out night patrol duties at the sanctuary during the monsoon season. Field gear including torch lights, rain coats and field boots have been provided to the officers so they can be better equipped while carrying out on ground duties such as forest patrols and combatting poaching activities in the area. We hope to facilitate the same for various divisions in the future.
Protected forest and wildlife reserves are a constant target for poachers and wildlife traffickers and it is imperative to take stringent measures to detect, prevent and prosecute wildlife crime in India. The State Forest Department is committed to this cause and their officers put their lives at risk every day to protect our wild heritage and stamp out wildlife crimes.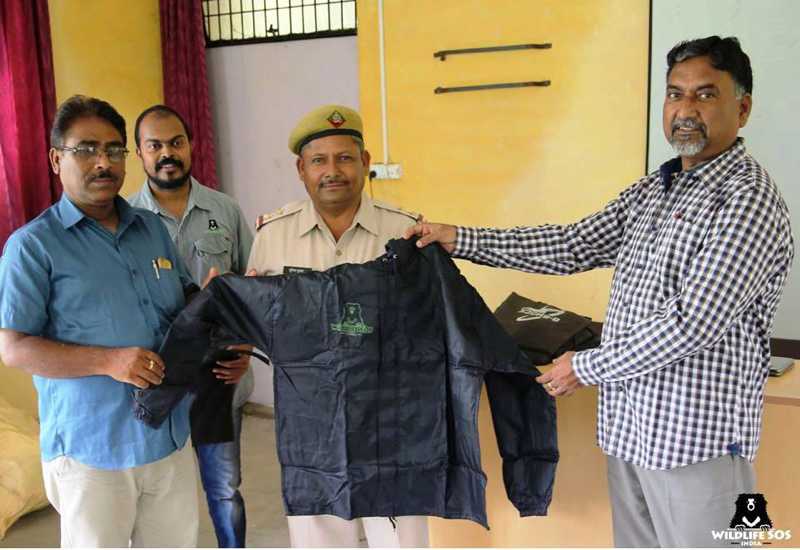 Wildlife SOS has been working with the UP Forest Department since 1998 and has successfully established the Agra Bear Rescue Facility & the Elephant Conservation & Care Center in Mathura with their cooperation.
Over the years we have conducted several awareness and wildlife crime enforcement workshops as well as provided them technical assistance for human wildlife conflict mitigation and several anti-poaching operations. Forest Watch, the anti-poaching unit of Wildlife SOS assists enforcement agencies like the Forest Department, Police and other law enforcement agencies throughout India to apprehend poachers and wildlife traders while seizing live animals and other wildlife contraband.
We are grateful to the Forest Department for their dedicated efforts and salute their front line officers who put their lives at risk every day to protect & conserve our precious wildlife species.