Rescued in December 2015 from a lifetime of abuse and negligence as a confined temple elephant in Satara, Maharashtra, Suraj, the 45 year old one –eared tusker is now on a steady road to recovery in his new home at the Elephant Conservation and Care Centre (ECCC) in Mathura.
When the Wildlife SOS Rescue team first found him, they were devastated to see him restrained by spiked chains in a dark, dank room with little food and water. He had a malnourished frame, his body was covered with bull-hook wounds, his feet were in an advanced stage of foot-rot and his tail was injured and left untreated. In addition, due to the constant pressure from the heavy chains, his right front wrist had twisted outwards.
Suraj is currently undergoing treatment for the injuries he sustained at the hands of his former owners and has gained a healthy amount of weight as well as a hearty appetite. Due to lack of important nutrients and vitamins, he's being given supplements with his meals, which mainly consists of sugarcane, green fodder and a variety of fruits and vegetables. His favourite foods include papayas and peppermint.
Though initially aloof and wary of his new surroundings, Suraj is gradually settling down and has become much calmer. He has learned to be a bit more trusting and is responding well to his mahouts and has been interacting with the other bull elephants like Rajesh and Mac and we are hopeful to see them all bonding over time.
Suraj has also been introduced to our target training program, a process which relies on positive reinforcement for the elephants to achieve repeated actions that enables the vets to provide safe and effective veterinary care of the animal without stressing it out. Recently, he developed abscesses on his left hip but is responding well to his treatment and his wrist injury is gradually healing as well.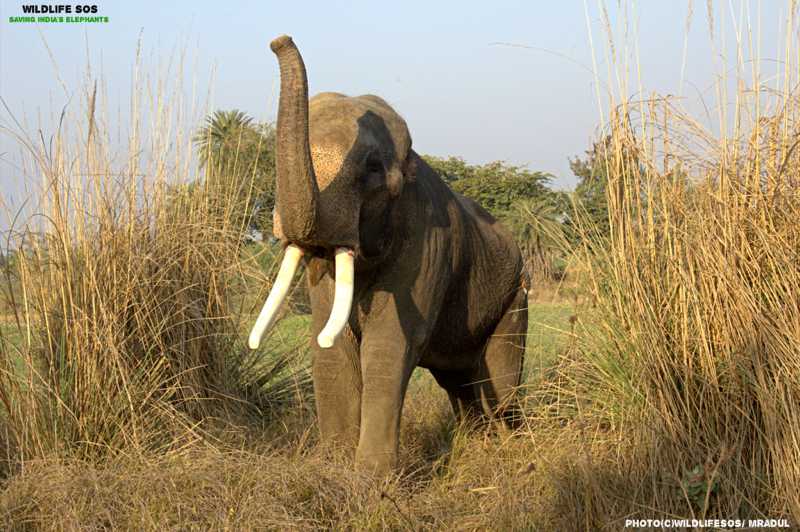 One of the happiest moments since his arrival at the centre has been his growing fondness of the elephant pool, where he loves taking baths and enjoys splashing water. Though the mental and physical scars from his traumatic past will take years to heal, it is truly heart-warming to see Suraj take his first few steps towards a more positive future.
This wonderful new life full of love and freedom has been possible because of your support and concern for our beloved 'Herd of Hope' and we hope you will continue to stand by our cause.