It was night time in the Tumkur district of Karnataka, and a nine-year old female sloth bear found herself in the fields of Pavagada village. Having recently given birth, she was on a desperate quest to provide food and sustenance for the two little cubs clinging tightly to the fur on her back. A rapidly growing population coupled with continuous destruction and plunder of natural habitats as well as resources, wild animals are struggling to find a foothold in the shrinking forests. Consequently, they are forced to venture out to the remote settlements bordering forests and wildlife reserves in search of food, water, berries and easy prey.
Things took a rather horrifying and drastic turn for this bear, when she accidentally fell inside a 20 foot deep dry, uncovered well. Suspected to have been trapped for over 48 hours, the bear was on the brink of death and eventually succumbed from starvation and physical injuries sustained during the fall. The cubs were still nursing from their dead mother when they were discovered by a local farm owner who had heard their distressed cries. On receiving word of this dreadful incident the Forest Department and the Wildlife SOS team from the Bannerghatta Bear Rescue Center rushed to rescue the now orphaned bear cubs as they were in need of immediate medical assistance. According to Dr. Arun A. Sha, Director- Veterinary & Research Operations at Wildlife SOS, the cubs –one male and one female are almost 20 weeks old.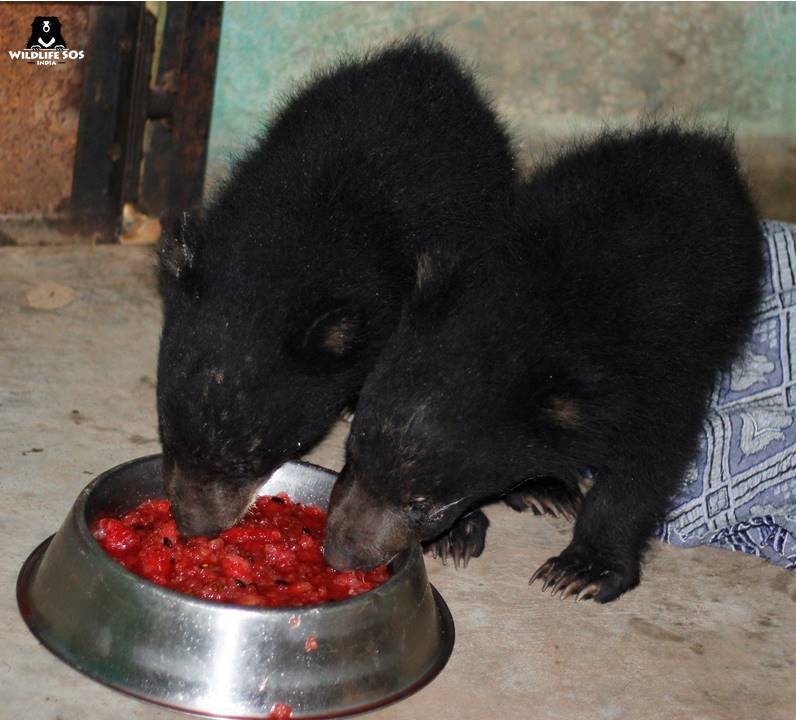 Post mortem evaluation revealed that the adult bear was severely dehydrated and had fractured the lower jaw (mandible) due to the impact of the fall. The young bears have sustained wounds and abrasions on their body but were able to survive the fall because their mother had taken the major brunt of the fall. Both cubs are under a lot of trauma currently. They have been moved to the Bannerghatta Bear Rescue Centre where they will be under continuous medical observation and treatment.
Such incidents have been increasing in the recent years and the main reason behind this appears to be the lack of proper covers and fencing around these wells. This is serious matter as the issue of uncovered wells pose a huge risk not only to wildlife but also to people's safety. Wildlife SOS recently launched a petition to address the issue of open wells so that people and India's wild animals are not further jeopardized.
You can make a difference by signing our  ongoing petition asking concerned authorities to fence areas around open wells or cover them so that the lives of many innocent animals and people can be saved here; http://bit.ly/2rbr7Kl