A heavy iron ring forcefully pushed through their tender muzzle and a thick rope tied around the nose and neck, controlling their every move- such was the life most captive sloth bears were subjected to as part of their indoctrination process of becoming dancing bears. At merely one and half years of age, little Kanmani was already scarred by this unimaginable physical and psychological pain.
In 2007, she was liberated from this horrific fate when she was rescued by Wildlife SOS and brought to her new home, at the bear rescue centre in Agra. Today, nine year old Kanmani has adjusted to a free and peaceful life under the love and care provided by our team of dedicated veterinarians and keepers, and from her lack of stereotyping and anxiety, we gather she has forgotten her past.
Young, playful and full of energy, rarely does one see Kanmani sitting still or lazing around during the day time. She and Kabilan, her trusted partner in crime love to spend their time climbing trees, playing on the structural enrichment's and grappling over enrichment balls, that are filled with yummy treats such as dates and peanuts. One of her favorite activities involves hiding in the concrete tunnels as she waits for an unsuspecting Kabilan to pass by and tackling him by surprise.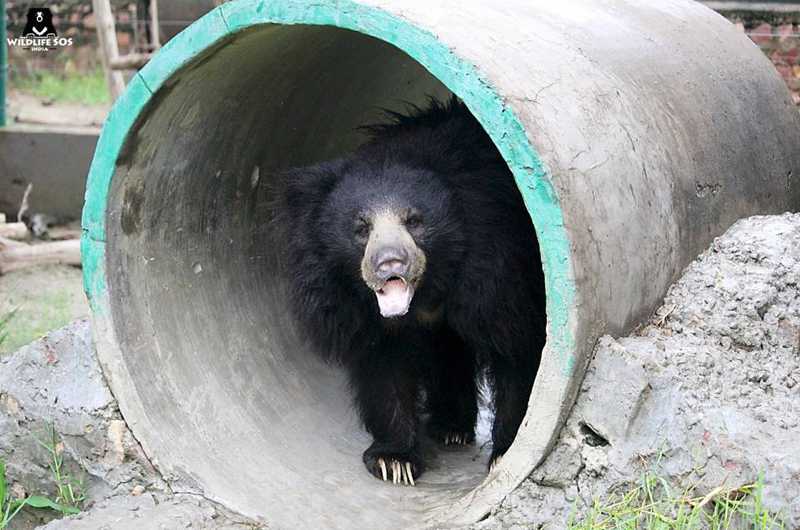 Like most sloth bears, Kanmani's weakness too lies in honey logs and she always ends up getting honey all over her paws and thick fur.  She has a hearty appetite and is fond of  devouring chunks of mango and coconut. As winters approach, Kanmani can be seen sunbathing under the warm morning sun from the comforts of her hammock. Being an excellent climber she also likes to reach out to the tall branches of trees where she can enjoy a quiet nap after her meals, in unbelievably acrobatic positions.
Though comfortable with her fellow ursine companions, she prefers to keep her distance from human interaction.  She dislikes getting weighed and has to be gently coaxed into the weighing den by her keepers Shamu and Vijaypal.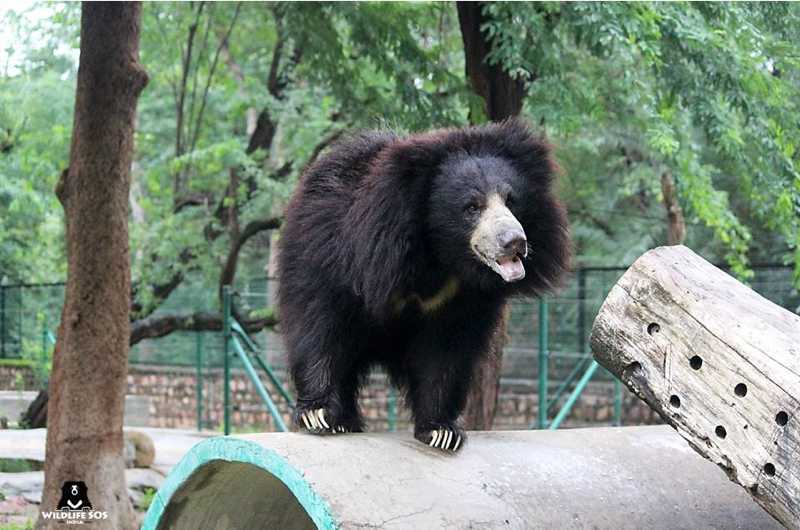 Kanmani's treatment and general care have played a vital role in keeping her safe and healthy, and providing her the free, happy life she deserves. This has been made possible by your donations and we hope to have your continuous support for our beautiful sloth bears.