Sometimes it is difficult to decide whether Manali is more adorable or naughty. Then we realize that it is her naughtiness that makes her so adorable. Manali was rescued in 2007 as a young bear from the Kalandar community in Agra. At the time of her rescue, Manali was undernourished and severely dehydrated. The rope wound in her nose was infected and she was in indescribable agony. Her coat was rough and dull because of the lack of care and nourishment. Her terrible form broke our hearts. We brought her home to the Agra Bear Rescue Facility to give her a new chance at life.
Manali has not looked back since then. She is now a healthy and joyful 11 year old bear who is charming, warm and very naughty. Even though Manali is a friendly bear, it is usually a task to make her do anything, even come to the den to get weighed. Ask her to do anything and she will never oblige and ends up doing everything with her own free will. She loves to play-fight with her keepers, Chandrashekhar and Vijaypal but is always very sweet to them when it's time to feed. Her keepers are also extremely fond of her and keep bringing treats to pamper her. Because her previous experience with human beings was one of torture and abuse, she was initially very shy and docile but has opened up in the recent years.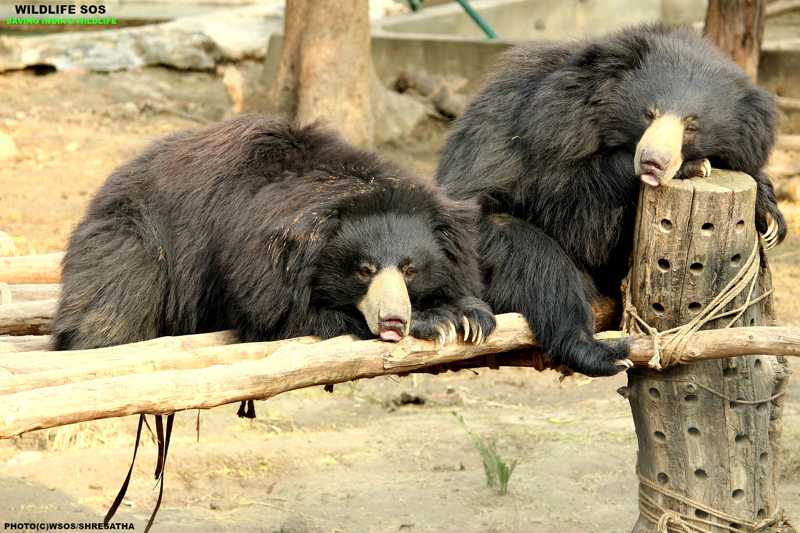 The most wonderful thing about Manali is her beautiful friendship with the bears, Pooja and Tarini. The three love each other to death and are inseparable. On sunny winter afternoons, you can often behold the endearing sight of these three bears cuddled up into one giant fur ball, giving each other both physical and emotional warmth. Their bond is unbreakable, as they have found comfort, love and happiness in each other's company. The trio will do everything together, be it playing with enrichments, feeding or just lazying around.
Manali is not very fussy when it comes to food, but has an exceptional fondness for watermelons. Whenever she is given watermelons, she likes to hoard them and then share them with Pooja and Tarini. Rains bring immense joy and delight to Manali and she spends hours outdoors when it's raining, rolling in the wet mud or digging up insect mounds. Sometimes, she just sits in her den, admiring the view and stretching out her paws to feel the raindrops. Her happiness at these times is both palpable and contagious.
Every moment we see Manali enjoying her freedom and living her life in peace, it strengthens our belief in the power of love. It is your love and unwavering support to this cause that Manali and many other bears like her were finally able to find their freedom. Your love for these bears is a light that shines in their eyes and also keeps them warm on cold winter nights. Thank you for making the difference.