July 2006 signalled the start of a torrid monsoon at the Agra Bear Rescue Facility, and a new life for a bear named Herbie – as a jeep carrying this former dancing bear wound its way slowly through the Sur Sarovar Bird Sanctuary in the pouring rain and towards the gates of the rescue centre.
Eleven years of torture were washed away with the rain that evening, as 11 year old Herbie became one of the over 600 bears rescued by Wildlife SOS as part of our dancing bear rescue program, and Herbie's terrible life had finally changed for the better – but nobody could predict the impact this bear would have on all of our lives.
Freedom terrified Herbie. He had never seen so much space before, was petrified of people and the sounds the other bears made at night, and so spent his first few weeks at ABRF hiding away in a corner of his den, or trying desperately to escape the quarantine enclosure.
Then Herbie met Ghanshyam.
Ghanshyam had recently joined Wildlife SOS as a keeper, and found himself immediately drawn to this new, scared bear. He began spending more time with Herbie, and trying to coax him out of his shell with honey and treats. In time, the two became inseparable. Herbie's friendship with his keeper transformed him completely, and he slowly became one of the most affable and loved bears in our care. He made friends with the other bears, playing and mock-wrestling with the most boisterous bears and warmly welcoming the shyer individuals into his life, helping so many bears take their first tentative steps to a whole new life. He enjoyed playing in the mud, digging pits and napping in the cool soil at the bottom of the pit. Herbie loved climbing trees, and used the amazing climbing skills he developed to escape every medical checkup he possibly could. He would sense the vets' arrival as they began setting up, and would hurriedly scurry up the nearest tree – only clambering back to the ground when he was sure they had left!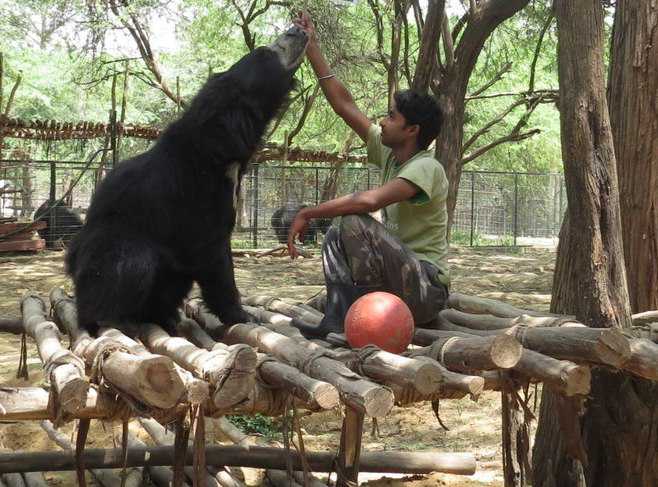 From a bear who was so scared that he hid away in his den, Herbie had developed an unsurpassable love for freedom. He disliked being indoors and learned how to open his den to let himself back out into the field to play or explore, even preferring to eat outdoors with the warm summer sunshine beaming down on his glossy black coat.
Through it all, Ghanshyam remained Herbie's constant companion and his favourite person. He would bound up to him happily whenever the keeper approached, knowing that his best friend would never arrive empty handed, and without sticky palms full of dates and nuts.
But Herbie's happy exterior hid a terrible secret, that slowly began showing itself a little earlier this year. As the manifestations of tuberculosis became evident, Herbie's behaviour began changing – he seemed dull and listless, and spent more of his time sleeping in his old mud pits, sacrificing games and playful tussles with the other bears for the solace of sleep. He'd still welcome his keepers with a tired sort of happiness, but seemed to have lost a lot of his energy and the contagious exuberance that drew everyone to him. Despite our best efforts, Herbie passed away peacefully last month, leaving behind a hollow emptiness in our hearts where his usual cheerful self would have been.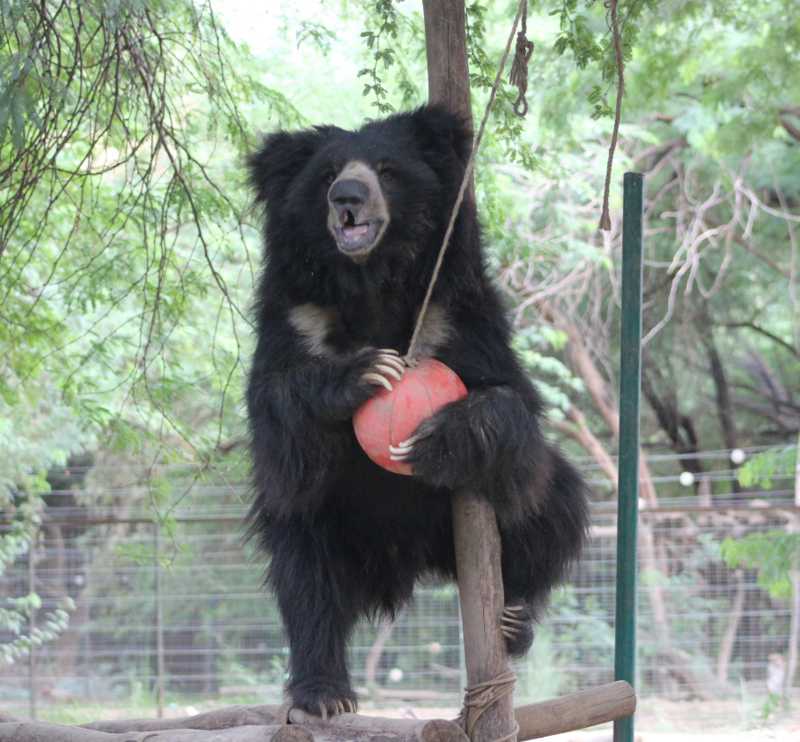 We still miss him, this wonderful bear whose life we changed and who in turn changed all of ours.
Till the very end, Herbie's story remained for us one of hope and healing – and a testament to the difference a little love can make in the life of an animal that has seen nothing but cruelty at the hands of human beings.