For a while, it seemed like the rain would never stop. The ceaseless downpour flooded the city of Chennai, destroying homes, offices and public spaces and destroying lives and livelihoods. The streets were waterlogged, and the residents who still had homes to go to found themselves wading through floodwater to get back. Nearly two weeks later, even as the floodwater receded, supplies ran short and the threat of waterborne diseases loomed in the air as the people of Chennai struggled to get back on their feet and put together the lives washed away by the torrential rain.
Amdist the chaos of natural disaster, it's always easy to forget the voiceless victims of the calamity, and many people don't realise the number of animals, both domestic and wild, that lose their lives or are left diseased, stranded and starving in the aftermath of the floods.
Local shelters chipped in to help domestic animals in the city, taking in cows, goats, dogs and cats left to fend for themselves in devastating conditions, while the Chennai Forest Department and wildlife rescue units in the city took care of wildlife suffering in aftermath of the floods, both doing a phenomenal job and saving countless lives.
Wildlife SOS came together with its sister organisation Friendicoes SECA to lend a hand to rescue efforts in the city, sending in a team of rescuers and veterinarians to assist in rescue efforts and provide desperately needed medical care to the animals at the shelters. The team played an active role in getting a number of animals, both domestic and wild to safety, treating them and getting them immediate medical attention, through a helpline set up exclusively for the project. Rescue workers helped get food and clean drinking water to animals around Chennai, and held vaccination camps in badly affected villages for domestic animals that were lucky enough not to be separated from their owners and food and fodder distribution camps across the city.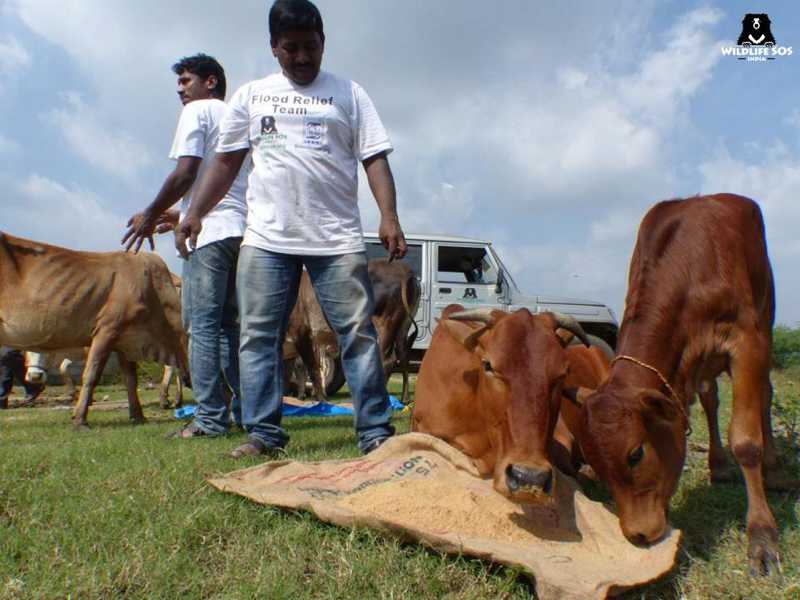 The rescue efforts was funded by the heart-warming generosity of donors from across the country that stepped up to help save the voiceless victims of the Chennai floods, giving whatever they can to contribute to relief work, and the conscientious efforts of the wonderful local people who offered their complete cooperation. Wildlife SOS and Friendicoes are so grateful to everyone who stepped up to help us save lives, and do our little bit to help an amazing city on the road to recovery.