Last week, the elephants at the Wildlife SOS Elephant Conservation and Care Centre had an incredibly special visitor drop by the rescue centre to visit them. Multiple Grammy award winning rapper, musician and songwriter Pharrell Williams stopped over at Agra to see the famed Taj Mahal during his whirlwind visit to India, and made sure to drop in at ECCC while he was in the area as well.
The Wildlife SOS team was thrilled to host Pharrell and his wife Helen Lasichanh along with his team at the rescue centre for an afternoon of interaction with our rescued elephants. The group was welcomed on arrival by Wildlife SOS Co-founder Geeta Seshamani and the staff at ECCC before Geeta spoke to them about the myriad of projects and conservation work Wildlife SOS has been and continues to be involved in across the country. Pharrel, his wife and team then proceeded into the sanctuary and started off with a tour of India's first ever elephant ambulance, getting a chance to interact with rescue staff and witness all of the exciting modifications that Wildlife SOS made to ensure the ambulance is ideal for elephant rescues from anywhere in the country.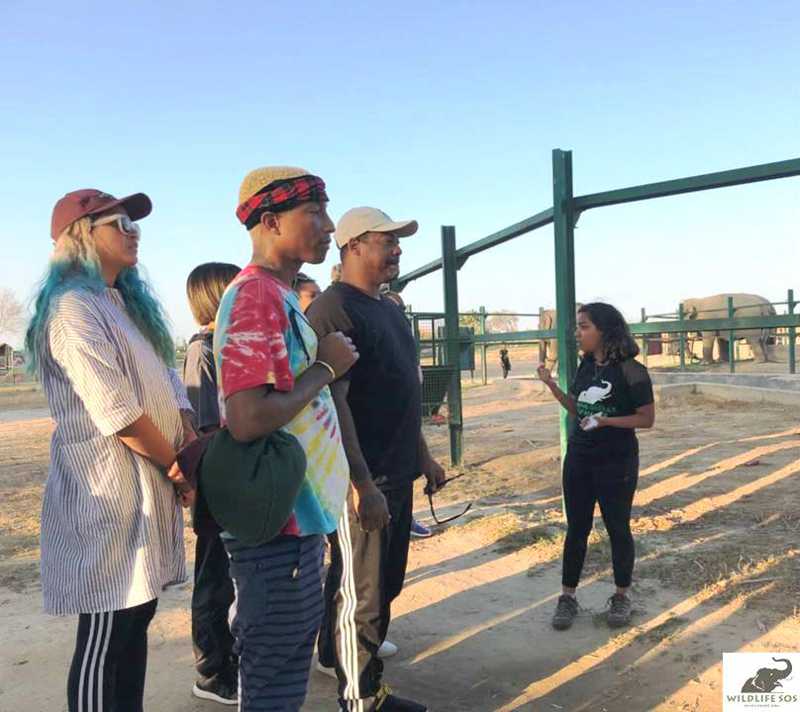 Pharrell then met each of our rescued elephants and the group excitedly fed them treats as they listened intently to each of their stories. They were particularly moved by Phoolkali's story, saddened by the realization that she was blind and had still been forced to work in captivity, but happy that she now resided safely at the centre and had found a friend and companion in Maya.
Pharrell also had the unique chance to watch our incredible on site veterinary team at work as they carried out routine footwork on Rhea elephant, trimming her nails as the explained the importance of foot-care and the often detrimental effect of neglect on the feet of captive elephants.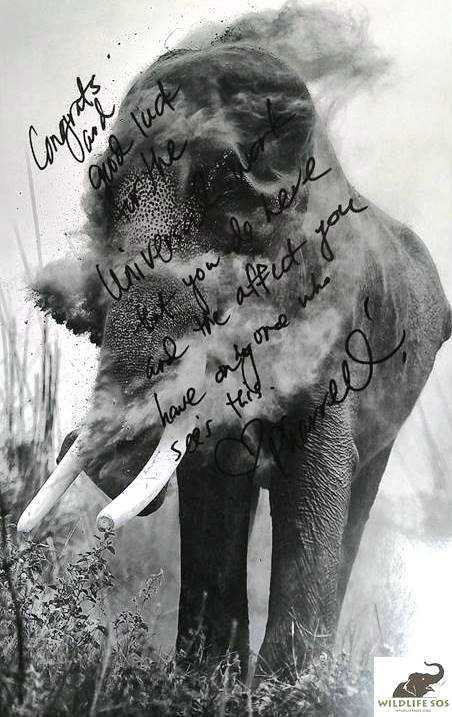 Pharrell and the group were engaged and asked a lot of questions, expressing their awe at the magnificence of the elephants, and their satisfaction with their experience at the rescue centre.
As a token of our appreciation to Mr. Williams for taking the time out of his busy schedule to meet our team and the rescued elephants, we were happy to gift him a Padhchinh – an art piece created collaboratively by our rescued elephant Phoolkali and Singapore-based artist and Wildlife SOS supporter Alpana Ahuja featuring a bright foot impression by Phoolkali!
Pharrell had nothing but positivity to share about the visit, congratulating the team and wishing them "good luck for the universal work that you do here and the effect you have on anyone who sees this!"
Wildlife SOS was thrilled to host Pharrell, and to bring global attention to the plight of elephants in captivity, through a deeper understanding of the abuse and neglect these incredible animals face at the hands of human beings.