The summer of 2017 brought warm sunshine and an atmosphere of excitement that lingered at ECCC as the staff was preparing to welcome elephant Gajraj, literally the King of Elephants, to take his first steps into a lifetime of freedom.
Gajraj was given to the royal family of Aundh on the occasion of a wedding, and had since become an icon of worship for the devotees flocking to the Yamaidevi temple of Aundh, Maharashtra. However, this role proved to be detrimental for his physical and psychological well-being. For 51 years, day after day, Gajraj walked uphill on tarred roads to the temple compound, only to spend his day chained. When the veterinarians from Wildlife SOS medically examined Gajraj, they were heart-broken to know the excruciating pain that this old pachyderm is enduring as a result of severe degradation of footpads, and toe-nail abscesses in his front and hind legs.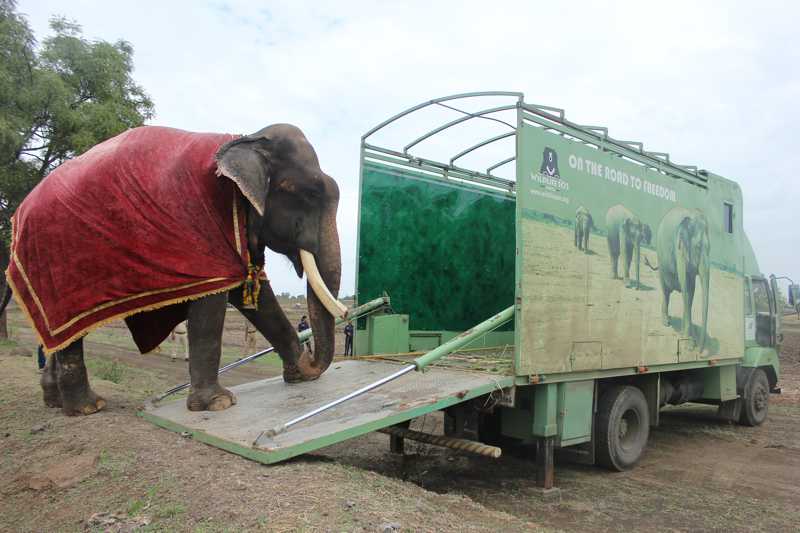 We became acutely aware that Gajraj was in need of urgent medical attention, and that he needed to be rescued. Gajraj's plight attracted attention worldwide, and thousands signed and shared the petition to move Gajraj to ECCC for a lifetime of care and freedom. When Gajraj's owner the Queen Gayatri Devi Pant Pratinidi was explained his condition, she kindly consented to handing him to Wildlife SOS for long term medical care. With permissions from his owner, Maharashtra Forest Department and Uttar Pradesh Forest Department, Wildlife SOS and Gajraj took on a 1,500 km road journey from Aundh to Mathura.
As Gajraj was an old elephant requiring special care and attention, our rescue team at the back of their mind had concerns regarding his comfort during this long, harsh journey. However, patient Gajraj surprised us all with his resilience and will power, and cooperated well with every rescue staff despite meeting them for the first time. We believe that his rescue journey set the tone for his next year with Wildlife SOS that is full of perseverance, will power and patience.
He transitioned into his new life at ECCC with ease- comfortably trusting the new environment and new humans that now surrounded him.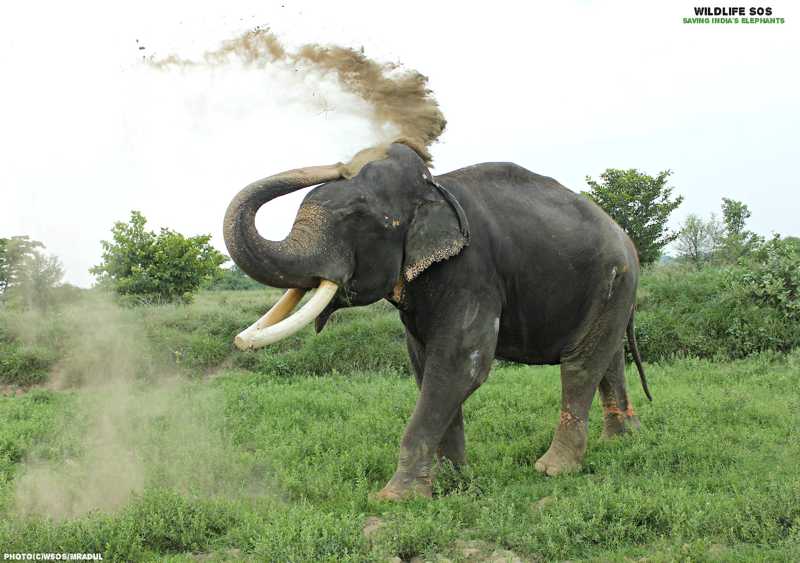 Slowly and steadily Gajraj took to his positive reinforcement target training that then allowed our vets to treat his feet that were in dire need of care. His worn-out footpads were extremely prone to infection, and his overgrown toe-nails and toenail abscesses were only adding to his miseries. Ever since, Gajraj receives medicated foot baths, regular toe-nail trimming sessions and supplements to help his bones get stronger. Our vets, with consultation from experts worldwide, have charted a unique solution to relieve Gajraj from the pain of his worn-out foot pads. His delicate footpads are coated with sole-guard, a form of liquid urethane that is shock-absorbing in nature and protects the delicate portions of his feet from being punctured by any debris that could cause infection. This treatment has been very beneficial for Gajraj as it has allowed his footpads to heal underneath without any risks of infection. Gajraj loves to cooperate with the vets for his treatment, as it means he would get his favorite treats!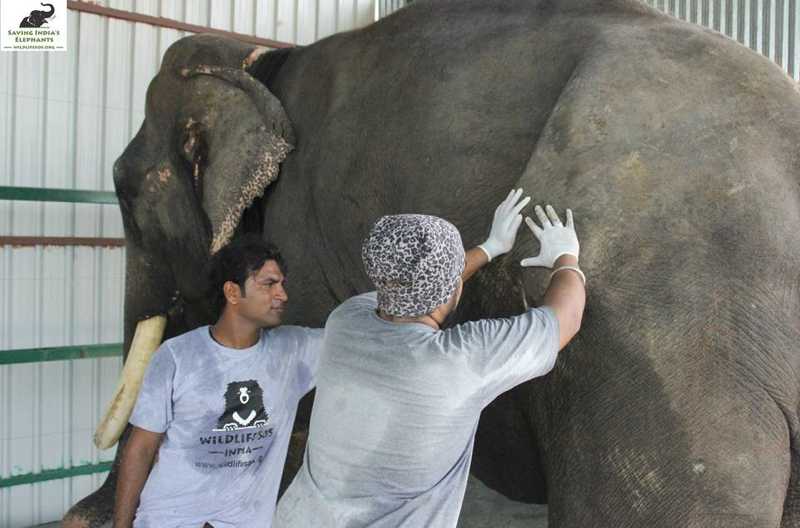 When Gajraj came to ECCC, his diet was completely neglected and he suffered from nutritional deficiency. Thus, it became our utmost priority to get him accustomed to a healthy diet consisting of green fodder, fruits, vegetables and supplemented with sugarcane, clarified butter and chyawanprash, a herbal immunity booster. Through closely monitored diet, Gajraj's health has improved significantly since the time he came to ECCC, and we hope that it continues to get better as time passes.
Gajraj has been quick to enjoy the perks and joys of his new life. He loves to splash water around his pool and lazily submerge himself in his pond, enjoying the relief that his tired legs experience due to weightlessness. His love for popcorn has been noticed by everyone at ECCC, and he absolutely eating pop-corn from his hanging enrichment. His keepers also remark that he is very punctual and does everything by the clock. His little antics surely win the hearts of everyone who meets him, especially Bollywood actor Siddharth Malhotra, who came to meet this old pachyderm earlier this year, after having advocated for Gajraj's freedom.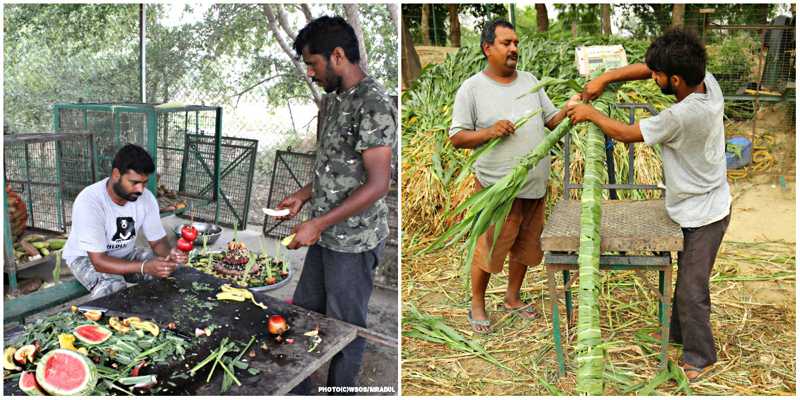 When time came to celebrate Gajraj's one-year anniversary at ECCC, our staff had made preparation to make it a special day for him. They spent their morning chopping vegetables, fruits and green fodder, and preparing his protein snack to make a special cake for him. Meanwhile a separate team were working to make an ornament for Gajraj from bamboos and green fodder in the shape of numeric one.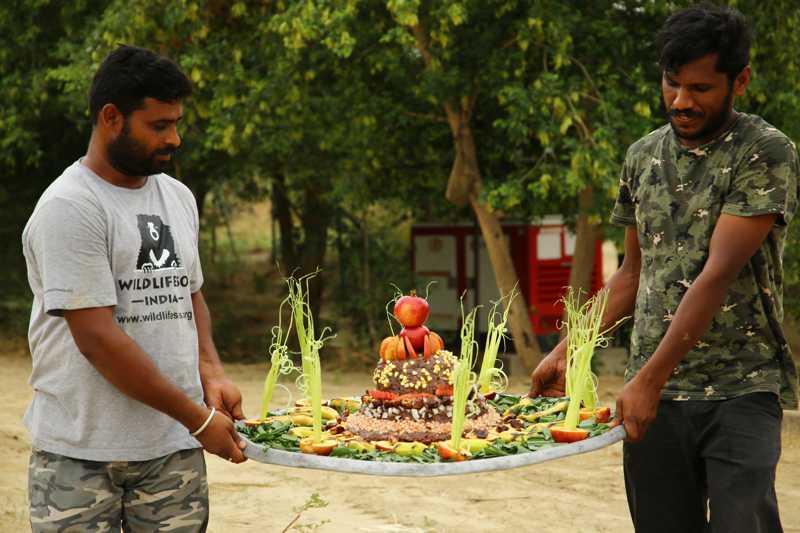 Once the preparation was done, everyone with bubbling excitement waited for Gajraj to see his special surprise. Gajraj, being an elephant of routine, was taken aback on seeing a cake awaiting him. He suspiciously smelt and touched the cake with his dexterous trunk. After encountering the smells of his favorite fruits and vegetables, it only took him a few minutes to munch off his cake.
Click HERE to view the video of the celebrations at the Elephant Conservation and Care Center!
It goes without saying that Gajraj is one of the most cooperative bulls at ECCC and everyone dearly loves him! Gajraj's stress-free has been possible because of your support, and we thank you for it.