With the summer of 2015 came warm sunshine and big changes at the Elephant Conservation and Care Centre, Mathura – as not one, but four, new elephants made their way to their forever home at the Wildlife SOS rescue centre in northern India. Travelling all the way from the west Indian state of Maharashtra, these four elephants were not just the largest group we'd ever taken in at once, but also the youngest elephants we had rescued till date, with the baby of the group – Peanut – being just six years old. She, along with the other three – the boys Macadamia and Walnut, and 12 year old female coconut – formed what we lovingly termed the Nut Herd, and the four easily lived up to their nutty name within the first few days of their arrival.
Young elephants are always boisterous and enjoy being destructive, but these four seemed subdued and scared, having spent the entirety of their lives in a circus that was shut down following charges of human trafficking. As performing animals, they would have suffered unimaginable cruelty and abuse as part of their training process, and the resulting stereotypy and mental distress was evident in all four elephants. Baby Peanut would spend almost all of her day bobbing her head mournfully, and seemed lethargic, sleeping away long portions of the day, as Coco stood nervously over her – as if scared that Peanut might need protection from something. The boys showed signs of fearful aggression around people, despite their obviously gentle and cheerful nature.
But it didn't take long for all four to realise they were in a safe place, and with that realisation came the sort of playful havoc that only a young elephant can create – and we had four!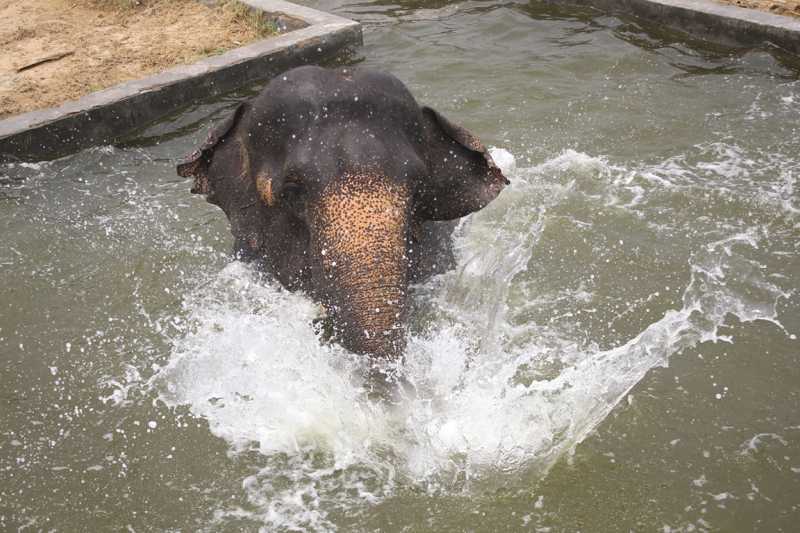 Mac and Wally gradually came into their own, proving to be the most energetic, playful and smart elephants in our care. Quick to learn and eager to please, the boys took to their target training and positive reinforcement sessions with an awe-inspiring ease, and seemed to take as much thrill in outdoing each other at learning new behaviours from their keepers, always appearing full of pride when they perfected something new and got a big delicious fruit and lots of praise in exchange for their willing cooperation and quick learning. Wally loved toys, his favourite being the inflatable rubber tyres that we give him, and he will happily toss it about, roll it, and even try to drown it in his pool, trumpeting gleefully as it bobs back to the surface with a splash! Mac loved the pool just as much, and like Wally, spends hours relaxing in the water and playing games in it.
The transformation in Coco and Peanut was the most stark, and came about thanks to the sanctuary' older females – Asha and Lakhi. Asha, the matriarch of her small herd of Lakhi and Suzy, was quick to welcome the two young calves into her little family, and to include them in her herd. She seemed to adopt Peanut, and foster her, showering her with unconditional love and affection, finally relieving Coco of the stressful mothering duties she seemed to have undertaken to protect Peanut, and thereby giving Coco a chance to be a young, happy elephant too! Lakhi, part of Asha's herd, is a blind, calm elephant – and took instantly to young Coco. The two were rarely apart, with the older female wrapping her trunk reassuringly over Coco while out on their walks, or staying close by her side when she is playing. Now part of a happy little herd, Coco and Peanut slowly began coming out of their shells and showing us their true colours – and what delightfully naughty personalities began to emerge! Peanut is particularly destructive, and enjoys tearing down any enrichments that are built for her, or chasing anything she considers fair game – which basically means anything smaller than her, from birds or cattle from neighbouring villages, to cycles and tractors! Coco began showing more affection towards people too, and seemed to enjoy working with her keeper on target training, which has really proved to be a great mental stimulant for this fantastically smart young girl.
Watch our two girls enjoy their new enrichment at the Elephant Conservation and Care Center in this video : Nutty Barrel Enrichment
Two years have passed since their rescue, and as time passed, the elephants grew and their personalities developed with age, as each adapted to their life over the last two years. Mac is now 24, and almost at mature adulthood – which means he should come into his first period of musth soon. He remains a quiet elephant, especially when compared with the more boisterous Wally, and doesn't engage with people as much, although he will always trot over to politely greet anyone who drops by his enclosure- especially if they have a treat! He is energetic, strong and cheerful and loves his walks more than anything. Summer means lots of pool time, as usual, and this comical young bull will even create water fountains in his shaded shed area, sucking up water into his trunk and then spraying it all around. As Mac gets older he is showing natural, typical signs of elephant adulthood and is less keen to interact with other bulls, choosing to keep more to himself, and likes to go on walks on his own.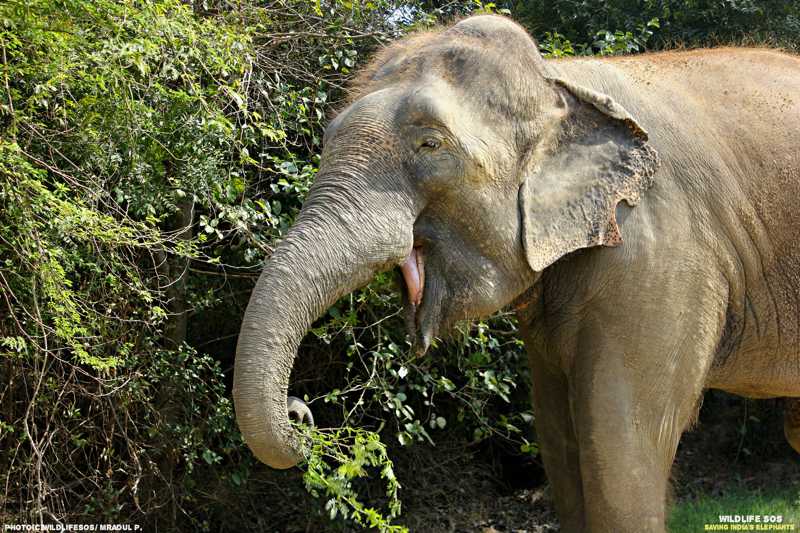 It's a little confusing for Wally that Mac isn't as keen to hang out with him anymore, but he does interact with his friend when Mac is in a more sociable mood, and has even started trying to befriend some of the older bulls, bringing out a youthful energy in even the oldest of our males thanks to his contagious playfulness.
Wally has developed a love for people, one of the only bulls in our care who truly seems to love interacting with people, and is always thrilled to see his keeper. He is a big healthy eater who enjoys all his meals, and gobbles up fruit, vegetables and fodder with equal glee.
Coco and Peanut remain naughty as ever, coming up with new and more amusing antics with each passing day they that we get to spend with them. While Coco is a complete water baby and will spend hours completely submerged in her pool, it would appear that Peanut has taken up acrobatics and instead seems to enjoy balancing carefully on the outer wall of the pool, walking carefully along the edge without slipping in like a big round tightrope walker! The girls' stereotypical behavior has all but disappeared, and they are happiest when out on walks with their herd of Lakhi, Suzy and matriarch Asha, when they get to run around and chase the wild antelope and hare that they encounter on their walks, or attempting to uproot any tree that is smaller than them.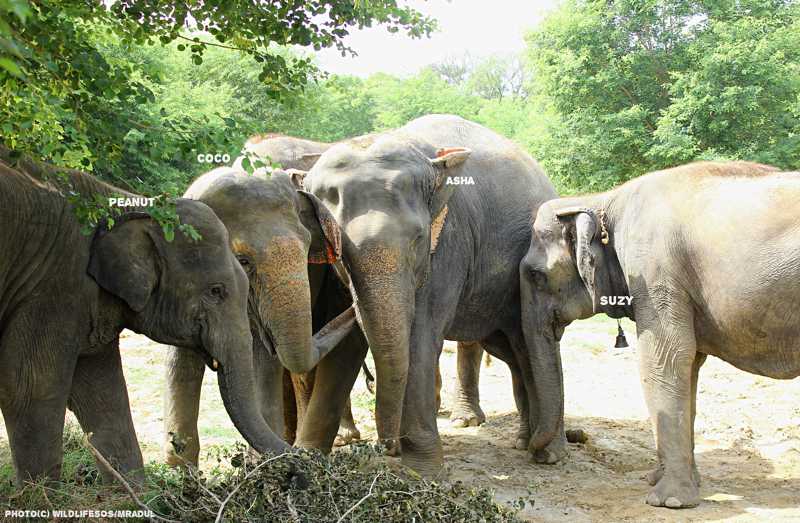 The Nut Herd is healthy, and happy, and the vets and staff are thrilled to report that they're all progressing well thanks to their natural and healthy diet, and the supplements and careful care they all receive. They are content and happy, finally getting a chance to be themselves, and be free elephants – and we are so grateful to our supporters for making this possible for them. On this second year anniversary of their arrival, we have all of you to thank for all you have done, and continue to do, to support the care of our lovable nutty bunch!
Please consider joining our Freedom Team and supporting the care of these beautiful elephants in our care here; http://bit.ly/2rkPvNw