The month of August marks the rescue anniversary of Balu, Bharathi and Bagya, three sloth bears who had spent years being paraded around as 'dancing' bears in Karnataka. They were rescued from this dreadful fate by Wildlife SOS in 2006 and given a second chance to lead a life of freedom and care.
It's been 12 years since Balu, Bharathi and Bagya were rescued and it was absolutely heartbreaking for us to see them in the pitiable state they were in. Today, they are healthy and enjoying their new life in the company of other rescue sloth bears at our Bannerghatta Bear Rescue Center. We wanted to show them exactly how special they are to us and how much we value and cherish the chance to be a part of their lives.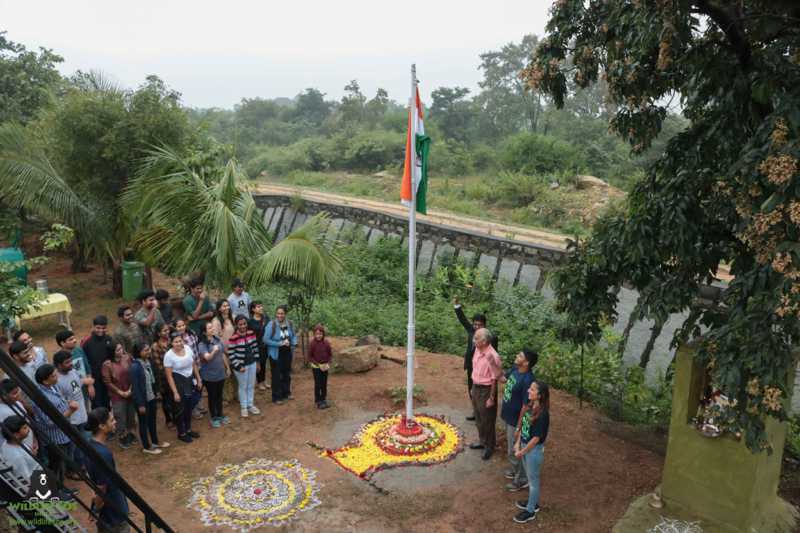 The celebrations kicked off with a flag hoisting ceremony on 15th August celebrating India's 72nd Independence at the Bannerghatta Bear Rescue Centre.  A group of 20 volunteers from Larsen & Tubro Infotech (LTI) joined our team on this special day. This was followed by a commemorative speech by B.K. Singh, Retd. PCCF (HoFF) Karnataka & Vinodh Kumar from Corporate Sustainability LTI.
To mark the 'Rescue-versary', the LTI volunteers assisted the Wildlife SOS team in building enrichment's for the bears – suspended tyres, see-saws, hammocks and they even whipped up healthy 'cakes' out of delicious cooked porridge, honey and vegetables. Balu, Bharathi and Bagya were delighted to find the treats awaiting them and gobbled up their cakes within minutes!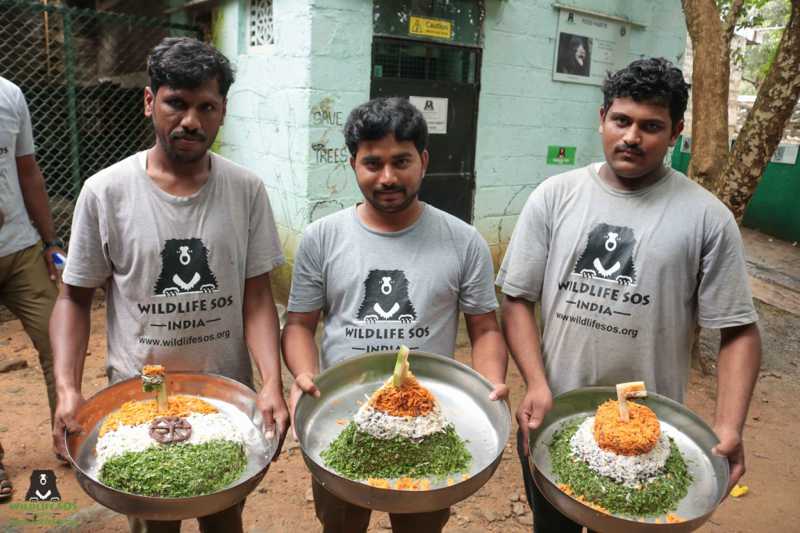 Larsen & Toubro Infotech, a subsidiary of global IT company Larsen & Toubro has partnered with us to organize employee engagement activities at the center as part of their CSR (Corporate Social Responsibly) initiative.  The group was thrilled to engage in the volunteering activities and was excited to see the bears playing with the enrichments they had worked hard to build for them. We are delighted to have Larsen & Tubro Infotech (LTI) join us as a CSR & volunteer partner and are happy to receive such an encouraging response from their employees who are eager to make a difference!
At Wildlife SOS we aim not only to rescue wild animals from distress and abuse in captivity, but also to provide them with a safer, happier and healthier life post-rescue by giving them a life of freedom, companionship, and a chance to be bears again. Each story of healing and recovery, each challenge overcome, each quirky unique personality that we grow to know and love, reminds us why we do what we do, and inspires us to continue doing more.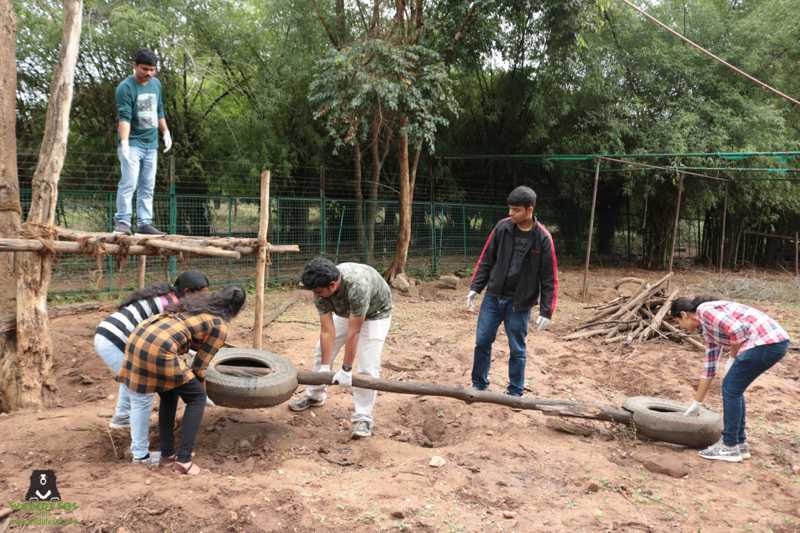 Wildlife SOS's greatest accolade has been successfully ending the exploitation of bears across India and rescuing over 600 sloth bears from illegal custody. The organization brought about a permanent end to the centuries-old tradition of 'dancing bears' by creating alternative livelihoods and providing education to the people who earned a living from their exploitation, and now has a successful model in place for the rescue and rehabilitation of wildlife. The organization's 'Dancing Bear Rehabilitation Project' was supported by The Ministry of Environment and Forests, Government of India and the state forest departments.
You can read more about our CSR initiative program here; https://wildlifesos.org/corporate-social-responsibility/