Recently, Wildlife SOS staff members from the Agra Bear Rescue Facility operating in the expansive Sur Sarovar Bird Sanctuary rescued a spotted black terrapin after finding it stranded on the banks of Keetham Lake. Spotted black terrapins are a rare sight; because they are an endangered species, it has become all too unusual to spot them. After a closer look, the WSOS staffers were shocked to discover that the small turtle had been speared by a deadly fish hook, which was lodged deep in the turtle's mouth and restricting her movement.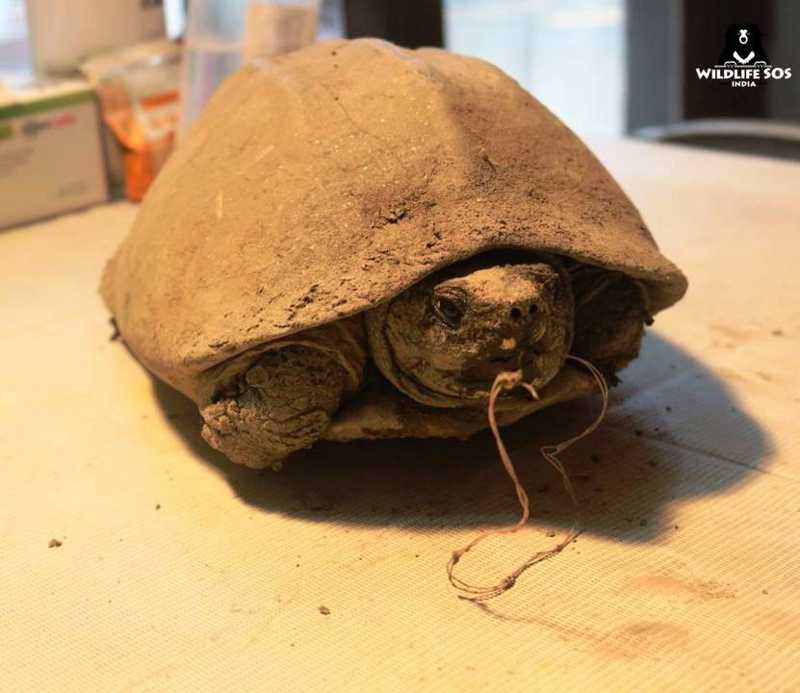 The team rushed the injured turtle to the Wildlife SOS animal hospital for medical intervention. A thorough medical examination followed by an X-ray revealed that the fish hook was approximately nearly an inch long (approximately 2 cm) and embedded deep in the lower jaw.
According to Dr. Ialayaraja, a veterinarian with Wildlife SOS, the wound appeared to be about 10 days old based on calcifying around the hook. The little turtle was under immense pain and could have eventually died of starvation. To avoid causing the distressed terrapin any further pain, Dr. Ilayaraja had to administer a local anesthesia to surgically remove the sharp fishing device. The recovering terrapin was kept on intravenous fluids and closely monitored for two days before being released back into the Keetham.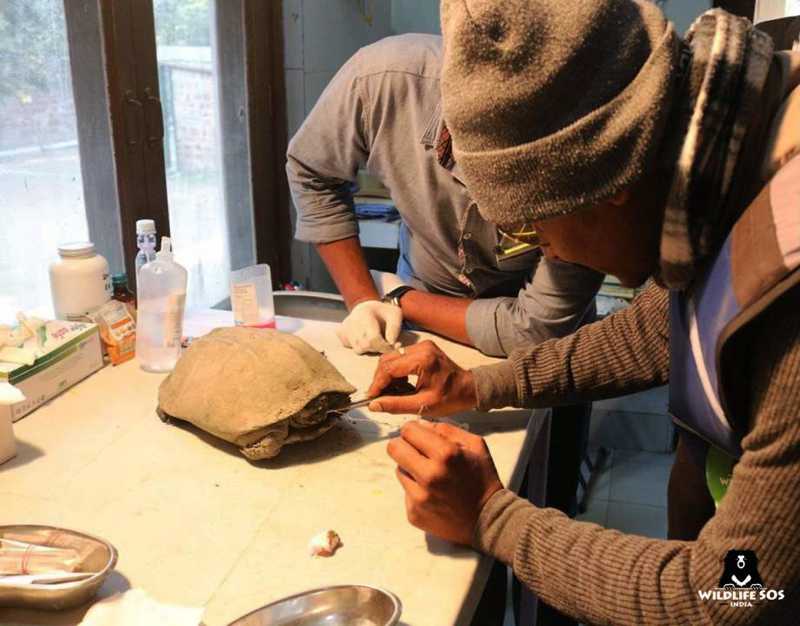 The spotted black terrapin (Geoclemys hamiltonii), also known as the Indian spotted turtle, is a freshwater species endemic to South Asia. They are protected under Schedule I of the Wildlife Protection Act of 1972, and are listed as Vulnerable under the International Union for Conservation of Nature's (IUCN) Red List. A major threat to this species is the illegal pet trade, but these defenseless reptiles are also poached for their meat and eggs, and their shell is believed to have traditional healing and medicinal properties.
We suspect that the fish hook was laid out by poachers who were planning on capturing and illegally trading this turtle in the black market. In 2016, 54 turtles were found trapped in a 20-foot-long poacher's net in Keetham Lake. Of those, 42 were already dead and the other 12 were in grave condition when our team along with local forest officers rushed to the rescue. Wildlife poaching cases have been increasing the past few years in the district, and the Uttar Pradesh Forest Department is working to capture those responsible.