With each elephant rescue that Wildlife SOS undertakes, we have observed a series of disturbing patterns in the captive elephants. Featuring a grave reality, India's captive elephants suffer endlessly starting from their indoctrination into captivity until their spirits are broken and they succumb to the torturous life. Understanding the cruel processes these innocent creatures have been subjected to in the past, those have not only weakened their bodies due to improper nutrition but have also riddled their delicate feet with wounds and painful abscesses, Wildlife SOS installed a jumbo hydrotherapy pool at India's first Elephant Hospital to help its patients reap some rewards from the relief.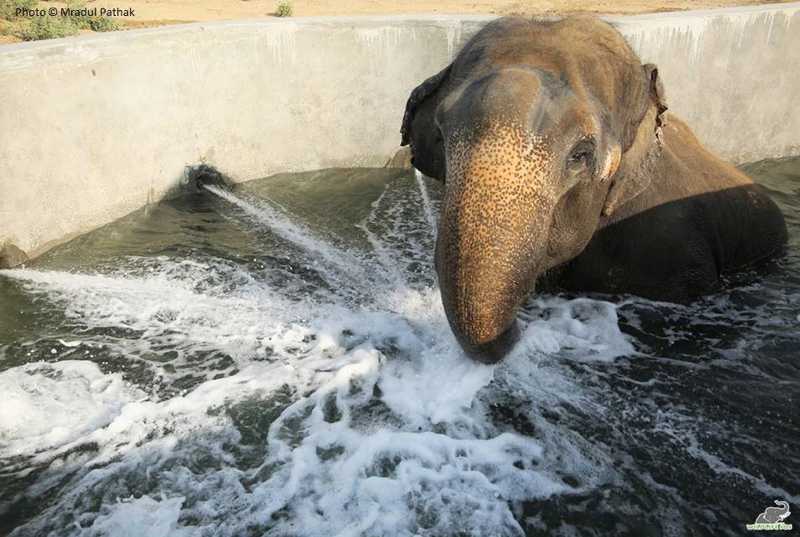 For almost two decades, Wildlife SOS has been working tirelessly towards improving the plight of captive elephants in the country. Rescuing over 25 elephants from nerve-wracking conditions, the organization has opened its gates and hearts to each one featuring different physical ailments. Living under extreme distress, some of these elephants were either privately owned and were being used for begging, while others were confined to begging as temple elephants or were forced to perform in circuses. They were often made to navigate environments that their body was not built for or were chained for hours on concrete that led to an early on-set of arthritis. A lack of natural foraging and improper foot care, resulted in overgrown toenails and cuticles making them vulnerable, leading to making basics like walking or even standing highly painful for these wide-ranging animals.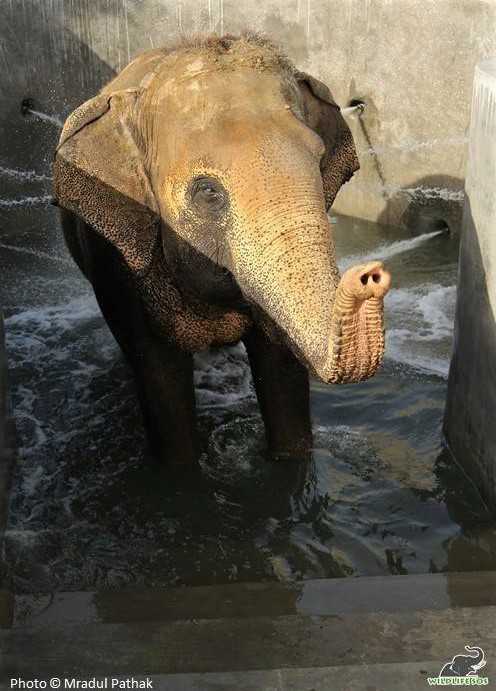 In November 2018, Wildlife SOS established India's first Elephant Hospital, availing state-of-the-art veterinary care to elephants suffering from varied medical conditions. Inclusive of facilities like wireless digital x-ray, laser treatment, dental x-ray, thermal imaging and ultrasonography, the hospital is fully equipped to treat injured, sick and geriatric elephants. The jumbo hospital also offers hydrotherapy for these majestic pachyderms in the form of effective complementary treatment for joints and feet.
A form of physical therapy that uses the therapeutic benefits of water to perform physical rehabilitation in animals, Hydrotherapy helps cope with pain and promotes healing by increasing muscle strength, balance and range of motion of joints and the spine. In case of elephants the buoyancy of water helps experience weightlessness by taking the massive weight off their feet and making them feel relaxed. The jumbo pool installed at the Wildlife SOS Elephant Hospital is 11-foot-deep and is equipped with 21 high pressure water jets that massage the elephants' feet by increasing blood circulation levels. By exerting hydrostatic pressure that compresses muscles and joints, hydrotherapy helps in relieving chronic muscle aches as well as rebuild muscle memory with its natural resistance.
Allowing easy entry and exit by descending 13 steps into the therapy pool, it translates into an effective, consistent experience for the elephants. This adequate pain management is necessary for holistic healing as it covers the core strength, overall stamina and conditioning. While we cannot change the brutality these innocent creatures were victimized to in the past, we at Wildlife SOS with our dedicated team of veterinarians and trained elephant care staff hope to cater to the needs of the rescued elephants. With such specialized and targeted treatments, we wish to develop a model for management of Asian Elephants in captivity across the country.