An approx. ten month old female leopard cub escaped a narrow brush with death after falling into a 40 foot deep open well. The incident took place last week in Alegaon Paga village located in Shirur, Maharashtra.
Prakash, a farmer residing in the village was shocked to find the young leopard trapped inside a well near his sugarcane field. The cub was paddling to stay afloat and was at the risk of drowning in the waist deep water. Concerned for its life, the farmer immediately alerted the forest department. Range Forest Officer Tushar Dhamdhere in turn called the Wildlife SOS team at the Manikdoh Leopard Rescue Center in Junnar for assistance.
While the Wildlife SOS team drove nearly 148 kilometres to reach the location, a team of forest officers rushed to the village to assess the situation. With the help of the villagers, they lowered a wooden ladder into the well so that the terrified leopard could clamber onto the ladder for temporary support.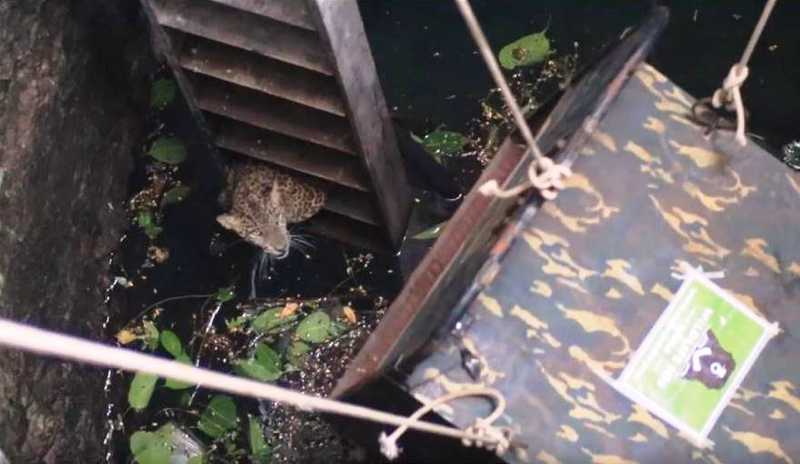 After a long and difficult drive, the Wildlife SOS team arrived at the location and set the rescue operation in motion. They lowered a trap cage carefully into the well to safely extricate the leopard out. The sight of the large metal cage initially caused the cub to panic but eventually, it realized that the cage was its last hope of survival and swiftly scrambled into the box. Due to the timely action, the leopard was rescued from an extremely dangerous, near-death situation. We are grateful to the forest department for making this rescue a success and for their help in managing the crowd.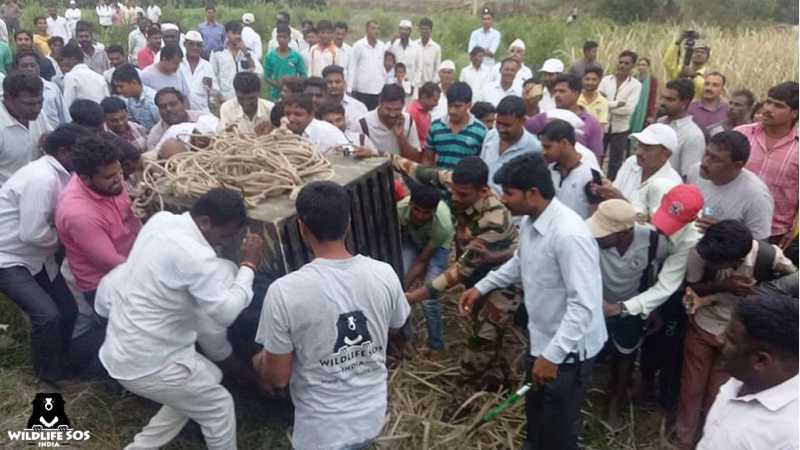 Following the rescue, a routine veterinary checkup was carried out by Wildlife SOS veterinarian, Dr. Ajay Deskmukh which confirmed that the leopard was an approx. 10 month old female and was old enough to be released back into the wild. The villagers reported that the mother leopard was also spotted in the vicinity so the cub was later taken back to the same field so they could find each other.
We receive rescue calls about animals trapped inside wells across the country, very often. Such cases have been increasing in the recent years and the main reason behind this appears to be the lack of proper covers and fencing around wells. The issue cannot be taken lightly. It is not just leopards, a species protected under Schedule I of the Wildlife Protection Act 1972, that are vulnerable to these wells, but also several other species that may fall in accidentally, with potentially fatal results.
However, we are glad to see that people are becoming more sensitized towards the wild animals that share the surrounding habitats. Through our various leopard awareness initiatives across Maharashtra, today more and more members of the local communities are making it their priority to reach out to our team and the forest department in such emergency situations.
Catch the entire successful rescue and release operation by CLICKING HERE!