After nearly two years of relentless efforts to bring Mohan to safety, Wildlife SOS was finally able to rescue him in September 2016. The harrowing rescue, much like our thwarted initial attempts at getting him out of the hell hole he was in, was met with much opposition from an angry unruly mob determined to stop us at any cost. Despite it all, the team persisted and Mohan was finally brought to his new home at the Elephant Conservation and Care Centre, Mathura.
His initial months at the rescue centre provided us a wonderful opportunity to get to know the bull tusker whose plight had captured the attention and the hearts of so many people across the globe.
Mohan communicates his happiness at his newfound freedom through calm rumbling and a sense of serenity, particularly evident when he is in his pool. He seems to love it, spending hours on end submerged in the water, eyes drowsily shutting and his trunk just above the water like a snorkel. He absolutely loves going on long walks, ambling quietly through the greenery and using his tactile trunk to pick up and observe branches, feathers, pebbles and other little treasures he finds fallen on the path.
Under the careful watch of our veterinarians, Mohan was prescribed a special diet of fresh green fodder and seasonal fruit to help him put on weight, supplemented by nutritional supplements to help boost his recovery. He seems to quite enjoy both his fodder and the fruit, with a special fondness for watermelons!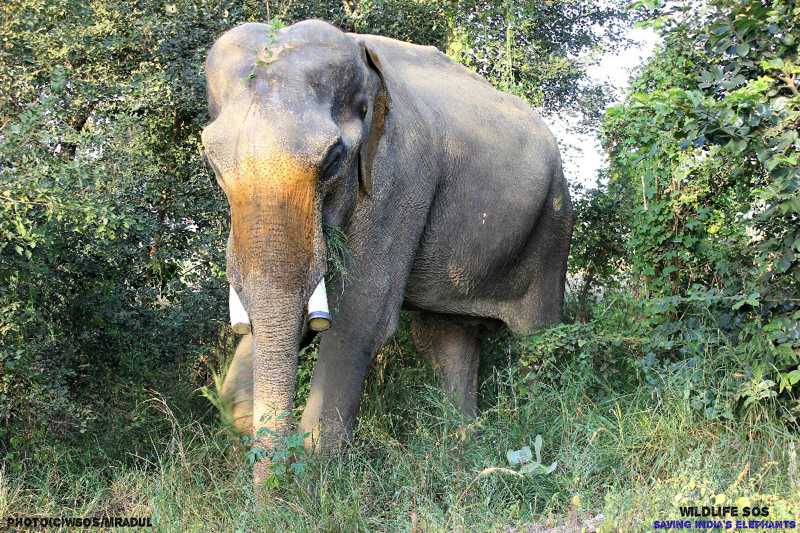 Mohan is making a remarkable recovery, and this is most significantly visible in his weight gain. Along with this positive sign of his slow but sure recovery, Mohan's wounds have also begun to heal – the nasty scars and open wounds we discovered on his head, ears and elbows have all but gone, and the vets are now simply having to monitor the healing process and carry out routine disinfections to ensure they don't flare up again. The hygroma that had developed on the elbow region of his right forelimb, likely due to repeated impact on solid, unnatural surfaces while in captivity, too has healed up quite well.
Meanwhile, a little more justice for Mohan came in July, with the seizure of the ivory that his cruel owner had hacked off his tusks to sell for profit. Our anti-poaching branch, ForestWatch had been actively tracking the tusks, and eleven months of dangerous surveillance finally paid off when a daring undercover operation in collaboration with the Wildlife Crime Control Bureau and the Special Task Force of Uttar Pradesh Police, resulted in Mohan's former owner being caught red-handed with about 5 kilograms of elephant ivory and a country made weapon along with bullets.
Unfortunately, a recent incident left Mohan with a hairline fracture in his leg bone, after he buckled over while excitedly playing in his enclosure. His age and fragility added to the vets' concern, and we're keeping an extremely careful watch on him. He has been put on anti-inflammatory painkillers, and supplements to enhance his healing, and undergoes cold fermentation treatment to reduce the swelling in the limb.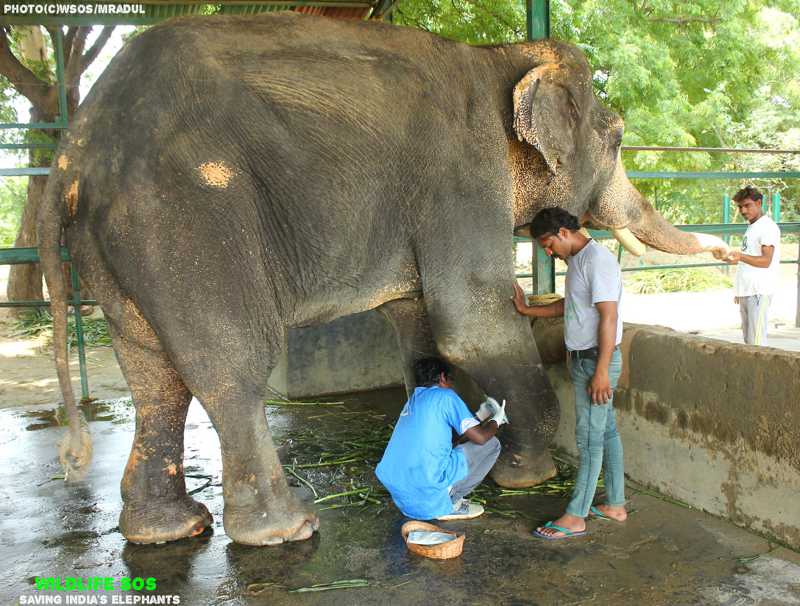 But Mohan has proven to be a real trooper, and made a valiant effort to start walking again, albeit slowly and with difficulty. We even managed to coax him into the pool for some relaxing hydrotherapy that has the added benefit of taking the weight of his injured foot.
A special mud bed and support has been put up in his enclosure for him to rest against should he need it, and Mohan makes use of it when he is tired at night. He appears to be eating well, and seems to be in less pain now.
Mohan's journey over this last year has been a learning experience for all of us, and stands testament to his resilience and strength. One year since his rescue, we ask you all to continue to rally beside him for his recovery, just like you did for his rescue. We remain, as always eternally grateful to all of our supporters that have stood by, and continue to stand by, this amazing elephant.